If you feel the need for extra pockets, cargo pants were invented for you; however, simply having extra pockets doesn't make a pair of cargo pants the best. They need to be high quality, well designed, and most of all, they need to be durable.
A great pair of cargo pants equips you to handle anything that life may throw at you. If there's one thing a wearer of cargo pants understands, life is unpredictable (that's why you need all the extra pockets).
Finding a truly epic pair of cargo pants can be overwhelming. There are many options on the market, but not all are created equal. There's no need to worry. Where some fall short, others have risen to the challenge! We have made it our mission to find them for you.
We have compiled reviews, suggestions, and tips to help you on your quest to find the best cargo pants. Scroll down to find reviews!
---
Things to Consider When Buying Cargo Pants
Here are some things to consider while you shop for the perfect cargo pants:

Sizing – It can be difficult to know whether or not the pants you order will fit properly. Check the manufacturer's sizing charts and check out reviews to see if pants run true to size.
Budget – It's a fact that women's products can cost more than men's. If you're a female searching for practical cargo pants, try ordering men's pants instead. It might save you money. Just be sure they have a good return policy if they don't.
---
Buying Information
Check out our buying tips. We've designed them with useful information to help you find the best cargo pants:

Quality – Cargo pants are a great choice for hiking and camping or jobs that are tough on clothes. It is important that the cargo pants be durable and made of high-quality. Check for reinforced knees, seams, and other features that will make your pants last.
Features – From hidden pockets to a professional slim fit, cargo pants come with a wide variety of features. Take the time to consider which features you need and search for those truly. Avoid any unnecessary gimmicks, as they can come with a higher price tag.
Budget – Cargo pants can be expensive! Don't worry; it's possible to get a great pair at an affordable price. Check out brands trying to establish themselves in the market; they will often have a lower price tag with great quality. Also, think about whether or not you really need three-knife pockets. Downsizing could save you money!
---
Features of a Good Cargo Pant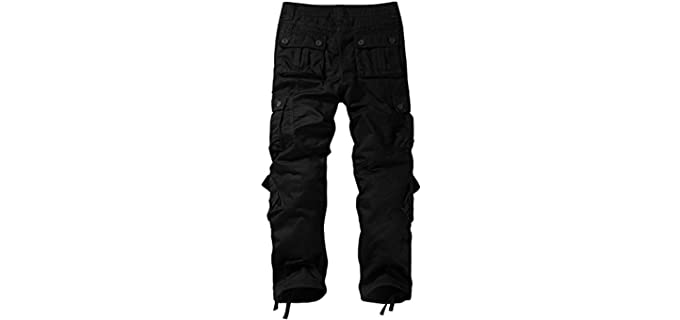 Materials – Cotton, Polyester and rayon or other fabrics may be used in cargo pants.
Design – Cargo pants have a generally loose fit with pockets along the sides and the back and front areas.
Closure – A elastic waistband, drawcord, Zip, or button closure may all be found as closure for cargo pants, depending on the model.
Options – Cargo pants come in a variety of standard and plus size options, as well as many colors, depending on the brand.
---
Scottevest Margaux Cargaux Travel Pants
This one is number 1 on our list below. Here is a short video describing it.
---
Reviews: Best Cargo Pants
Listed below we have some of the top brands and models in Cargo Pants for men and women;
---
1
The SCOTTeVEST Cargo pants have an elastic waistband and may utility pockets.
The pants consist of a blend of cotton, polyester, and spandex for some stretch in the waistband.
They have an elastic waist pull-on closure.
There are plenty of utility pockets, and they can quickly convert into a shorter Capri.
You can also choose from more available colors in this model.
---
2
The G-Star Raw Cargo Pants Are military-inspired with a tapered leg fit.
They consist mostly of cotton with elastane for stretch.
The pants have a military-style, with tapered legs and oversized front pockets.
There are also slanted side pockets and back pockets, and a zip closure.
The waistband is lined with cotton for your comfort.
---
3
Dickies is a well-known brand that makes some of the best available Cargo Pants.
They are 100% pure cotton and have a zip and button closure design.
The pants come with bellowed cargo pockets, back flap pockets, and side pockets.
They are peached and garment washed for softness and came with a durable interior lining,
You can also choose from a few more available colors.
---
4
An Excellent outdoor design of cargo pants from Burton.
They consist of DryRide two layered 10 000mm, and 10 000G waterproof and breathable materials.
Inside living taffeta and mesh linings help to wick away moisture and regulate your body temperatures.
The seams are fully taped and seal out foul weather.
The waist is adjustable and comfortable in fit.
Many more color options are also available.
---
5
The Wrangler Authentics Cargo pants have a straight leg design and many pockets.
The cargo pants are 100% breathable and durable cotton.
They have a relaxed straight leg fit and are a premium design.
There are more colors available in neutral options.
The Cargo pants come with many pockets and a zip closure.
---
6
The Match Wild Cargo pants come in many solid colors and camo prints for men.
These are also 100% cotton cargo pants.
They have a zip closure and sit at the waist.
The fit is very loose and comfortable, such as most Cargo Pants designs are.
They are available in more neutral colors and all size options.
---
7
These are military-style cargo pants for ladies in many colors and camo prints.
These are Military style cargo pants designs for women.
They are breathable and lightweight cotton with zip closure.
There are multiples pockets, and the fit is a loose regular fit that sits on the hips.
You can choose from a large variety of solid colors and camo print options.
---
8
A durable and warm lined Cargo Pant for outdoor use, for men.
These are 100% pure cotton Military style cargo pants.
They are available in solid neutral color varieties and many size options.
The cargo pants are functional with many multi-pockets and have a tactical design.
They are durable and have ripstop softshell for the outer and warm fleece in the inner lining.
---
9
For the ladies, we have a jogger style cargo pant available in many colors and prints.
These are fashionable ladies Cargo pants with a jogger style.
They come in many solid color options, as well as printed designs.
The cargo pants are comfortable and 100% cotton.
They are also available in all ladies' sizes.
---
10
Something different is the punk, rock style cargo pants design from Nutriangee for men.
A punk rocker style cargo pants with all the trimmings.
They come in more solid and dark color options, as well as a camo print.
There are plenty of pockets, and the legs have a tapered design.
They have a drawstring closure and elastic waist fit.
---
Index Table: Top Rated Cargo Pants
---
---