Tan through swimwear is a unique and new patented technology that helps the wearer get an all-over suntan while still wearing a swimsuit that offers coverage.
So no more nasty tan lines and uneven tans when you wear the best tan through bathing suits that are available today.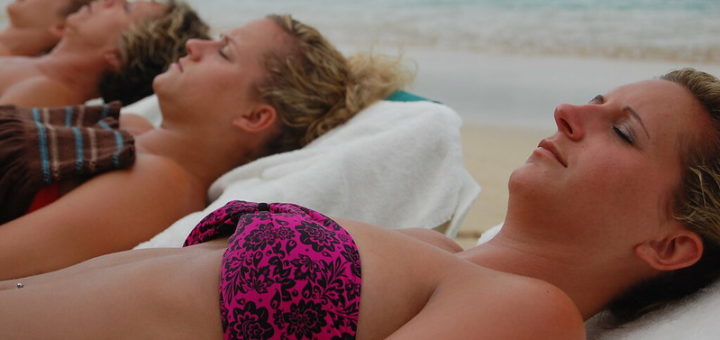 ---
How Does tan through Swimwear Work
So how exactly does tan through swimwear actually work?
Well, quite simply, the fabric that the swimsuits are constructed of contains millions of tiny square and Diamond-shaped holes that allow the sun's rays to pass through easily.
Well, with holes obviously comes transparency, and that means you are practically naked? Not exactly. The clever designs and special prints used to confuse the eye and basically camouflaged the skin beneath the swimsuit, making all the transparency issues melt away.
Besides getting a full tan, there are also some other benefits that the Tan Through swimwear options offer;
Dries Much Faster – Because of the millions of holes in the fabric of the tan through swimwear, there is much less material to retain water, and thus the fabric will dry much faster.
Very Lightweight – With less fabric and more holes, naturally, the swimsuit will be so much more lightweight in turn.
Breathable and Cooling – Tan Through swimsuits will be much more breathable and cooling because of the fabric's design.
---
Some Common Questions and Answers on Tan Through Swimwear
Well, by now, I am sure you may have a few questions on this very innovative new tan through swimwear styles. Here are some common questions and their answers;
Can people Tell You Are Wearing a Tan Through Swimsuit – No, not at all; it will look just like a colorful and patterned regular swimsuit, just like any other bathing suit.
Will You Suffer Sunburn in the Swimsuit – Yes, unfortunately, you will need to use caution, and some sunscreen as the fabric only offers very light protection against the sun's rays. I do advise that you wear sunblock all over underneath the tan through swimsuit.
Will Anyone See Through My Swimsuit – As I have mentioned, the tan through swimsuits are not see-through because of their specialized prints and colors, designed to create the illusion of full coverage.
Will You tan Fast Through the Swimsuit – You will tan just as fast through the tan through the swimsuit as tanning regularly. However, keep in mind it still offers very light coverage, so your arms and legs and the open area will tan a bit more. Use light sunscreen underneath the swimsuit and a higher protection sunscreen on open areas.
---
Features of a Good Tan Through Bathing Suit
Materials – Tan through Swimwear consist of either 100% Transol Tan through fabric, or Mocrosol-V fabric technology. The fabric has millions of small Diamon-shaped holes that allow the sun's rays through. Much thinner and lighter spandex and nylon swimwear options may also have similar results, although not as good as these specialized materials.
Design – ZTan Through swimwear is available in all types and designs, similar to regular swimwear pieces. You can get full swimsuits, one-pieces, tankinis, and even bikinis in this range.
Fit – The fit is extremely lightweight and breathable, and the material is quick drying.
Options – As you will see, most tan through swimwear will have colorful patterns and prints, which form part of the camouflage to prevent the swimwear from exposing your bare skin.
---
Reviews: Best Tan Through Bathing Suits
Listed below, I have some of the best available models of Tan Through swimwear. Unfortunately, there are only two brands so far that can positively employ the technology, as this is a relatively new technology;
---
1
The Amalfi from Kiniki is a colorful one-piece swimsuit that is tan through.
The swimsuit consists of Transol see-through fabric technology that easily tans through.
It comes I patterned and colorful designs and styles as well as for ore size options.
Ideal and lightweight for traveling, and it is very quick drying.
Lightweight and breathable with a sheer and comfortable fit.
---
2
For the daring, we have a see-through and tan through micro bikini from Sherrylo.
A more sensual and seductive see-through bikini for daring at heart.
The see-through design will likewise give you a more full tan.
It is available in more colors and sizes for your perusal.
The materials are stretchable nylon and spandex.
---
3
The Kiniki Alba is a tan through swimsuit in a tube design with colorful patterns.
This swimsuit was made in England and came fresh from the sewing room.
It has the patented Transol tan through fabric that is lightweight and quick drying.
You can get an even tan and cool comfort.
The swimsuit comes in a colorful patterned design and is very comfortable to wear.
---
4
The Kiniki Santorini is a very lightweight one-piece swimsuit with a tan-through design.
A super quick-drying swimsuit that will give you a luxury even tan.
It consists of the patented see-through and tan through Transol material.
For coverage and camouflage, it has colorful patterns and prints on it.
There are size options available, and the fabric is very lightweight and stretchable.
---
5
Here we have a Tankini design from Kiniki, the Ramona, that is tan through and colorful.
This is a stunning tan through tankini top, and you will have to purchase the bottom separately.
It is colorful and printed to camouflage the tan through design.
The fabric consists of patented Transol materials that allow you a more even tan.
There is more size available, and the design is a very comfortable and stretchable fit.
Transol fabric will dry three times faster than regular swimsuit material, and also breathes well to keep you cool.
What is more is that it is so lightweight and folds up so small, so it is ideal for traveling.
---
6
A gorgeous cut-out design tan through swimsuit model from Kiniki is the Amalfi, in purple.
The tan Through Transol materials are very lightweight—Tan through and dry three times faster than regular swimsuit materials.
The swimsuit is colorful and a one-piece with a cut-out design.
It is feminine and flattering to wear, plus you can enjoy a more even suntan.
More size options are likewise available.
---
Index Table: Top Rated Bathing Suits Tanning Through
---
---