10 Best Black Leggings 2018
Leggings: you can never have too many!
The fact that you can wear them in so many different ways makes them a staple item in the wardrobe, so those of you searching for the best black leggings to add to your stash will find what you need here.
In our guide below, we compare, contrast and give you the scoop on this year's top leggings (we also have a few fun suggestions if you're willing to branch out a bit!)
How to Decide
Not sure which are the best black leggings for the occasion? We'll help you narrow down the choices:
Season. Obviously, in the hot summer months you won't want a pair of wool leggings, so make sure you choose based on the season.
In the winter, look for thicker, heavier materials (wool or fleece-lined leggings, for example) and in the summer, go for something lighter like Nylon/Spandex or cotton. Be careful that they aren't see-through, especially if you'll be wearing them as "skinny jeans!"
Occasion. Where will you be wearing your leggings?
For sports or physical activities, such as Yoga, make sure you get leggings made of moisture-wicking fabric (Nylon/Spandex mix) and avoid cotton at all costs. Everyone will see the sweat spots!
For casual wear, cotton is a good choice. For more formal looks, leather or faux leather is great.
Waist Height. If you're looking for a little extra tummy control, make sure that they have a high waist give you a smooth silhouette.
Top 10 Black Leggings Table
Selection Tips
We have a few tips that we think will come in quite handy as you shop!
Be Careful with Lace. The lace leggings can work very well for specific outfits and on certain frames, but the reason we didn't highlight any is because they just aren't that dependable.
They snag easily and don't tend to hold up that well, so if we were you, we'd avoid them (unless you have a very specific look in mind).
How Dark Should They Be? Since manufacturers use different dyes for their fibers, what one may consider "black" you may consider dark grey.
It's hard to get a good idea of the actual color from a screen (especially since everyone has their screens calibrated differently or using a tablet/smartphone), so make sure they have a good return policy if you're worried about getting the wrong shade.
Black And. Now, we know you set out on a mission to find the best black leggings for the season, but you never told us that we couldn't suggest a pair of black leggings with a fun print on them!
By all means, get some solid black pairs, but we also suggest you branch out and try some prints.
Numbers 2 and 3 both come in different prints. Check them out!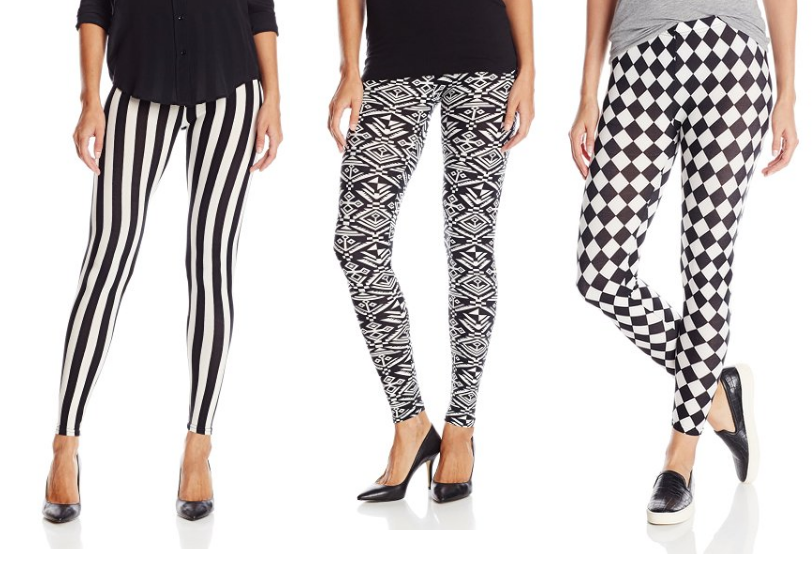 You have plenty of patterns to choose from in the Carnival Full-Length Legging (number 2), along with their solid black leggings.
In our table above, we featured a fun spring floral print, but as you can see, the VIV Collection Spring Floral Leggings (number 3) come in a variety of mostly-black patterns.
Top 3 Best Black Leggings Reviews
If you want a quality pair of high-waist leggings, then we highly recommend this pair from HUE.
The brand is well liked by women who are sick of the low-end, cheaply made leggings, because these are the exact opposite! They may cost a bit more, but their sewn well and the material is durable.
Use these as a base for your casual outfits. Since they contain cotton, you won't want to use them for workouts (you'll see the sweat).
These are high-waist but they don't have a control-top panel (the panel isn't that wide).
Once you try them on, you'll see what all of the hype is about and you won't regret spending the extra $!
In our table, we showed you the solid black Carnival leggings, but don't forget to check out the fun prints in our Tips section above, too!
The material is soft and comfortable (softer than most of the other legging material you've probably tried) and they reach all the way down to your ankle. You might need to be careful if you plan to wear a waist-length shirt because they can be a bit sheer, but if you wear a long top, this won't be an issue.
These also have a high waist to help smooth your silhouette!
We couldn't help ourselves with this pair! They have so much going for them (even though they aren't solid black).
Pair them with a long, white loose blouse, a pair of ankle-high boots and the right accessories and voilà; a unique spring outfit. We also suggested a few other mostly-black patterns for you above in the Tips section.
These will reach down to just above the ankle (not to it) and you can use them for a variety of occasions: from workouts in the gym to casual, comfy outfits that you wear to school or for running errands.
If you're more interested in solid black leggings, we have plenty of other options for you to choose from on our table above, so be sure to check them out!