Leggings: you can never have too many!
The fact that you can wear them in so many different ways makes them a staple item in the wardrobe, so those of you are searching for the best black leggings to add to your stash will find what you need here.
In our guide below, we compare, contrast, and give you the scoop on this year's top leggings (we also have a few fun suggestions if you're willing to branch out a bit!)
---
How to Decide
Not sure which are the best black leggings for the occasion? We'll help you narrow down the choices:

Season – Obviously, you won't want a pair of wool leggings in the hot summer months, so make sure you choose based on the season.
In the winter, look for thicker, heavier materials (wool or fleece-lined leggings, for example), and in the summer, go for something lighter like Nylon/Spandex or cotton. Be careful that they aren't see-through, especially if you'll be wearing them as "skinny jeans!"
Occasion – Where will you be wearing your leggings?
For sports or physical activities, such as Yoga, make sure you get leggings made of moisture-wicking fabric (Nylon/Spandex mix) and avoid cotton at all costs. Everyone will see the sweet spots! For casual wear, cotton is a good choice. For more formal looks, leather or faux leather is great.
Waist Height – If you're looking for a little extra tummy control, make sure that they have a high waist give you a smooth silhouette.
---
Selection Tips
We have a few tips that we think will come in quite handy as you shop!

Be Careful with Lace –  The lace leggings can work very well for specific outfits and on certain frames, but the reason we didn't highlight any is that they aren't that dependable.
They snag easily and don't tend to hold up that well, so if we were you, we'd avoid them (unless you have a particular look in mind).
How Dark Should They Be? Since manufacturers use different dyes for their fibers, what one may consider "black," you may consider dark grey. It's hard to get a good idea of the actual color from a screen (especially since everyone has their screens calibrated differently or using a tablet/smartphone), so make sure they have a good return policy if you're worried about getting the wrong shade.
---
Features of a Good Black Legging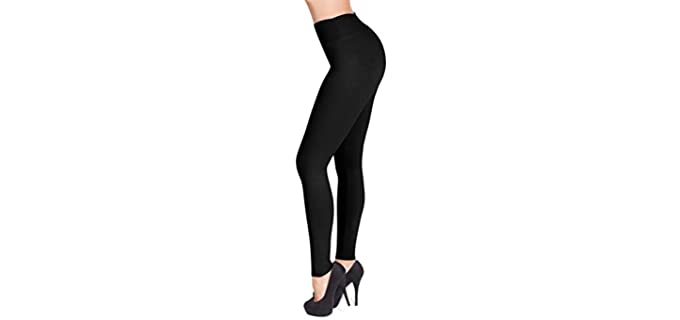 Materials – leggings consist of a basic fabric such as polyester, or cotton mainly. Spamdex, lycra, or elastane may be added to the fabric for stretchability.
Design – Leggings are designed to offer a tight and stretchable fit. Some may have a flat design waistband, a high or low waist. The cut may be a full length, knee-high, three quarter, or a cropped cut.
Closure – Leggings are usually a pull-on closure type. However, there are some brands and models with a drawstring closure.
Options – Black leggings come in a solid black, or patterned black color. There are usually other color options available, as well as different size selections.
---
Reviews: Best Black Leggings
These are our favorite picks when it comes to Black Leggings;
---
1
The Nike Black Leggings are athletic polyester leggings with an elastic waistband.
The leggings offer a regular tight fit and comfortable waist.
The broad waistband will not dig into your skin.
The design is athletic and comfortable for use during sports and exercise activities.
The solid black color comes with a contrasting Nike Logo.
---
2
These are some of the most comfortable Black leggings that offer a skinny fit.
The leggings consist of breathable cotton, modal, and elastane materials for stretch.
They are fully machine washable and quick drying.
The skinny low rise ankle design is comfortable and stylish.
The legging jeans have five pockets for your convenience.
---
3
From Commando, we have faux leather leggings with a compression fit for your comfort.
The leggings look very classy and fashionable.
They are faux leather consisting of polyester, polyurethane, and spandex for stretchability.
They also come in more metallic color options.
The fit is comfortable and durable with a signature waistband and light compression.
---
4
These yoga leggings come in a solid black color and thin for a skin-like feel.
They are designed specifically for yoga and have a super-thin second-skin feel.
The leggings are available in more color options, besides the solid black.
They are Lycra Fiber and very flexible.
There is also an additional storage pocket for small items in the waistband.
---
5
The Spanx Leggings are one of the top favorite brands in black leggings.
The leggings are available in plus and standard sizes, as well as more colors.
The sizes fit true to size with a flexible and optimal fit.
They are slim fit with built-in support and a double-layered waistband.
The center is seam-free and comfortable for seam-free shaping.
---
6
The Adidas leggings are available in a solid black option with a contrasting branded logo.
They are cotton and elastane leggings that are breathable and soft.
The leggings have an elastic closure and are machine washable.
More color options are available to you, as well as sizes.
They offer a comfortable tight fit that is not restrictive.
---
7
The Clasmix High Waisted leggings are a premium design for ladies.
Premium design leggings for women that are available in standard and plus sizes.
They have a high waist for excellent tummy control and fitting.
The leggings are durable and a piece of very soft light fabric.
Ideal for all uses and occasions.
---
8
The Amazon brand Capri legging comes in choosing a high or medium waist option.
These are Nylon and spandex leggings that are very durable.
They are machine washable and will dry quickly.
There is a midrise fit, and they have a Capri length.
The design is snug and comfortable in fit with an internal drawcord for adjustability.
---
9
The Felina soft leggings also come in multi-colored two packs beside the black two-pack set.
Polyester and spandex leggings that are soft and durable.
They are ideal for sports, casual wear, and exercising.
The design has a velvety soft feel and will keep you warm in winter.
They come in a set of two with more colors available.
---
10
We have a thick and durable, high waisted legging ideal for gym and exercising from The Gym People.
These are gym and workout leggings.
They are very lightweight, breathable, and durable.
The leggings consist of quality materials with a wide elastic waistband for our comfort,
The crotch is gusseted for more free movement, and there is a higher waist design.
---
Index Table: Top Rated Black Leggings
---
---