A custom cowboy hat can run thousands of dollars, depending on the material used to make it and custom detail work required to fulfill the wearer's tastes.
You're probably not interested in a hat of that level, so in our guide below, we'll help you find the cowboy hats in a more affordable price range.
Not dirt-cheap, low-quality hats in our guide, no sir. We'll show you quality hats available at a fair price.

---
How to Choose the Right One
Here are a few initial tips to help you choose the right cowboy hat;
Size – Sizing is important because you don't want a hat that will fly off your head when the first light breeze blows (too large), nor do you want it too tight.
Material – Different materials are appropriate for different situations. We'll be discussing the options and what occasion each type is most appropriate for below, so be sure to scroll down and read!
Brim Shape – Many different brim shapes are available, each with a specific function. The brim shape makes a big difference in certain situations, so unless you're choosing based on aesthetics only, you'll want to make sure you choose accordingly.
---
Materials Used in Cowboy Hats
The main materials used to make cowboy hats include:
Fur-Based Felt – These are usually higher in quality and more durable. You'll want a fur-based felt hat for formal occasions or out working to keep the sun and other elements off of your head, especially in cold/wet weather.
Straw – Depending on the weave of the straw and the design, they can be used for formal and informal occasions.
Leather – Leather hats are another option. The appeal here is that you can crush them, and they'll keep their shape. Many Australian/Outback-style hats are made of leather.
If you're serious about cowboy hats, then you'll know that one is never enough.
Expect to have one for work, one for formal occasions, and maybe an extra hat or two just because. Having options is always a good thing.
---
The "X" on a Cowboy Hat
On both fur-based felt hats and straw hats, you'll see an "X" or multiple "Xs" printed on the underside of the brim. These mean different things based on the material:

On Fur-Based Felt – Here, it's referring to the quality of felt used to make the hat. The more "Xs" you see, the higher the quality. The best cowboy hats can even have 20 Xs, but those are the costly ones that we won't be featuring here.
On Straw – Here, the "Xs" refers to the quality of the straw and the tightness of the weave (more X's = higher quality).
---
Brim Shapes in Cowboy Hats
Since choosing the brim, the shape is usually based on preference and not style (and also because it's possible to customize the brim shape, the only things we can point out are:

Flat – These can be wide or narrow, so really, the amount of sun and moisture protection they offer differs. The flatter they are, the less functional they'll be for actual cowboy duties.
Curved – If you're choosing a hat based on function, curved brims will make lassoing much easier. You may get hit by more sun and precipitation, but you won't knock the hat off your head as you swing the rope.
---
Features of Good Cowboy Hats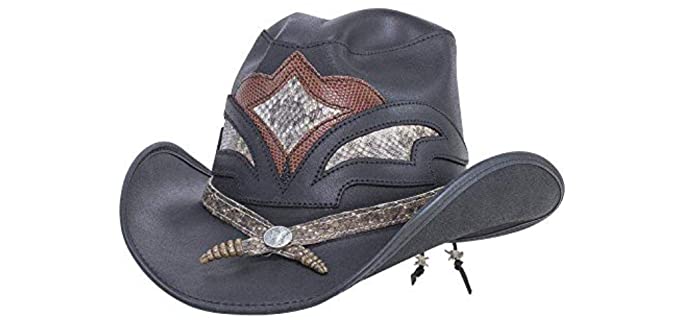 Materials – As you have seen the top material choices are leather, straw or felt. Felt can consist of synthetic materials or of genuine wool materials. Your leather and wool hats will be more expensive than synthetic materials, but much more durable and comfortable.
Design – When it comes to design, you will get cowboy hats with a curved or a flat design brim. Some models are designed for women or children. However, most of our featured models are for men. Many designs come with added decorative details such as buckles, straps, and additional stitched materials.
Colors – Neutral colors are usually the most prevalent in cowboy hats. However, some brands offer more bold and other color options.
---
Stetson Cowboy Hat
Stetson is one of the best cowboy hats brands.
Here is a video describing how a Stetson cowboy hat is made.
---
Reviews: Best Cowboy Hats
These are some of the most upmarket and sought after Cowboy Hats that are available today;
---
1
If you're looking for a quality straw hat for formal occasions.
You'll notice that the crown has a decorative open weave, which is great for airflow on hot summer days. The rest of the hat is tightly woven for quality (and keeps the sun off your face. The brim measures 4 ½ inches wide, and the crown is 4 1/8 inches tall.
They've been making quality (and comfortable) straw hats in the USA since 1927 and really care about quality control.
If you require something fancy that provides you with plenty of shade and great ventilation, this is the hat for you.
---
2
Well, of course, there is a Stetson in our top 3!
This is a great travel hat since you can pack it in a suitcase (it's made of crushable wool felt), and it will bounce back into its original shape, but it's not for rough outdoor work.
The brim is 3 ¼-inches wide with just a slight curve to it.
If you don't like straw hats or the weather doesn't call for one, this is a semi-formal choice that will keep you dry should it start to sprinkle outside.
---
3
The Resistol Amarillo Sky palm Cowboy hat has an excellent straw hat design.
The Cowboy hat consist of Mexican palm straw materials and wool felt on the inside.
This is a high-quality brand with excellent quality materials and craftsmanship.
There are a four-inch brim and a marching band.
The hat also has a Cattleman Crown.
---
4
We have this Australian-style leather hat from Conner Hats.
If you're working outdoors, this is a great choice since it is crushable (returns to its original shape like the previous one), and it will keep you dry.
Being leather will require a few extra maintenance tools (i.e., leather cleaner and conditioner), but it definitely fits well and even has some ventilation holes on each side of the brim to keep you cool.
Overall, an excellent hat if you're interested in leather!
---
5
The Silverado Rattler is another stunning design in a crushable cowboy hat.
The crushable design makes the hat easy to store and take with you anywhere.
It consists of pure and crushable wool.
There is a bendable brim three and a half inches in size.
The color options available are either black or serpent.
---
6
Stetson is one of the high-end brands for Cowboy Hats that you can invest in.
The hat consist of woven straw that is lightweight and breathable.
The hat is an 8X straw design that features two-tone tan leather bands decorated with small oval conchos, and there are also three brown eyelets on each side.
The color is brown with a brown band.
---
7
The Kangaroo Cowboy Hat is a novelty design that comes in colors for both men and women in felt fabric.
Something a bit more affordable for fun is the Kangaroo Cowboy hat brand.
The hats come in pink, black, and dark brown.
The band of the hat is a darker shade of color.
The hat consists of felt materials with synthetic studs attached.
This is more of a costume hat than an actual cowboy hat.
The sizes are ideal for adults and children alike.
---
8
An authentic and classic Cattleman design hat that is perfect for little boys.
The cowboy hat consists of straw with an elastic closure.
There are silver conchos for decoration.
The size is a one-size-fits-all for children.
---
9
The Resistol Classic Cowboy hat has a buckle detail and gold trim.
Another excellent addition from Resistol is their black and gold cowboy hat.
This is a felt design hat with buckle closure.
The hat is dyed black and has gold trimmings and a buckle.
The brim has a four-inch size that is mostly average, and there is a self-band with a three-piece buckle set.
---
10
The American Hat Makers Storm Cowboy hat is leather with snake leather and red leather trims.
From American Hat Makers, the Storm is a gorgeous design in cowboy hats.
The Storm has a hook and loop closure for a better fit.
The hat consists of genuine leather that is durable and more comfortable for all occasions.
There are decorative details, and it is crafted in the USA.
Furthermore, there are also sizes and a sizing chart at your disposal to get the perfect fit.
---
Index Table: Top Rated Cowboy Hats
---
---