Finding the perfect pair of jeans for your curvy figure can be a bit tricky. In fact, jeans shopping is too often a nightmare for many women because they aren't sure which ones to choose from!
In this article, you will see some of our favorites jeans ideal for Plus Sizes. The most important thing to remember is that you don't have to sacrifice fashion for comfort. There are plenty of ways for you to dress your unique curves, which is what we'll help you with below!
---
What Affects Your Choice In Jeans
Before you choose the best plus-sized jeans for your body, there are, however, a few things to consider;
Your Shape – If you have long legs, or you're petite, if you have an hourglass figure, or if you're pear-shaped, then the cut, the rise, and the pockets will all play a role in your selection. Your priority is to flatter your figure, which we'll discuss in detail below.
Color – Dark colors are always flattering, but if you have a straight-leg pair of lighter-colored denim jeans, you can totally rock them. The key is to make sure that the lighter color flatters your skin tone, eye color, and hair color can help you determine whether or not a pair of jeans will work for you. Don't be afraid to branch out!
---
How to Wear Jeans for Your Specific Shape
First, determine your shape. From there, you'll want to remember the following rules;
Hourglass – Straight leg jeans or even skinny jeans will work for you. Avoid the flare and bootcut. Stick with midrise jeans.
Pear – If you have wider hips and a narrower top, then you will do well with flared or bootcut jeans. You don't necessarily need high-rise jeans, so opt for a medium rise that fits comfortably around your hips.
Rectangle – Since you don't have a noticeable waistline, you will need help in making it seem like you have one. High-rise jeans with a tummy-controlling waistband paired with straight legs or bootcut legs will make it look like you have more curves.
Apple – High waist, bootcut and, skinny jeans with a long top will work well for you. Help the eyes looking at you travel up and down your body rather than only focusing on your mid-section.
---
How to get The Perfect Jean Fit
To harness your curves and help you pull off the look you're going for, here are a few tricks to help you achieve certain looks.

Flatter Tummy – You definitely need high-rise jeans to help you control your curves and balance them out.
Elongate The Legs – Bootcut and flared jeans are your friend. Opt for something in a dark wash and get jeans without noticeable pockets or no pockets to help keep the lines looking longer.
Minimize Thighs – Again, something flared, or bootcut will work well if you want to make the appearance of your thighs balance with your calves and feet.
Reduce Butt Volume – If you've got a healthy, abundant backside that you want to tame, get jeans with large pockets and avoid pockets with flaps that stick out. The latter will add to the size rather than making it appear smaller.
---
Features of a Good Plus Size Jean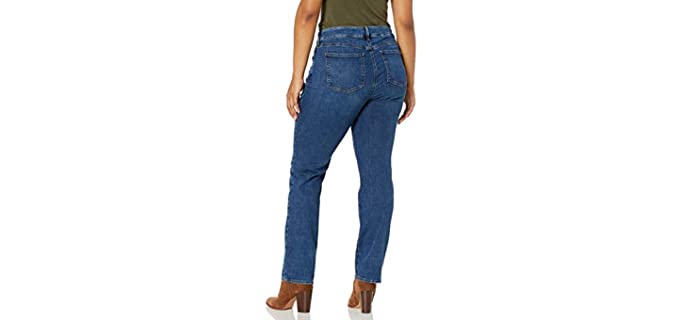 Materials – Most Plus size jeans are cotton and polyester beldns, and some even have Lyocell. Spandex or Elastane is added for stretchability, which is prevalent in plus sized jeans.
Fit – You can choose between mostly a high or mid-rise fit in plus-sized jeans that help flatten the tummy. Some designs have a more elastic waistband for more comfort. The cut is usually either straight leg, relaxed fit, bootleg, or a skinny cut.
Options – Options are available in sizes, and plus sizes, as well as colors and washes. Some jean brands also give you the option of long or short legs.
---
How To Dress Professionally When You Are Plus Size
Here is a video with plus-size dressing to look thinner tips.
---
Reviews: Best Plus Size Jeans
here are our top choices in Plsu Sized jeans for women;
---
1
These are comfortable cotton jeans for ladies is a straight leg fit that is quite slimming.
They consist mainly of cotton and spandex for flex and durability.
There are flattering mid-rise and straight-cut leg designs.
You can choose from a few available color washes.
The jeans have a five-pocket design and embroidered back pockets.
---
2
Something a bit more on Levi's stretchy side is their 720 plus-sized jean model.
The jeans consist of cotton, polyester, Lyocell,l, and elastane.
They are quite stretchable and have a super skinny leg design.
There is a tummy flattening high rise and a zipper closure.
The jeans are also available in more wash options and are fully machine washable.
---
3
The Lee Plus Sized Flex Motion jean is adapted and designed to fit a plus-sized body specifically and all your curves.
the design is eased in the seat and thighs for more room and comforter.
There is a mid-rise that is the more flattering and an elastic waistband.
Furthermore, other colors and washes are available to you.
They are also fully machine washable.
---
4
The Marilyn Straight-leg jean from NYDJ is figure-flattering, plus-sized jeans.
The jeans consist of a blend of cotton, polyester, Lyocell, and Elastane for flex.
They have a straight-leg design and elongated construction.
The classic fit is very comfortable and highly flattering.
They are also available in more color washes.
---
5
The Lee Rider is a stretchable bootleg cut fit pair of jeans available in plus-sized options.
the jeans consist of cotton, polyester, and spandex.
They have comfort, no gap elastic waist design that stretches and leaves no openings.
The jeans are a sophisticated boot cut design, and more washes are available.
Furthermore, they are very stretchable and comfortable, with availability in plus sizes.
---
6
The WallFlower Plus Sized Jeans have a curve-hugging fit and availability in plus-sized options.
the jeans consist of cotton, Polyester, Rayon, and Spandex for flexibility.
They are stretchable and have a curve-flattering design.
The contoured waistband design will prevent gapping and flatten your tummy.
The bootcut is classy and feminine.
there is likewise a double button design closure system.
---
7
The Democracy AB Solution jeans have an ab flattening design and comes in plus-sized options.
these are cotton, Rayon, Polyester, and Spandex jeans.
They are very stretchable and have a full zip closure.
The AB Solution design technology features an ab flattening elastic waistband with mesh panels.
The jeans are available in short or long options and sizes.
---
8
The Bandolino Mandie comes in plus sizes and long and short lengths for every shape and size.
They are cotton and elastane jeans that are very durable and comfortable.
The style has five pockets, a zip closure, and belt loops.
The straight legs are elegant and slimming and come in long and short lengths.
The fit is very comfortable, with availability in plus-size options.
They are also available in more color washes.
---
9
The jeans offer a regular and comfortable fit.
They are available in plus-size sand, more colors, and washes.
The jeans have a mid-rise and straight-leg design.
They consist of cotton, polyester, and spandex.
---
10
Comfortable jean jeggings for plus size ladies.
They are available in more colors and plus sizes.
The jeans have a print with butterflies on them.
They are feminine and comfortable.
There are also more colors and washes available.
---
Index Table: Top Rated Plus Sized Jeans
---
---