Your petite frame needs some special attention when it comes to shopping for a decent pair of jeans.
There is absolutely no reason to run from or hide from your short, petite figure, and when you learn how to dress your frame properly, it can have a huge impact on how you feel about yourself.
Below, we highlight the best jeans for short women and help you figure out which jeans will flatter your body type.
If you've never given much thought to the types of jeans you wear, you will after reading this article!
---
Your Body Type
The type of jeans you choose will depend not only on your height but also your body type.
Are you pear-shaped, round, square, hourglass, or plus-size petite? Slim and slender?
We'll offer you some tips below that help you choose the right pair of jeans based on your body type.
---
Jeans by Body Type
So, as we mentioned earlier, your body type will determine the type of jeans that flatter you most.
Here are a few tips to get you started.

Curvy Hips – Try a pair of slim bootcut jeans. Avoid the flare, which will make you look shorter.
Slim and Slender – A pair of straight leg jeans or skinny jeans will look good on you, especially if you have your shirt tucked in to enhance the elongating effect of the pant leg.
No Booty – You may not have been born with a full, curvy booty, but that doesn't mean that there aren't any fashion tricks out there to make it look like you were!
If you want something that will help enhance your backside, make sure you get a pair of jeans with pockets; even better if the pockets have flaps on the back.
The opposite is true if you have plenty of booties that you'd like to tame. If this is the case, avoid jeans with large, detailed pockets and pockets with flaps on them.
---
Tops
Remember that the top you choose will also help complete the look. If you don't like the looks of a pair of jeans that you try on while wearing a hoodie and t-shirt, try them on with a different top to give yourself an idea of the jeans' true potential.
The only time to say "no" right away is if they immediately feel comfortable when you put them on.
---
What to Avoid (or Not Avoid)
Like we mentioned, being short isn't something to be ashamed of, and everyone has different style goals.
In general, it's best to avoid cropped jeans (like boyfriend jeans or capris) when your goal is to elongate your silhouette.
On the other hand, you may enjoy wearing capris and boyfriend jeans and find that adding a pair of heels with a pointed toe helps you pull off the look without a hitch.
The key to wearing a good pair of boyfriend jeans is to make
sure that they aren't too baggy and cropped jeans don't have a flare at the bottom.
No matter how many suggestions we offer you, you must step out of your comfort zone and try something different. You might be pleasantly surprised!
---
Features of Good Jeans for Shorter Women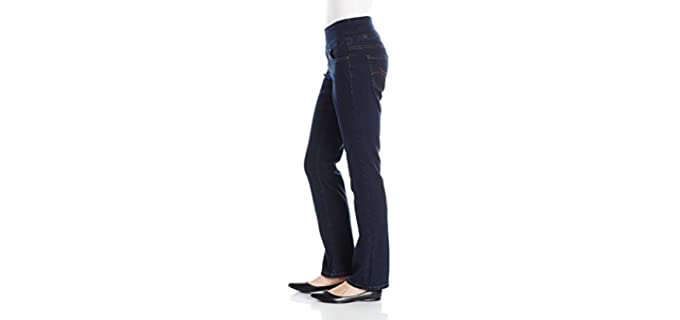 Materials – Jeans consist mainly of cotton and is sometimes blended with polyester, rayon, and other fibers. Most jeans also have added elastane or spandex for stretchability.
Fit – Jeans come in a skinny, regular, or relaxed fit design, with a high, low, or mid-rise type.
Cut – Jeans are available in bootleg, flare, skinny, straight or slim cut designs.
Options – Jeans for Short women come in petite size options as well as short leg options to accommodate for shorter women of all shapes and sizes. They also come in different solid colors and well as different denim washes.
---
How To Dress When You Are Short
---
Reviews: Best Jeans for Short Women
Here are our favorite picks when it comes to jeans for shorter and more petite sized women;

---
1
The Signature Range from Levi's offers you petite and shorter length jeans for ladies.
They consist of cotton Polyester and Elastane for flexibility.
The jeans are available in shorter leg options as well as plus and petite sizes.
They are machine washable with a pull on closure design and a mid-rise waist.
The legs are skinny throughout the hips and thighs.
| Rating Category | Weight % | Score |
| --- | --- | --- |
| Comfort | 25% | 95 |
| Durability & Quality | 20% | 90 |
| Colors | 15% | 90 |
| Sizing | 20% | 95 |
| Budget | 20% | 90 |
| Total Score | 100% | 92.25 |
---
2
From WallFlower we have a stretchable jean that comes in tall and short options for ladies.
These jeans are mostly cotton with rayon, polyester, and Lycra elastane for stretch.
They have a zipper closure design and are machine washable.
Tere is a mid-rise design and installs stretch technology.
The jeans are available in short, regular, and long leg sizes and petite, standard, and sizes.
---
3
The Signature By Levi's Gold Label range is available in petite sizes for smaller and shorter women.
These are polyester and cotton jeans with elastane for a stretch in the waistband.
They have a zip closure and are fully machine washable.
The jeans are premium quality and have a mid-rose stretchable comfort waistband.
You can get them in more color options as well as more leg size options.
---
4
The Boyfriend cut jeans from lee is available in more short leg length options and many colors and washes.
These are cotton and Polyester jeans with some stretchable spandex in the mix.
They are available in more washes and colors, as well as short leg options.
The seat and thighs are designed to be more stretchable.
There is also a higher rise waist for better tummy control.
---
5
This model from Lee has a high rise with a slimming tummy panel and availability in shorter leg options for petite ladies.
A cotton and Elastane jean with zip closure.
They are available in options with shorter legs and petite sizes.
The jeans are a comfortable regular fit with a high rise.
The straight legs are elegant and flattering.
---
6
A comfortable, relaxed fit jean from lee, straight legs, and availability in petite and short leg options.
These are comfortable, relaxed fit jeans with classic five-pocket styling.
They are available in more colors and washes, as well as options for short legs.
The jeans have a zip closure and consist of cotton and Polyester, with Elastane in the waistband for stretch.
They are comfortable and offer many size options.
---
7
The Gloria Vanderbilt Amanda jean comes in petite size options as well as long and short leg options.
These are classic and elegant tapered leg jeans for ladies.
They consist of cotton, polyester, and stretchable spandex.
They are avail; able in plus and petite sizes, as well as different leg lengths.
There is a zip closure with a button and pockets.
The jeans are likewise fully machine washable.
---
8
The Lee Regular Fit jeans are available in tall and short leg options and many more colors and washes.
The Lee jeans offer a comfortable, relaxed fit and have a button closure.
They consist mainly of cotton, polyester, and some spandex.
There are short and long leg options, as well as more colors and washes.
The straight legs are elegant and classic in fit.
---
9
The Ariat REAL jeans for women have a no-gap waistband design and are available in petite sizes and shorter leg fits.
The Ariat Jeans are cotton and polyester with spandex for flexibility in the waist area.
They come in many colors and washes with petite size options for shorter ladies.
They have a contoured no gap waistband as well as a mid-rise waist fit.
There is also a slimming core panel for a more elegant silhouette.
---
10
The Monroe range from Lee is available in petite sizes in a comfortable, relaxed fit option.
This is a classic relaxed fit pair of jeans that instantly slims you and has straight legs.
You can get the jeans in petite sizes, as well as shorter leg options.
There are five pockets and a zip closure.
They also come in many more colors and washes for your perusal.
---
Index Table: Top Rated Jeans for Short Women
---
---