Considering that you have stumbled across this article, chances are that you are looking for a good pair of driving gloves to assist you on the road. If so, then we might be able to give you a few ideas on popular choices.
You need the best driving gloves to fit into that glove box of yours. Regardless if you are driving a car, a bike, or a motorcycle, you need some accessories to protect your hands from dust, wind, and rain.
---
Why We Need Driving Gloves
If you are wondering why you should bother to buy driving gloves, here are just a couple of reasons;
They offer better control and grip – You will be able to grip and control the steering wheel and gears much better.
They reduce hand fatigue –
They preserve the good condition of your steering wheel – there will be no sweat and body oils transferred to your steering wheel that could cause deterioration.
They provide comfort in extreme weather – Some are lined to keep you warm in cold weather, while others have moisture-wicking and breathable designs for hot weather.
They look cool – They are stylish and elegant in design.
That should have convinced you that you should invest in a nice set of driving gloves.
---
Driving Gloves Styles
Not all driving gloves are the same. This is exactly why you will need to go through various styles and see which could be the best driving gloves for you.

Unlined – This design allows you to feel the wheel as you drive, meaning that drivers will still have a sense of items they touch.
Lined – These are usually used to keep the driver's hands warm in the cold season. The hands most suitable for these gloves are those generally with not much muscle mass that need some extra insulation.
Full-Fingered – These gloves fit snuggly, but not too tight, on your entire hand. They are generally tighter around the palm and much looser around the fingers.
Fingerless – These gloves were (obviously) made with the fingers cut off. Since the fingers are exposed, you'll have a better gripping sensation.
Depending on your own comfort level, you may choose whichever style you believe suits you best.
---
Features of a Good Driving Gloves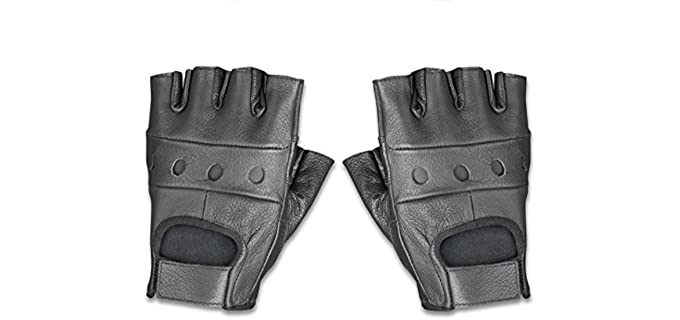 Materials – Most Driving Gloves will consist of a durable genuine leather, or a synthetic leather. The inside may be coated with a fleece, or cotton material that breathes well and keeps your hands warm.
Design – Driving gloves mostly come in fingerless options with a grippy palm for better steering wheel control. Some models come in full-finger options, which are ideal for cold weather conditions.
Closure – Drivers gloves will have a slip-on design with an elastic cuff, although most have a Velcro cuff that can be adjusted. You will also see that some models have a zip closure.
Options – Most driving gloves will be available in a few color models depending on the brand., as well as different size options for men and women.
---
Riparo Driving Gloves
---
Reviews: Best Driving Gloves
Below we have listed some excellent brands and models of gloves that are ideal for driving;
---
1
Genuine leather driving gloves that are comfortable and durable.
They have full fingers for warmth and protection.
The palms offer excellent grip.
The glove is available in more color options.
---
2
A full finger driving glove available in more colors.
The gloves are genuine premium sheepskin leather.
They are soft and flexible and offer good grip.
There are also more colors from which you can choose.
---
3
Full finger pull on gloves for driving is easy to put n and take off in turn.
They consist of genuine leather in black. Genuine leather is durable and of excellent quality.
The gloves are durable and have a side zip closure that allows for a more e snug and secure fit.
They consist of 95% cabretta Leather and 5% neoprene for durability.
---
4
Super soft sheepskin leather gloves for driving.
Sheepskin is soft and pliable and molds to your hands for the perfect customized fit.
The gloves have full fingers and cashmere lined for comfort,
They are suitable for driving and motorcycling.
The gloves are handmade and of premium quality.
---
5
These are genuine leather fingerless gloves.
The Gloves have a full mesh design for breathability and keep your hands cool.
They come in three available color options, so you can choose what suits your personal preference and wardrobe needs.
The gloves are durable and comfortable to wear with an adjustable fit, so you get the most comfort and convenience.
---
6
These are pure Italian Nappa leather gloves that consist of the highest quality sheepskin leather out of Italy.
They are completely handmade by skilled artisans, so they are perfectly made and unique.
The gloves are a half finger in design and available in more colors, for your personal fashion needs.
They are also lined for your comfort and to wick away moisture.
---
7
Buttery soft and stretchable gloves for driving that are easy on and off, for our convenience and comfort.
They are handmade and embroidered and consist of genuine goatskin leather.
There are more colors and sizes available so that you can get the perfect pair to suit your personal preference.
The gloves and durable and very comfortable driving with, so you will have no hassles with them.
---
8
These gloves consist of premium materials and leather that are very durable, soft, and comfortable.
They are available in many sizes in the black color, so that you can get the perfect fit.
The gloves ate convenient to use and come with a size chart for getting the perfect fit.
They are durable and high quality and will not let you down.
---
9
Fashionable driving gloves that will stay on and not let you down.
The gloves are leather, nylon, and spandex for flexibility and comfort.
They offer excellent grip and have a warm fleece lining for our comfort in color weather conditions
They are ideally designed for ladies, with a fit specific to a women's hands and size options available for women.
---
10
These are durable leather gloves available in many colors from which you can choose to match your style.
They are a half finger design and quite breathable, ideal for summer and warmer weather conditions.
The gloves have knuckle holes and a wrist strap with a snap button for your convenience and comfort.
They are cool and unlined for your comfort and to breathe well.
---
Index Table: Top Rated Driving Gloves
---
---