Enjoy getting your hands dirty? Even if you do, having a pair (or two) of the best work gloves is a real necessity. Your work gloves should be able to protect your hands from the hazards they are most likely to be exposed to.
Some excellent news is that work gloves are made to suit every budget, task, environment, and style! We took a look at a wide range of them and narrowed down the choices to the top 10.
First, you can read the buying guide, then have a deeper look into what sets the highest-ranked work gloves apart from the rest.
---
Consider This When Buying New Work Gloves
Match your choice of work gloves to the particular hazards you feel your hands are most likely to encounter. Stop to think if you'll be facing any of these:

Harsh Chemicals – Some everyday chemicals can be harmful if you allow them to come in contact with your skin for long periods or repeatedly. Even over-exposure to water can damage your skin.
Intense Temperatures – Extreme heat and cold can cause burning and damage to the skin and the underlying tissues of your hand.
Electrical Power – Electric shock, burns, and other serious health issues can arise if your bare hands come in contact with electric current or if your hands are not sufficiently insulated.
Sharp Edges. These can lead to scratches, cuts, and abrasions. Also, be wary of rough surfaces and the fact that quite often, sharp objects lay hidden under less dangerous ones.
Infectious Agents – It's not just blood and other bodily fluids that carry this risk. You will need sufficient protection from pathogens when working with a wide variety of liquids and other materials.
---
What Types of Gloves Do I Have to Choose From?
While leather (and, particularly, cowhide) is a popular material for making work gloves, there are several other materials and coatings that you can choose from. Of course, you will have to choose based on the type of job you are doing and the present hazards.

Leather Gloves – An insulated liner often makes leather gloves a great choice for working around electrical items. They also protect your hands should you have to contact abrasive surfaces.
Disposable Gloves – These are typically made of lightweight plastic and offer protection against minor irritants. When reuse is not an option, these are the most convenient and cost-effective gloves to have.
Fabric Gloves – These gloves are an excellent choice if you consistently need to get a firm grasp of objects. Along with allowing you a better grip on slippery objects, fabric gloves also have thermal resistance in cases of mild cold and heat.
Aluminized Gloves – Reach for these gloves if your job exposes your hands to intense heat. Their metallic material is specifically designed to offer optimum protection in conditions where temperatures get extreme.
Chemical-Resistant Gloves – Materials like Butyl, Flouro-elastomer, Natural rubber, Neoprene, Nitrile, Norfolk, Polyvinyl Alcohol (PVA), and Polyvinyl Chloride (PVC) are popular in this category. If there is the chance your hands might come in contact with oils, corrosive, or diluters, then these can offer the protection you need.
Cut -Resistant Gloves – These are the best work gloves you can choose in cases where your hands might suffer from accidental cuts and bruises. Kevlar is normally added to these gloves to give you greater protection.
---
Features of a Good Work Gloves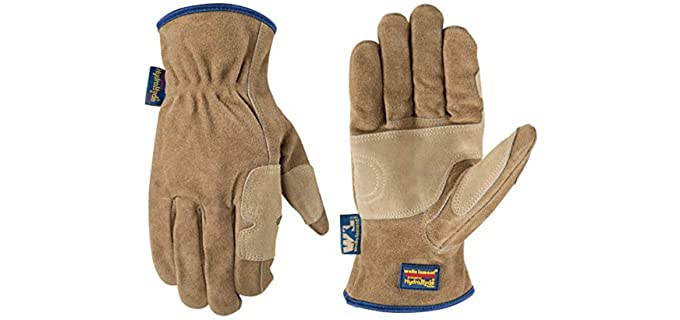 Touchscreen Compatibility – Some work glove models have a finger design that is touchscreen compatible.
Oil Resistant – For persons working with oily objects, a glove that can withstand oil, is waterproof, and has a grippy palm is ideal.
Heat and Cut Resistant – Some glove models offer excellent heat and cut resistance in a work environment and at home. Kevlar gloves are one of these designs.
Warm Lined Gloves – Gloves may be lined with fleece or other materials for working in cold weather conditions.
Leather Gloves – Genuine leather makes for a very durable and hard-wearing glove that is comfortable, dexterous, and protects your hands.
Waterproofing – Many work glove models have a waterproof lining to protect your hands from getting wet.
Breathable – Breathable materials or perforations in the glove design help to improve ventilation t keep your hands dry and comfortable.
---
G&F Products
G&F are well known for their gloves.
Here is a video showing the Waterproof Winter Gloves.

---
Reviews: Best Work Gloves
Listed are our favorites when it comes to tough and comfortable work gloves for men and women;
---
1
These are cotton and latex gloves that ate available in bulk packs.
The gloves ate durable and ideal for construction and warehouse work, or even gardening and mechanic work.
They are double-dipped in latex and have cotton blended technology.
The gloves are sold in bulk packs of 120.
---
2
These gloves consist of 100% cotton and are coated with rubber and red latex.
They are fully reusable and durable.
They are flexible with latex palm and finger grips.
The weight is regular and ideal.
---
3
These are micro-foam nitrile coated gloves that are ideal for working with oils and offer excellent abrasion resistance.
There is a knit wrist that helps prevent dirt and debris from entering the gloves.
The patented Nitrile Micro-foam coating offers 360 degrees of breathability.
---
4
Goat grain leather work gloves in double grain construction.
They are very durable and flame, puncture, and cut resistant.
Incredibly durable and comfortable with a 3Dglove pattern that form-fits to your hands for better dexterity.
The gloves are rated according to industry standards.
---
5
The gloves have a straight thumb design and a knit wrist cuff.
They are a clute cut and a clute pattern.
The gloves are regular in weight and very durable.
Sold by cases with 300 pairs.
---
6
Nylon, polyester, and PVC gloves with a cotton lining and rubber for grip.
The gloves are cut and abrasion-resistant and very durable with Kevlar technology.
They offer heavy-duty performance and are ANSI Ct level 3 rated.
Inside is a soft terry and cotton lining for moisture-wicking.
---
7
These are Kevlar reinforced work gloves.
There are patented rolltop seamless fingertips for better dexterity.
The gloves have sweat managing terry cloth on the top of the thumbs to wipe away sweat.
They are machine washable and consist of premium leather.
---
8
Heavy-duty leather work gloves for all seasons.
They consist of 100% split cow leather.
The gloves at e comfortable enough to fit men and women.
They are ideal for a variety of heavy-duty jobs and outdoor jobs.
---
9
These can be used as work and kitchen gloves.
They are cut resistant and heat resistant Kevlar gloves with a heavyweight design.
The gloves are heavy duty and have a high abrasion resistance.
Safet rated and ideal for most industrial work conditions.
---
10
The work gloves are cotton lined for comfort and breathability.
They consist of durable and soft cowhide leather with Kevlar stitching.
Ideal for kitchen use, BBQ, and for work in hazardous environments.
The gloves are heat and cut resistant.
---
Index Table: Top Rated Work Gloves
---
---