No one wants to be outside with their hands in a soggy pair of gloves. It's so uncomfortable and distracting!
Finding a pair of reliable waterproof gloves or a pair that won't prevent you from being in control of your activities isn't easy, especially with all available choices, which is exactly why we've created this useful guide for you!
Below, we'll show you the six best waterproof gloves and provide you with a few useful tips that will help you choose the right pair for your needs.
---
Buying Information
When buying the best waterproof gloves or just any other type of gloves, consider the following;
Whether they are indoor or outdoor gloves – Some gloves are designed for wearing indoors mostly and not for tough outdoor use.
Their quality – A Durable quality brand glove will last much longer and be able to withstand wear and tear much better than lower quality, cheaper brand.
Their price – You will need to have a realistic budget and expectations as a good quality waterproof glove may cost more, but in the end, it will perform better and last longer.
Their size getting the right size glove is imperative, so you should get proper measurements and compare them with the gloves' size chart when purchasing online. Otherwise, it is well-advised to fit your gloves and make sure they offer a snug but not too tight fit.
Waterproofing – make sure that the gloves are waterproof, and not just water-resistant, it will state in the description. Waterproof gloves have a lining that prevents any liquids from entering the gloves, while water-resistant gloves only repel some liquids, while water may still get through.
---
Features of a Good Waterproof Glove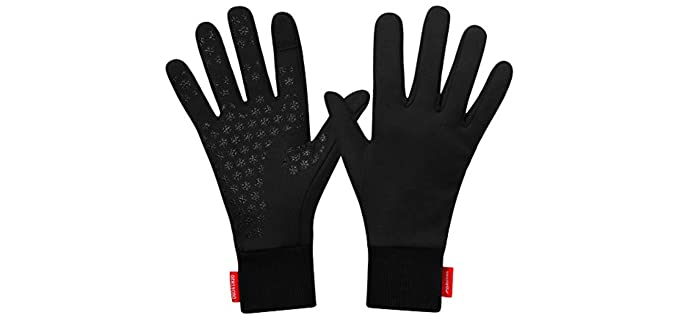 Materials – Waterproof gloves usually have some permeable membrane that is breathable and offers waterproof. Leather is also a good water-resistant material for most gloves. Polyester and cotton may also be the material used in waterproof gloves, along with Nylon that is durable and water-resistant.
Design – waterproofing technology can be used to offer full protection. Some waterproof gloves are designed for cold weather and thin insulation or carbon fiber heating systems. Touchscreen compatible fingertips may be in the design depending on the glove model.
Closure – Gloves usually have an elastic pull on closure, though some have a drawcord, hook, and loop Velcro closure.
Options – Waterproof gloves usually come in single color options, but will have sizes available for men and omwne.
---
Reviews: Best Waterproof Gloves
Listed below are some of the best available waterproof gloves that you will find;
---
1
The Savior Heat Gloves are the perfect skiing gloves for cold weather, which are also waterproof.
The gloves have a more secure hoop and loop closure design.
They are heated gloves that have a heating element that can be recharged.
The Gloves are designed for skiing and very cold conditions.
They consist of high-quality materials that are breathable and insulated.
---
2
The Day Wolf Gloves are padded, waterproof protection gloves for cold weather.
The Gloves consist of polyester, Sheep's Leather, and have rubber padding.
Carbon Fibre is used as a heating element with three heat settings.
They are fully waterproof and breathable for your comfort.
The leather is durable and long-lasting.
---
3
From Velazzio, we have waterproof winter gloves for extremely cold weather conditions.
They are polyester gloves that are touchscreen compatible.
There is a waterproof, durable lining.
The gloves come with a three setting carbon fiber heating setting and 3M premium Thinsulate insulation.
They are durable and ideal for extremely cold weather conditions.
---
4
The Marmot Gloves are fully waterproof and very lightweight.
The Gloves consist of 100% Nylon mamaterialsThey are waterproof ladies ski gloves ideal for cold, wet weather,
The Gauntlet quickdraw cords make them easy to remove and secure.
They are warm and highly breathable with a lightweight design.
---
5
The Columbia Bugaboo Gloves are waterproof extreme cold weather gloves.
The Omni-Tech Plain Weave Polyester Gloves offer excellent waterproofing that remains breathable.
They have Omni-heat technology reflective materials to trap heat inside the gloves.
The gloves have a long protective and warming gauntlet and a removable safety leash.
They are hand-washable, with a pull on closure.
---
6
The Ozero Glove has a fully waterproof winter glove.
The Gloves are windproof and waterproof for full protection.
They are designed for cold weather with warming materials and design.
The gloves are ideal for riding a motorcycle, cycling, and driving.
The palms offer good grip, and the gloves have good dexterity for easy movement.
---
7
The Funee Gloves is a waterproof, outdoor winter glove.
The Funee Gloves have multiple uses for driving, riding, cycling, sports, and outdoor activities.
They are warm winter gloves for low temperatures, with a breathable cotton lining.
The gloves are fully windproof and waterproof for your protection.
There is an anti-slip design palm, and overall, the fingers and design are very dexterous.
8
---
The Forhaha gloves are lightweight and durable, with complete waterproofing for running and outdoor sports.
These are sports and running gloves for warmer weather conditions.
They are windproof and waterproof in design.
The gloves are designed to be lightweight and breathable, and very durable.
They are touchscreen compatible and have a zero-pilling design.
---
9
These are durable Neoprene fishing gloves that are waterproof and windproof from B-Forest.
Here we have a pair of B-Forest Outdoor gloves for cold and warm weather.
They are wind and waterproof while still completely breathable.
The fingerless convertible design is ideal for fishing and other activities.
The wrist strap is adjustable for a customizable fit.
---
10
From Jamont, we have a high-quality warm, waterproof winter glove.
These ate waterproof winter gloves for very cold weather conditions.
They have high-density carbon fiber for a heating element to warm up your hands.
The palms have anti-slip silicone grips.
They are touchscreen sensitive in three fingers.
---
Index Table: Top Rated Waterproof Gloves
---
---