It can be a bit tricky to find the right winter work gloves since we all have different jobs and needs. Some need a glove that will keep their hands warm in negative temperatures, while others might need something with superb waterproof protection and heat retention.
In our guide below, we'll be taking a look at the best winter work gloves and provide you with a few tips that will help you choose the right pair for your needs.
---
How to Choose Winter Gloves
Not sure where to begin? Here are a few things to take into consideration as you shop:

Glove Thickness –  Once you lose when you put on a pair of gloves, it is the contact between you and the objects you touch. If you need to push small buttons, operate machinery, or handle various materials as you work, a thin glove with the highest amount of insulation you can find is best. If you work outdoors and don't move around much, you'll get cold much more quickly. In this case, we recommend a pair of thicker gloves to help you stay warm.
Check The Fingertips – Since this is the first place where a glove will show wear and tear, be sure to get a pair with reinforcement in the fingertips. This might be a more durable material covering the tip or an extra layer of soft material, but you want them to be reinforced ideally.
Get A Few Different Kinds One pair is never enough. Keep a few different options available so that you can use the right pair of gloves based on the weather outside, and make sure you have spare gloves on hand in case the ones you're wearing get wet. It's pretty miserable working with a pair of soggy gloves on your hands!
---
Check the Insulation
Finding gloves with the right amount of insulation for the temperature you'll be working on is important.
If the temperatures range from 0° to -20° Fahrenheit, it's best to get a pair with a layer of Thinsulate on the inside: somewhere between 40-100 grams in weight. This will keep you warm in case of wind or precipitation.
---
Features of Good Winter Work Gloves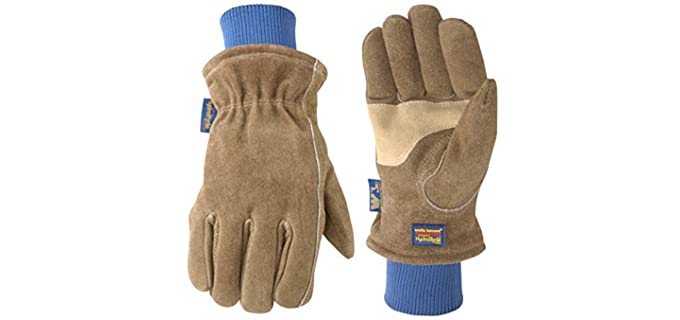 Materials – Most gloves are made from durable leather, although other materials may also be used or blended for warmth, slip resistance, and durability. Rubber, Polyurethane, polyester, and nylon may be used in winter gloves. Many winter gloves have an inner fleece lining to keep you warm.
Durability – Work gloves are designed to be durable and resist wear and tear involved with heavy-duty use. They have reinforced fingers and palms that also provide a good grip. Many work gloves are designed to protect you against specific risks such as cuts, abrasions, heat and to provide good waterproofing.
Options – Work gloves come in different fit and size options, for men and women, or for men mostly.
---
G&F Gloves Review
---
Reviews: The Best Winter Work Gloves
Listed below are some of the most sought-after winter work gloves for a variety of uses and environments;
---
1
These are more heavyweight and heavy-duty cotton gloves from G and F products.
The Gloves are durable and warm cotton.
There is a straight-up thumb for better mobility.
The gloves have a Clute cut design and a knit wrist cuff.
They are a regular weight heavy-duty work glove.
---
2
From g and F Products, we have another pair of general-purpose, warm work gloves.
These are high-quality cotton-lined gloves to wick away moisture and keep you comfortable.
They have PVC dots for better grip.
The gloves come in different size options and are general purpose warehouse design gloves.
You can likewise purchase them in bulk sets.
---
3
The g and F products Cotton and Rubber Gloves are warm and durable, with a more flexible palm.
These gloves consist of 100% pure cotton and rubber-coated with red latex.
The gloves have a warm and moisture-wicking cotton interior for your comfort.
The outer shell is waterproof and durable with a red latex coated rubber.
They also offer exceptional grip and have regular weight.
---
4
The EvridWear gloves are durable and lightweight work gloves for cold weather conditions.
These are more lightweight work gloves that breathe well and are durable.
They have a textured coating with latex rubber palms for better grip.
The cuffs have an extended knit design for your comfort and prevent debris from entering your gloves.
They are ideal for multiple purposes and will also keep your hands warm.
---
5
Here we have a pair of cowhide leather gloves that are durable and warm.
Regular cowhide leather gloves are ideal for a variety of purposes.
The gloves have a rubberized safety cuff for wrist protection and leather palms.
They are ideal for general warehouse, handling, and landscaping work.
They are also available in more size options.
---
6
The Wells and Lamont winter work gloves are insulated for warmth, with durable leather construction.
These are durable leather gloves that ate rough and abrasion-resistant.
They consist of pigskin leather, with an extra-long knit wrist to seal the cold and elements.
Inside the gloves are 100 grams of 3M Thinsulate insulation and a fleece lining for warmth.
The Gun cut and flexible thumb provide better comfort and a flexible fit.
The gloves are available in extended size options for men and women.
---
7
The Carhartt work gloves are warm and durable enough for heavy-duty wear and tear as a work glove.
This is a durable and soft polyester work glove with an extended cuff.
They have a durable polyester shell and a waterproof insert,
The palms are a reinforced polyurethane shell.
The FastDry technology lining wicks away moisture for your comfort.
---
8
The Winter work gloves from Wistar are durable and offer excellent grip.
The knitted acrylic terry gloves are thick and warm, with an elastic neck and longer wrist guard.
They are moisture-wicking and warm on the inside.
The palms are coated with latex for better grip and have a wrinkle foam dipping.
The ideal work gloves that are water-resistant and protective for cold weather conditions.
---
9
The Wells and Lamont work gloves have a thermal knit shell for warmth and a textured latex palm for superior grip.
The gloves have a latex coating for elasticity, grip and to keep cold elements out.
Inside is a thermal knit shell with a warm and flexible interior.
The textured latex coating helps with general gripping and keeps them waterproof.
The gloves come in a multi-pack with two winter grip gloves.
---
10
The HydraHyde leather work gloves will protect you against wetness and provide warmth for cold weather.
HydraHyde gloves consist of split cowhide leather that is high abrasion and puncture resistant.
Leather creates a very durable and hard-wearing winter glove.
The gloves are water-resistant and quite breathable.
They are insulated with 100 grams of 3 M Thinsulate insulation and have a warm interior lining.
The elastic knit cuff seals out the cold and keeps you warm.
---
Index Table: Top Rated Winter Work Gloves
---
---