Different jobs require different types of gloves. In the medical field, everyone relies on latex or rubber gloves, but you need something a little more durable when it comes to tough outdoor jobs. Leather, for example.
Leather gloves come in many shapes and styles, but do you know which are the best leather work gloves for your job?
We'll help you determine that in our detailed guide below. We highlight some of the top gloves for gardening, utility jobs, ranch work, garage projects, and everything in between, so read on to find out more about how to choose the right pair.
---
Types of Leather
When you understand each type of leather's qualities, it is much easier to choose the right pair based on your job or the task you'll use them for.

Cowhide – Most leather gloves are made of cowhide leather. Due to its heat resistance and resistance to abrasion, it is great for a wide variety of jobs. Cowhide leather gloves are especially useful in the utility field (electricians, journeymen, or linemen), ranching, and various jobs around the home.
Goatskin – Goatskin is a very flexible leather, and if it's thin (which they can do to it in the manufacturing process by shaving it down), it offers you a higher level of dexterity than cowhide. It's not the best choice for winter use since it doesn't retain heat, but it is usually cheaper than cowhide leather and quite durable.
Mixed Materials – Some leather gloves only have leather on certain parts, such as the palm, fingers, and knuckles. This helps keep the costs down and offers higher abrasion resistance to cotton gloves that wouldn't otherwise be resistant. Many use these for gardening or light home improvement jobs.
Less common leathers – Include pigskin, kangaroo, bison, and deerskin. You'll also decide whether or not you need a lined pair of gloves. Unlined gloves are best for warmer weather since lined gloves will help keep your hands warm (ideal for use in the cold weather).
---
Think About the Fit
The amount of dexterity you need will dictate the type of fit you need. A looser fit is more comfortable but doesn't allow you to feel the objects you are handling. A tighter glove will allow you to feel objects, but if the material is too thin, it won't be very puncture resistant and will probably wear out more quickly.
The more delicate the task, the tighter the fit should be.
It would help if you also considered the cuff. Some gloves have no cuff, and they end right at the top of the wrist. Other gloves have longer cuffs (the Fir Tree Leather Gardening Gloves, for example, offer full arm protection up to the elbow).
---
Features of a Good Leather Work Gloves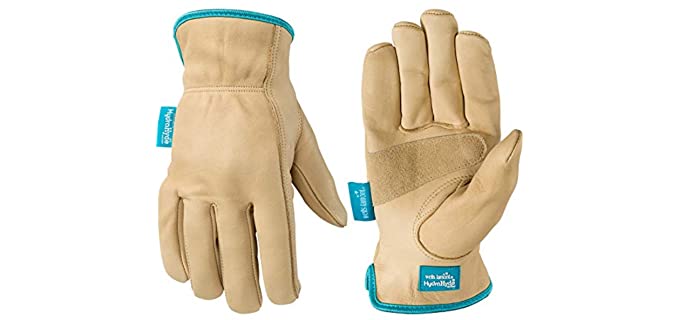 Materials – Leather work gloves usually consist of genuine leather of cowhide, sheep, or goats' leather. Some models may consist of synthetic leather. Cotton, Fleece, or mesh may be used to line the interior. Waterproof membranes such as Gore-Tex may also be used.
Design – Work Gloves are designed to protect your hands from cuts and abrasions, as well as liquids, and some even heat depending on the glove. Some are designed for summer, while others have a lining for warmth during cold weather conditions.
Closure – Gloves have a pull on design with elastic, or Velcro cuffs that are adjustable.
Options – Work Gloves usually come in a single color option depending on the brand, and in turn different size selections for men and women.
---
Reviews: Best Leather Work Gloves
In our extensive list we have some of the best available genuine leather work gloves for you;
---
1
Durable leather gloves for construction and outdoor work.
They are genuine cow split leather with reinforced knuckles.
The gloves offer a comfortable fit with cotton lining and elastic wrist.
They have a rubberized design for safety.
Available in a naturally blue color option and more sizes.
---
2
These are regular and durable cowhide leather work gloves.
They are rubberized for your safety, and the cuffs offer wrist protection.
There is a leather palm for better grip.
They are ideal for industrial work and landscaping work.
---
3
The Leather gloves ate durable and have a hook and loop closure for a secure fit.
They ate designed to be durable and ideal for heavy-duty work takes.
The gloves consist of cow leather and have a moisture-resistant interior.
They also help to retain warmth in cold weather conditions.
---
4
These gloves are sold n sets of a dozen.
They are durable high visibility leather gloves.
The Gloves consist of split cowhide leather and a keystone thumb.
They are ideal for better visibility because of their bright orange color.
---
5
These leather gloves are designed specifically for women.
The HydraHyde technology offers excellent water resistance and breathability in turn.
The gloves are wearing resistant with reinforced palms for better grip.
The wrist is elastic and offers a protective and snug fit.
They are available in women's sizes.
---
6
Leather gloves form a top brand for optimal hand protection.,
The gloves have an ergonomic design to offer full protection.
They consist of cowhide leather and have a keystone thumb.
They are durable and abrasion-resistant for your safety.
---
7
Heavy-duty work gloves for women.
They are genuine leather and high abrasion, and puncture-resistant industrial and outdoor environments.
The gloves have an ergonomic design and keystone thumb.
They are durable and stay in place with a secure elastic wrist design.
---
8
These are durable leather working gloves from a top brand.
They are water-resistant, consisting of HydraHyde leather.
They are very durable and will withstand daily wear and tear.
The gloves have a comfortable and ergonomic fit.
---
9
Premium leather work gloves from Galeton.
They consist of gold color tanned cowhide leather that is breathable and abrasion-resistant.
The gloves have a keystone thumb and are quite flexible for better grip.
There are bound leather cuffs for comfort and, elastic wrist.
---
10
These are full grain cow leather work gloves that are ideal for carpentry and utility work.
They are excellent in flexibility and grip with a keystone thumb and gun cut design.
The gloves have double thread sewing for strength and durability,
They are durable and protective.
---
Index Table: Top Rated Leather Work Gloves
---
---