Jogger pants have taken on the casual streetwear category by storm, and today you can find these comfortable and trendy pants in a variety of cuts and materials.
Below, we highlight a mixture of the best jogger pants for men and women, comparing and contrasting brands, styles, and materials.
Keep reading for some great tips to help you find the right pair for your needs!
---
Buying Consideration for Jogger Pants
Before you select a pair of jogger pants, consider the following:
How You'll Use Them – Are you really going to head out for a jog or to the gym for some lifting in your pants, or do you plan to use them for fashion purposes only?
Workout – Opt for a fuzzy cotton or cotton mix (terry joggers) that stretch, and if you plan to head outside in cold weather, a fleece lining will keep you toasty warm.
Casual Daywear – You can have fun with the materials and prints, opting for a twill or chino weave (which is a type of cotton), denim, and a variety of cotton mixes that will help you achieve the look you're aiming for.
Patterns and Prints – That fun print that takes you back a few decades to the '90s might not trend for very long, so if you want a pair that you can use until you wear them out, find a pattern or print that you know won't go out of style anytime soon.
Jogger Variations – There are many jogger pant variations out there today, so use our list below as a reference to help you get started. These are some of the favorites of jogger pant fans across the globe, so you might enjoy having a pair in your closet, too!
Washing – Read the washing recommendations carefully as you browse. Some materials should be hand washed only, and if you are not a fan of scrubbing and rinsing your clothes the old-fashioned way, then opt for something that you can easily throw in the washing machine and dryer.
---
Joggers Fit
You'll find that the term "jogger pant" is used to describe a variety of pant styles, sometimes intermixed with the term "sweatpants," "jogging pants," "gym pants," "sweats," and so on.
By definition, the jogger pant is a loose-fitting pant with an elastic waistband and elastic cuffs at the bottom of each pant leg. From there, you will find hundreds of variations: street style, smart casual, bohemian, athletic, etc.
The fit is relaxed, yet the tapered pant legs give it a mix between normal and skinny fit, and currently, the trend seems to offer more choices for men.
We found a few great pairs of women's jogger pants, so ladies, check out numbers seven and eight on our list if you're looking for a jogger update!
---
Features of Good Jogger Pants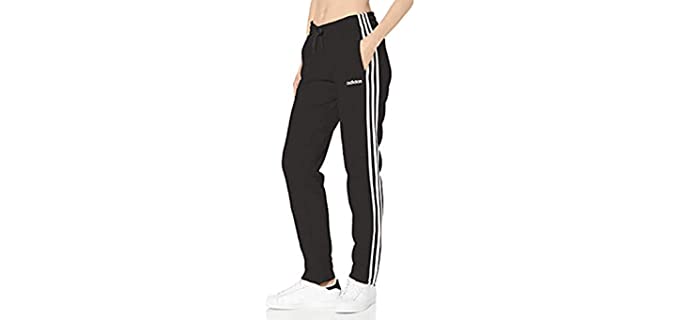 Materials – Joggers mostly consist of fleece materials, or cotton, polyester and elastane for stretchability.
Closure – Most joggers only have an elastic waistband for a pull on and off fit, though some come with an adjustable drawstring.
Pockets – Most joggers will have side slit or slanted pockets for your conveneinece.
Options – Color options are available mostly in solid colors, and some in prints such as camouflage prints.
---
How To style Joggers
---
Reviews: The Best Jogger Pants
This is our comprehensive list with some of the best available Jogger Pants brands and models;
---
1
A comfortable dropped Crotch design Jogger from Victorious for men.
With all of the styles and colors to choose from, Victorious earns the best jogger pants on our list.
The fit is comfortable with the dropped crotch, and the look is relaxed, yet not too casual, with the cotton/spandex twill fabric weave.
There features a drawstring so you can tighten or loosen them as you please, and they have two front pockets and two back pockets.
Great for walking around the city or for traveling, these versatile joggers are a must-have in your standard wardrobe. Get a few pairs!
---
2
The Champion Retro Joggers are a warm fleece design for cold weather.
For those who truly want to use jogger pants for a run or workout at the gym, Champion has some great cold-weather joggers that you'll love to wear.
One of the nice things about these joggers is that the ribbed leg cuffs don't flap around as you jog or workout.
Often, on certain machines at the gym, especially bikes, it's easy for wider pant legs to get twisted or stuck in the pedals as you use them. Not with these!
You can lounge around the house, workout at the gym, head out for a jog, or run some errands in these comfortable pants.
Since they are lined with a 9 oz, heavy fleece, they're best for the colder months when a little extra insulation will block out the wind and cold.
Keep in mind that the fit may be a bit snug in the leg for some, especially after the first wash.
This may be the desired effect for some and unappreciated by others. For a baggier look, get a size up so they'll fit just right after that first wash.
---
3
From KDNK, we have the elastic waist drop and leg drop design joggers for men.
The joggers have an adjustable drawstring closure.
The wais and legs are dropped for a more fashionable style and comfort.
They are available in a large range of solid color options.
There are also slanted pockets for style and functionality.
---
4
The Match Chino Joggers for men come pre-washed and will not shrink.
They consist of 100% cotton with no blends.
There is a secure and comfortable elastic waistband.,
The joggers are pre-washed so that they will retain their shape.
There are also more color options available to you.
---
5
The Akademiks Joggers are comfortable to wear and highly functional with slanted pockets.
The joggers consist of polyester, which is soft and durable.
They have slanted pockets for your convenience and an elastic waistband.
These joggers are ideal for loungewear and even for working out.
They come in more colors from which you can choose.
---
6
The Mooncolor Joggers are more stretchable and comfortable to wear, with a Drawstring closure.
The elastic waist is comfortable, and there is a drawstring closure for fit adjustability.
They consist of cotton, polyester, and spandex for stretch.
There are side seamed pockets for your convenience and storage.
The joggers are likewise available in more color selections.
---
7
Adidas is a top brand, and their joggers are some of the best you will find.
The joggers consist mostly of cotton and polyester with an elastic waistband.
They offer a slim fit in the legs and hips.
There are handy side pockets for storage and no closure, just a pull-on design.
Furthermore, they come with the three stripe details of the Adidas logo and three color options.
---
8
The Nike Open Hem Joggers are soft and comfortable to wear.
Nike is a premium quality brand that makes some of the best available joggers.
The fleece joggers are ideal for winter and colder weather conditions.
They come with an elastic waist, Open hem, and side pockets.
There are also a few more color options available.
---
9
The Amazon Essentials Joggers are ideal for casual wear and even for the gym.
Ideal for the gym because they are very stretchable and have a more relaxed fit.
The joggers consist of cotton and polyester mostly.
The side slit pockets are more secure and convenient.
There are also quite a few colors available from which you can select and printed options.
---
10
Something for those cold winters is the Team Fleece joggers from Adidas.
The Climawarm technology insulates the body while still breathing to keep you warm and dry.
The joggers consist of mostly polyester, with an elastic waistband.
They have ankle zippers for style and slipping overshoes.
Inside is a warm and soft fleece lining.
---
Index Table: Top Rated Jogger Pants
---
---