Pretty much everyone has a pair of sweatpants in their possession. Some use them for workouts, others to lounge around the house, or on quick trips to the grocery store.
But have you ever given much thought to finding a pair that works well with your shape or bothered to upgrade to a more expensive pair that will last longer than the $9 ones you found on the sale rack?
Below, we highlight the ten best sweatpants for both men and women.
Whether you're looking for something to wear around the house or to the gym, we have the top suggestions for you below!
---
How to Choose
Everyone's idea of comfort is different, so to find the right sweatpants for you, here are a few things to consider.
Waistband – A taller waistband will offer you more control while needing a little bit of extra tummy control.
Leg Length – If you're looking for sweats to wear during a workout, the last thing you need are pants that are too long. If you have shorter legs, look for sweat pants in a petite size, or check out the leg length before purchasing. Nobody wants to trip and fall their way around the gym!
Leg Opening – The leg opening is another thing to think about. If you're cycling at the gym or around various workout machinery, you don't want a loose leg cuff that will get caught in anything. Look for something with an elastic band or ribbing at the bottom that will keep it close to your ankles rather than flapping loosely (and potentially dangerously) around your leg.
Fabric Weight – If you have sweatpants lined with fleece, the tag will usually tell you the fleece's weight. These are best when the temperatures are cooler, and you want some extra insulation.
Other sweats are made of a mixture of materials, jersey being the highest percentage, along with polyester, cotton or spandex, as well.
Decide if you need a warmer pair of sweatpants for cooler temps or a lighter warm-weather pair.
---
One Thing to Remember…
If you are wearing sweats to the gym and plan on doing a particularly intense workout, sweats will show your sweat pools to the rest of the gym people.
You might think about wearing a pair of compression pants underneath them if you like wearing sweats. They will help you recover more quickly after your workout and absorb the brunt of your sweat.
Sweatpants at the gym are best for lifting and low-impact exercises (such as yoga) where you won't sweat as much.
It kind of defeats the purpose of the name "sweat" pants, doesn't it? They were originally designed for athletes to wear as they warmed up or stretched before and after an event and really didn't have anything to do with "sweat."
---
Features of Good Sweat Pants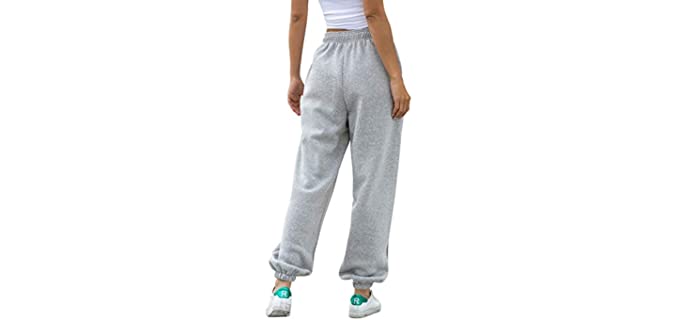 Materials – Good sweatpants consist of soft and breathable materials. You get heavy sweatpants with a fleece-like inner and thicker construction or more lightweight sweatpants that are more breathable. Most sweatpants consist of a blend of polyester and cotton, or they are 100% cotton, or 100% polyester. The waistband usually contains spandex or elastane for stretchability.
Closure – Sweat pants are a pull-on design with an elastic band waist. Some have a drawstring closure that you can adjust.
Design – Sweat pants may have skinny or narrow type legs, wide legs , or flare legs. Some have an ankle cuff or closed design, and others have an open wide leg.
Options – sweatpants are usually available in a large range of color optiosn, as well as standar and plsu sized fit options.
---
Reviews: Best Sweatpants
In our list, we have some of the most comfortable, premium quality sweatpants brands and models available to you today;
1
The Adidas Tiro 19 is a slim fit sweatpant with drawstring closure and clima-cool ventilation technology.
These are 100% polyester sweat pants with a soft polyester fleece lining.
They are medium weight and warmer in design with optimal durability.
The fit is slim and cut close to the body,
It has climacool ventilation technology to keep you dry and sweat-free.
---
2
The Southpole Sweatpants are available in standard as well as big and tall size options.
Another excellent 100% polyester addition that has an elastic closure and pull-on design.
The sweat pants are machine washable and very durable.
They have an adjustable waist cord and ribbed ankle design.
There are also more color options available in this model.
Furthermore, big and tall size options are available, despite the standard sizes.
---
3
For the ladies, we have a more snug fitting sweatpants option from leggings depot.
This is a polyester and Spandex blend sweatpant that is very stretchable.
It has a soft and stretchy design similar to a jogger.
There are a few more color options available as well as more sizes.
They are very durable and ideal for sports and leisurewear.
---
4
The Champions women's sweatpants have a retro style and handy side pockets for your convenience.
The Sweatpants are a powerful blend of cotton and polyester for softness and durability.
They are fully machine washable and quick drying.
There is also a Powerbldned closure system.
They have a retro-inspired jogger style and comfortable fit.
The elastic waistband is comfortable, and there are tapered legs with cinched cuffs.
Furthermore, they are also available in more color choices.
---
5
The Nike NSW for men is the finest quality sports brand sweat pants, from a top brand.
These are elastic waist and drawstring closure sweat pants from Nike.
Nike is a top sports brand, so that you can expect excellent quality and performance from their sweatpants.
The fit is more personalized with a jogger style.
There are also a few more neutral color options available.
---
6
Another excellent quality and comfortable sweatpants addition is the HeSaYep High waisted sweatpants for women.
A quality cotton and polyester blend pair of sweat pants.
They have a high waist design and elasticated cuffs at the bottom.
Comfortable and lightweight with a loose fit.
Furthermore, they also have pockets for your convenience.
---
7
The Champion Jogger for men has a closed bottom and a more lightweight design.
A 100% cotton pair of sweat pants that is fully machine washable.
The fit is more athletic for your comfort, with a relaxed waist and bottom band.
There are side pockets for easy storage and a relaxed cuff.
They are comfortable and very light in weight.
---
8
Here we have another superb model from Champion with cinched cuffs and a Powerbldend closure,
Cotton and polyester blended sweatpants for all occasions.
Champion is a well trusted and high-quality brand in sportswear and leisurewear.
The sweatpants are durable and machine washable.
What is more is that they are available in more colors and extended size options.
---
9
The EcoSmart sweatpants from Hanes have an open leg design for a more relaxed look and feel.
From Hanes, we have a classic cotton and polyester blend soft and warm pair of sweatpants.
The sweatpants are durable and have convenient side pockets,
The open hem flare leg design is much more comfortable and casual.
There is also an inside drawcord for a more secure fit.
---
10
The Russel Athletic Dri-Power technology sweatpants will wick away sweat to keep you warm and dry.
This is a Dri-Power technology pair of sweatpants designed to wick away sweat, keeping you warm and dry.
They are cotton and polyester with an elastic closure.
They are a medium weight for more warmth and durability, with an elastic waistband.
The hemmed elastic bottom will stay in place securely,
There are also generous side pockets for your convenience and style.
---
Index Table: Top Rated Sweat Pants
---
---