Whether you plan on hitting the gym or hitting the couch with a bowl of popcorn as you hunt for a good movie on TV, you gotta have the right sweatpants for the occasion.
We'll help you find them on our list below. We highlight the best men's sweatpants and give you a few tips when it comes to choosing a style, the right fabric weight, and give you details about some of our favorite ones below.
---
Before You Choose
Not so fast! Before you select a pair of sweats, here are a few things to take into consideration:

Where You'll Use Them – Do you need something to wear to the gym? After the gym? Around the house? Decide if you need a pair that has plenty of pockets for storage or if you want a plain, simple pair without tons of extras.
Season – Since fabrics used to make sweats come in different weights, make sure you choose something appropriate for the season. Heavy winter sweats won't be so handy in the spring or early summer.
Pant Leg OpeningDo you need a narrow, straight, or wide pant leg opening? It depends on the activities you do as you wear them.
---
Careful with the Gym Sweats
We do have a few extra tips for those of you who are specifically looking for gym sweats.
Tapered or straight pant legs only, guys. If you use any gym equipment with big, baggie sweats, then they're probably going to get caught in the equipment. Faceplant it in front of everyone and injure yourself or work out safely and impress everyone around you with your awesome bod?
We'd choose the latter.
Sweatpants are for sweat. Wrong. If you're hitting the gym hard and you'll be sweating a lot, then cotton sweats are not the answer. They'll show your sweat puddles even more.
Use sweats on low impact days like lifting.
Stick with sweats made of polyester for rigorous workouts.
---
Features of Good Men's Sweatpants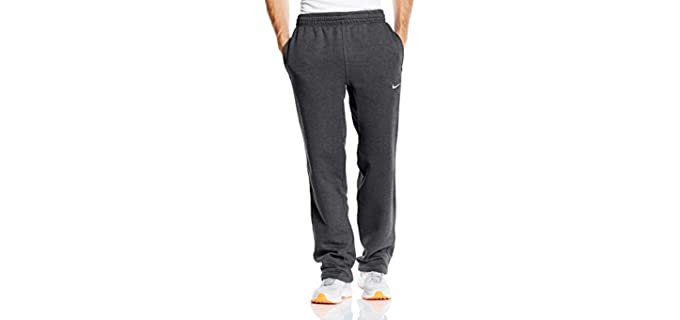 Materials – Sweatpants usually consist of either polyester, cotton, or a blend of both. The outside usually has a smooth feel, while the inside will have a soft fleece, particularly in sweatpants for cold weather.
Design – Sweatpants have either an open bottom leg and a regular fit or a slimmer Jogger fit with elastic bottom, though elastic bottom cuts also come in loose fits. Then there are also the dropped crotch designs and skinny leg sweatpants designs. Most sweatpants come with side slant pockets, and some may have a back pocket or no pockets at all.
Closure – Most sweatpants are pulled on with an elastic waist, though some may have an adjustable drawcord.
Options – Sweatpants usually come in various solid colors, depending on the model, though you do get printed options. They may also be available in regular and plus-sized size options.
---
What To Wear With Sweatpants
What to wear with sweatpants is one of the biggest problems that we guys have. Here is a short video that will help us style correctly are sweatpants.
---
Reviews: The Best Men's Sweatpants
Listed below we have some of the best brands and models of sweatpants for men;
---
1
We have a warm pair of comfortable sweatpants for everyday wear from Under Armor.
The sweatpants are 100% polyester.
They have a drawstring closure and are machine washable.
The Armour fleece design is light and breathable, with ample mobility.
A soft inner layer traps heat to keep you warm and comfortable.
The legs have a straight fit and open design.
---
2
A joggers style sweatpants with a drawstring closure.
They ate warm and comfortable with an elastic waistband.
The sweatpants can be machine washed and dry quickly.
They also come in with more color options available.
---
3
The Adidas Original sweatpants are soft and comfortable, with an adjustable closure design.
They are a cotton and polyester blend for durability, softness, and breathability.
The sweatpants can be machine washed for your convenience.
They have an adjustable closure and elastic waistband.
More neutral color options are likewise available.
---
4
These are lovely retro style sweatpants from Champion.
These are cotton and polyester blend sweatpants.
They have a power blend closure and side pockets for your convenience.
The sweatpants have a retro-inspired jogger design.
They are also fully machine washable.
---
5
The Lightweight range from Champion is ideal for warmer weather loungewear and sportswear.
These are 100% cotton sweatpants with granite heather and polyester inner lining for softness.
They are fully machine washable and come in more color options.
The sweatpants have an athletic design and fit with a relaxed elastic bottom band.
There are also side pockets for easy storage.
---
6
From Hanes, we have a set of open leg fleece sweatpants for men.
The sweatpants consist of cotton and polyester,
They are machine washable and have opportune side seam pockets.
The legs are straight with an open hem design,
They also offer a relaxed and comfortable fit.
---
7
The Gildan Sweatpants for men have an open leg and fleece design.
The cotton and polyester blend is durable, breathable, and soft against your skin.
It comes in more colors and enough size options.
There are a drawstring closure and elastic waistband.
The legs are slightly tapered ad has an open bottom.
The fit is relaxed and very comfortable.
---
8
The Swoosh range from Nike offers you a large variety of solid color options from which you can choose.
These are 1005 cotton sweatpants.
Cotton is durable and breathes well to keep you cool and comfortable.
The sweatpants come in more color options for your perusal.
They have an elastic waistband for an easy pull-on fit.
There is also the Nike logo embroidered on the sweatpants.
---
9
We have a stunning jogger style pair of sweatpants from the Fruit of the Loom.
The sweatpants are cotton and polyester for a breathable and soft blend.
They are available in many more color selections.
The fit is comfortable and relaxed.
The jogger style is very fashionable today.
There are also enough functional pockets for your expediency.
---
10
The Southpole sweatpants are a jogger style that comes in big and tall sizes.
These are 100% soft and cozy polyester sweatpants.
They have an elastic closure and are machine washable.
There is also an adjustable drawcord in the waist for a customizable fit.
The legs ate straight and ribbed at the ankles.
---
Index Table: Top Rated Men's Sweatpants
---
---