Whether you're headed out for a day on the slopes or to walk the dog through the wintery wonderland surrounding you, you need a decent pair of snow pants on to keep you warm and dry.
If last year's pair is filled with holes or you're just looking to upgrade the pair you have, take a look at the best snow pants in our list below. We help you compare and contrast styles and brands to find the right pair for your needs.
---
Few Things to Consider
Before you select a pair of snow pants, here are a few things to consider;

How You Will Use Them – Where will your snow adventures take you? Are you planning a ski trip, snowboard trip, a day of sledding on the hill, or heading out for some snowshoeing? Each type of activity will require a different weight of snow pants and storage space, so make sure you get a pair that matches your activities.
Insulation – Depending on the temperature and how you use the pants, consider the amount of insulation you need and how freely you will be able to move around in them. If it's warmer outside or you're out on the slopes, get something lighter and less bulky so you won't get overheated and so you can move around more freely.
---
Bibs vs. Pants
There are pros and cons to each type of snow pant.
Bib and Suspenders – The straps on a pair of snow pants with a bib will keep snow out of your snow pants and prevent them from falling. For some, they are a bit too bulky and restricting. For children who will be spending a day playing in the snow, the bib and suspenders will help keep them dry during those competitive snowball fights and sled crashes that send them rolling down the hill!
Pants – These allow you to move more freely and are best for snowboarding and skiing if you have a long coat that will help you keep snow from falling into the pants during those rough crashes or in harsh weather. Many also use these as activewear pants in the winter for walking outside, or other light activities since a pair of regular pants wouldn't keep them dry. Get some with zipper pockets to keep keys and wallets safe!
---
Features of a Good Pair of Snow Pants or Bibs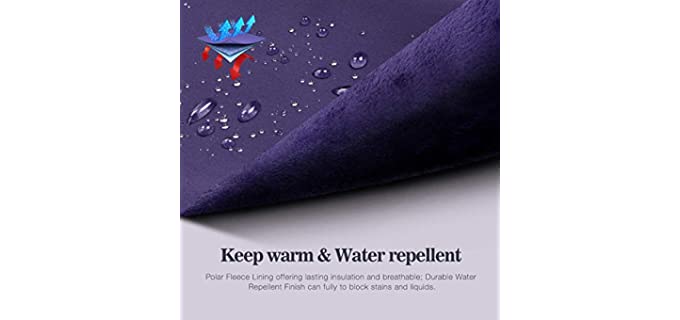 Materails – For the outer sheel a windproof and waterproof coating is added for full protection. Pants mostly consist of a durable nylon with deneier for high wear areas.
Closures – Zip closures are ideal, and most pants and bibs will also have zips on the pockets.
Insulation – Fleece or other materails are used for insulation on the inside to keep you warm.
Options – Snow Pants and Bibs come in different size and color options for men, women, and children.
---
What to Wear Skiing
Many people don't know how to dress up for skiing, here is a short video that will help you dress up correctly.
---
Reviews: Best Snow Pants
Here is our comprehensive list of some of the best available snow pants and bibs;
---
1
The Arctix Insulated Snow pants come fully insulated with a durable high resistant outer shell for even more protection.
The Outer shell has a durable coating for full wind and waterproofing.
Inside is 85 grams of ThermaTech insulation to keep you warm.
There are a zip closure system and zip technology pockets.
The pants are also reinforced with 600 denier ballistic fibers for durability on high wear areas.
---
2
For the ladies, the Arctix Essential snow bibs are ideal in comfort and fit.
The Boots gaiters have grippers and a seamless design for comfort and to keep your legs protected.
Ther is 85 Grams of ThermaTech insulation against the cold.
The outer shell is waterproof and windproof for protection against the elements.
They come in various colors and size options for ladies.
---
3
The Arctix Essential range of snow pants offers much comfort and warmth against cold and snow weather conditions.
The pants are highly durable and comfortable, with 600 Denier ballistic reinforcement areas for high wear.
They are insulated to provide warmth and protection in freezing weather.
You can select from more size and color options.
A durable coating also provides excellent water and windproof.
---
4
The Arctix Essential bibs are fully insulated to keep you warm and protected.
600 Denier ballistic material is used in construction to reinforce all the high wear areas.
There are full zipper closure and zipper pockets.
The adjustable suspenders allow for the most comfortable and customizable fit.
There are also 85 grams of ThremaTech insulation to keep you warm.
---
5
The Arctix reinforced Snow pants are extremely durable and comfortable to wear.
They have 85 grams of ThermaTech insulation for warmth and are quite lightweight.
The 600 Denier Ballistic materails used for reinforcement in the seat, knees, ankles, and scuffs are very durable.
There are boot gaiters with grippers for seamless integration to keep your legs protected.
The pants are likewise fully machine washable.
---
6
The Columbia Bugaboo Snow Pants are fully windproof and waterproof for your protection and comfort.
They consist of 11005 durable Nylon and are available in more color selections.
The design is fully waterproof and windproof to protect you against the elements.
Furthermore, the pants have a snap gusset and reinforced hems for durability and an internal gaiter and zip-up pockets.
They are machine washable and come with a button closure design.
---
7
The Free Soldier Snow Pants are insulated and waterproof for complete protection.
The Soft Shell outers are fully waterproof and windproof for protection.
Inside is a smooth fleece lining to keep you warm and insulated.
The pants have waterproof zipper pockets and a drawstring, with a hip storage pocket and comfortable regular fit.
There are also more color options available from which you can select.
---
8
From Trailside Supply, we have softshell insulated warm pants for snow and cold outdoor weather.
The Softshell exterior is durable and water repellant, as well as breathable and wind-resistant.
Inside is a warm fleece lining that insulates you against the cold.
The pants have six pockets and a zip-fly with snap closure.
The side elastic waist has belt loops and offers a secure and adjustable fit.
---
9
Cold weather styled bib that is waterproof and insulated for children, from Amazon Essentials.
The Bib consists of 100% durable nylon and is available in many feminine colors for girls.
The Cold Weather design is fun to use in the snow and icy weather conditions.
Ther is a zip fly with a snap-button closure and elasticized ankle cuffs.
The waistband is adjustable and comes with velcro closures, as well as side pockets with zips.
The bib is fully waterproof and insulated against the cold and snow.
---
10
Here we have a bib model from Amazon Essentials that is waterproof and well insulated.
The Bib is fully waterproof and lined for insulation.
It consists of 100% durable and waterproof Nylon.
There is a full-length front center zipper and snap closure as well as leg zippers with gussets, two front zipper pockets ad stretch knit upper side panels.
They are very comfortable and quite durable for outdoor wear.
---
Index Table: Top Rated Snow Pants and Bibs
---
---