Khaki pants have been a part of the American male wardrobe for decades. Whether you work in a business casual environment or attend social functions requiring smart attire, khaki pants are always appropriate. Once you find the perfect pair, looking great will be a breeze.
The hardest part is the search. Finding the best khaki pants for your personal style and physique can be overwhelming with so many options. We've made matters easy for you by putting together a guide to the best models available. Read on to discover which pair is right for you.
---
Tips on Style and Fit
Perhaps the most important thing to consider when choosing the perfect pair of pants is fit. Look for styles that are designed to flatter your body type.

Waist – For optimal comfort, check that your pants' waistband sits at your hips. Anything that sits higher than the hips will look dated.
Legs – For a modern look, opt for a flat front. Pleats are more conservative for formal office environments. If you're on the skinny side, aim for a straight cut trouser leg. Avoid ultra-slim styles, as these will exaggerate your thin frame. Conversely, if you have a burly frame, a wide leg will add weight. A slimmer cut will balance your proportions.
Cuffs – Your trouser's legs should brush the tops of your shoes or fall no more than 1-2 inches over the sides. Anything longer will cause the fabric to the bunch – not very flattering. If you want to show off your shoes, consider cuffing the bottom of your trouser legs.
---
Features of a Good Pair of Khaki Pants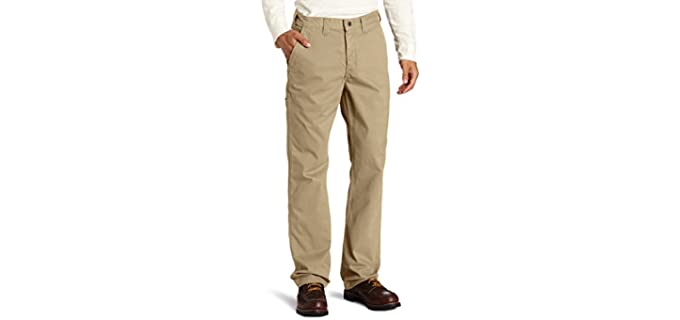 Materials – Look for good quality materials such as pure cotton, polyester or nylon materials. Elastane and spandex are added for stretchability.
Cut and Design – Khaki pants can either be a jean, cargo pants, jogger or relaxed pants, or a more formal chino. You will also be able to choose from straight cut, loose, relaxed, or slim-fit options.
Colors and Sizes – Most Khaki color pants will also have availability in other colors or different khaki shades. Standard and plus-sized options may be available depending on the brand.
---
Khaki Vs Chino
Many people don't know the difference between Khaki & Chino pants. Here is a short video that will help you find the differences.
---
Reviews: The Best Khaki Pants
Listed below are some of the best available Khaki pants brands and models;
---
1
The Levi's Straight Jeans range also comes in a khaki-colored option for men.
The Jeans are 99% cotton, with elastane for stretch.
They are available in khaki colors as well as many more color options.
The design sits just below the waist and has a slim seat and thigh.
The legs have a straight cut that is comfortable and looks good.
---
2
The Haggar Khaki pants come in more color options, from which you can choose as needed.
The pants consist of cotton, spandex, and polyester for comfort and durability.
They have a straight fi, and a plain front, with button closure.
You can fully machine wash them for your convenience.
The pants also come in more color selections that are available.
---
3
The Lee Khaki jeans offer a regular fit and come in a few more color options.
The pants are 1005 pure, lightweight, and breathable cotton.
They offer a regular fit with a five-pocket design.
They are jeans that are also available in more colors.
You can easily pair them with any shirt for a casual or more formal look.
---
4
We have very durable and comfortable relaxed fit khaki pants for men from Lee.
The pants are Cotton, Polyester, and Lycra for stretch and comfort.
They are machine washable and quick drying.
There is a flat front design, and the fabric is wrinkle-resistant,
There are likewise buttoned welt pockets at the back.
---
5
These are elegant and fashionable slim-fit khaki chinos from Goodreads for all occasions.
These are 95% cotton and Spandex pants that are stretchable and breathable.
They come in more color options for your perusal.
The design is a slim fit chino that is more formal and elegant.
There are button-through rear pockets and off-seam side pockets for your convenience.
---
6
The Brooklyn Athletics Khaki trousers offer a comfortable fit with a drawstring closure design.
These are more comfortable and casual pants.
They have an easy drawstring closure and elastic waistband.
The pants have gathered cuffs and a slim, more athletic fit design.
There are two side pockets for storage and one back pocket.
More color options are available.
---
7
The Signature Lux range from Dockers consists of stretchable pure cotton in a khaki pant.
The pants consist of cotton and elastane for comfort and stretch.
They have a button closure and zip fly.
The Lux Cotton materials used are very stretchable in design.
The pants have wrinkle-free technology and therefore require no ironing,
The waistband is flexible and easy to move.
---
8
The Amazon Essentials Classic Khaki pants are durable and stretchable for a comfortable fit.
The pants consist of cotton and elastane with a zip closure and button.
You can machine wash them and use them daily for a more comfortable and customized fit.
They are stretchable and comfortable to wear.
The fit is relaxed with straight legs.
---
9
The Carhartt Rugged are very durable straight leg work pants for men, in Khaki colors.
These are 100% cotton pants designed to be highly durable for heavy-duty wear.
They have a button closure and welted back pockets.
The legs are straight, and the body is more relaxed.
These make the ideal work pants.
---
10
The Amazon Essentials Khaki pants come in Big and Tall size and fit options for larger and taller gents.
Cotton and Elastane pants that are durable and comfortable to wear.
They offer a relaxed fit and flex quite well with the cotton and stretch crafted fabric.
There are two front slant pockets and two buttons through back welt pockets.
You can also look at a few more color choices in this range.
---
Index Table: Top Rated Khaki Pants
---
---