Aaron Neville sang the importance of cotton to us in the 90s for the Cotton Incorporated company, and today the company has teamed up with singers like Miranda Lambert and Hayden Panettiere to remind the world how "the touch, the feel of cotton," is still "the fabric of our lives."
Below, we highlight the top six underwear made of this natural, renewable material and offer a few tips that will help you understand the different types of cotton available and find the right cut for your shape.
---
Cotton Is Everywhere
Did you know that denim, corduroy, moleskin, poplin, and even types of velvet can all be made of cotton? While some of these are also made of other materials, what makes one fabric different from another is how it's woven.
Cotton for underwear is woven as a knit, just like grandma used to do in her rocking chair, only with much smaller threads. The thread is woven together, making it stretchy, which is an important quality for underwear. Spandex or fabrics mixed with spandex can also be woven, but they aren't as good as cotton.
---
How to Choose
The fact that you are searching for the best cotton underwear is a good sign because cotton is one of the healthiest types of intimate wear. It wicks moisture away from the skin and doesn't trap the heat in as nylon and Lycra do, and it is also the safest choice for those who have sensitive skin.
Here are a few things to remember as you search for the right pair:
Choose Your Cut – There are different designs of underwear.
Fit – For a more comfortable, healthy fit, men do best with briefs, boxers, or boxer briefs, and women will enjoy a nice pair of boy shorts, bikini cuts, thongs, or regular briefs. Ladies, don't forget the matching cotton bra, as well!
Size – For the sake of your health and comfort, choose a size that fits you properly and avoids anything tight!
Try Before You Buy – It's important to try on underwear before you buy them to make sure they will fit you well. You should not feel constricted, they should not pinch you, and they shouldn't be too loose. Aim for the perfect fit if you want to achieve the ultimate comfortable experience.
---
Cotton Choices
Organic cotton is more expensive, but you know before you purchase underwear made from it that there were no chemicals used to spray the plant when the cotton was still in the field.
Cotton, whether organic or not, is always going to be the best choice.
You'll also need to decide if you want underwear made of 100% cotton or a high percentage of cotton mixed with another material (elastane or spandex, for example).
---
Features of Good Cotton Underwear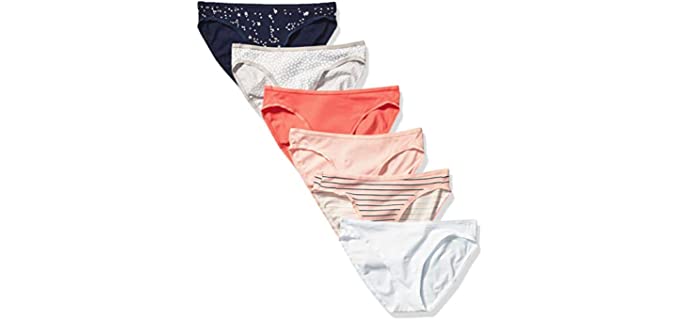 Materials – With cotton underwear, you need to look at something with a high cotton count, such as 95% or 100%. Many models will have elastane and spandex which is mainly in the waistband for a better fit. Some models may have some polyester in the blend.
Design – For men you can get boxer, briefs and regular underwear designs. For ladies briefs, bikini, and thong designs are available.
Options – Most cotton underwear will come in sets of two or more that are usually either solid colors or prints and multi-color packs.
Sizes – depending on the brand and model cotton panties are available in standard as well as plus sized options usually from small to 4X-large.
---
Reviews: The Best Cotton Underwear
These are some of the best available cotton underwear ranges that you will find;
---
1
The Boxer briefs from Calvin Klein are 1005 pure and breathable cotton.
The underwear comes in a pack of five with different colors and more choices available.
They have a comfortable, relaxed brief fit.
They are also 100% pure cotton, than breathes well and wicks away moisture.
The better elastic used is ideal in the leg openings.
---
2
Something dainty and flattering from Calvin Klein for Ladies.
They are cotton and elastane panties with fine details.
There is a slim elastic waistband for easy slip on and off.
The bikini design is flattering and comfortable.
The panties come in multi-packs with different colors available.
There is a logo at the waist and a full gusset, with full rear coverage.
---
3
The briefs from UNMISS are comfortable and have a high waisted fit.
The briefs consist of cotton and elastane for stretchability.
They are a full brief design with a higher and more flattering waist.
The wider waistband is more comfortable as well as soft and stretchy.
You can get size options from small to 4X-Large.
---
4
From Calvin Klein we have Comfortable Briefs for men in full cotton.
They consist of 95% cotton with Elastane in the waistbands for stretchability and convenience.
The design is a fuller brief that is more comfortable and supportive.
The briefs comes in a set of three.
You can choose from a variety of colors available.
---
5
The Cotton thongs from Calvin Klein have coordinating bralettes that you can purchase separately.
They are cotton, modal and elastane panties available in many color options.
These are thong design underwear for ladies with breathable and comfortable materails.
Ther is a cotton gusset in full cotton for your comfort.
They feature the modern Calvin Klein design and logo.
---
6
The Fruit of The Loom Cotton Briefs for men have excellent ventilation and comfort features.
There is a breathable mesh panel is the support shaped fly for better ventilation.
The legs will not ride up and there is a plush tag-free back waistband.
The materails are designed to wick away moisture and keep you dry.
There are solid colors and prints available in the briefs.
---
7
The Cotton briefs from Fruit of The Loom are available in standard, and plus-size options.
The briefs are 100% pure and light cotton.
They come in solid color sets of similar or varying color choices.
They are likewise available in standard and plus-size options.
The full brief design offers better coverage and comfort in general.
---
8
The Adolph men's briefs are comfortable and available in many more color options.
They are mostly cotton with spandex in the waistband for stretch.
The full breed design is very comfortable and breathable.
You can select from many available colors and size options.
They are double stitched for durability.
---
9
The Amazon Essentials underwear for women comes in a set of six and many more available colors.
They are mostly cotton with elastane for stretch.
The underwear comes in a set of six with different colors and more color varieties available.
There is a printed label at the back for tag-free comfort,
They are also fully machine washable.
---
10
From Fruit of the Loom we have 100% cotton panties with a bikini design.
The panties are available in many color options and come in sets with a variety of colors.
They are 100% cotton and very breathable.
You can fully machine wash and tumble dry them.
The design is completely tag-free and comfortable.
---
Index Table: Top Rated Cotton Underwear
---
---