We all have underwear that we don't plan on wearing long. In that case, uncomfortable underwear is fine, but finding and buying comfortable underwear is a must when you plan on wearing it all day.
Underwear shopping is so much more complicated for women. There are many different styles to choose from, and they are all made from different materials. It's also almost impossible to know if they will be comfortable until you put them on.
Don't worry; there's still hope. We have researched, read reviews, and added tips and suggestions to our article so that you can find the most comfortable underwear for women.
We have styles and price points for everyone, regardless of your preference or budget. Scroll down and take a look!
---
Buying Information
Check out our buying tips; they are here to help you to find the most comfortable underwear for women (or for yourself);

Sizing – It can be difficult to order the correct size of underwear. Carefully check the website's sizing chart to ensure you are on the same page about your size. Also, make sure the sizing isn't coming from a different country. If you're confused about which size is best, read the reviews, they are a great resource to find out if underwear is true to size.
Appearance –  If you care what your underwear looks like, don't worry! It can be comfortable and cute at the same time. You don't have to buy underwear like your mom's to find comfort. Look for high-quality fabrics, the style you feel most comfortable with, and double-check your sizing.
Fabric – The best fabric choice for underwear is cotton. It keeps your body healthy and allows proper airflow. Some underwear will come with a mix of Nylon or Spandex so that they hug your body and help to eliminate underwear lines. That's great as long as they feature a cotton crotch panel.
Quality – Look for high-quality underwear that will hold up well with washing and wearing. High-quality underwear will also fit better, retain its shape, and lay well under clothing.
---
Features of Good Underwear for Women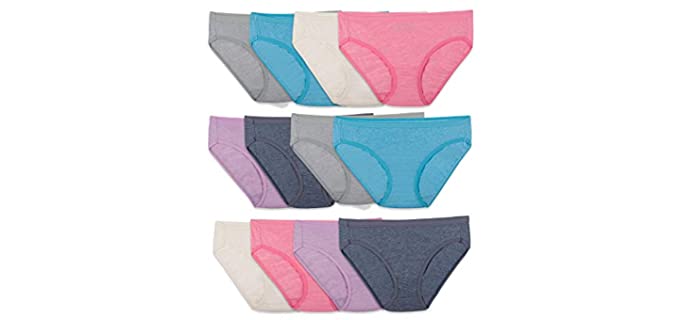 Materials – Women's underwear may consist of either cotton or polyester, come fancier lingerie type underwear can consist of satins and nylon. Many Underwear designs are seamless to ensure you experience less friction and chafing that may become irritating. Moisture-wicking technology may be used in the fabric that will wick away excess sweat and moisture, helping to keep you cool, dry, and very comfortable.
Design – Women's underwear come in different designs, full cotton briefs, bikini panties, boy shorts, and even tanga and G-string designs. Some designs offer more coverage than others, so it all depends on your personal preferences and tastes. Some underwear may also have a wider band, which is generally more comfortable, and you can look at high, mid, or; low-rise designs, which are all available depending on the specific brand used.
Fit – Women's underwear are available in different size options and usually have a snug and comfortable fit.
Options – Underwear for women can come in singles or packs of two or up to five sets of underwear. Multiple colors and prints are likewise available depending on the brand and model. Most underwear brands will offer standard, and in turn, also plus size, size options available to you, from which you can select to get your won ideal fit, no matter what size you are. We have tried to include brands that cater to plus and standard sizes.
---
Reviews: Most Comfortable Underwear for Women
Here we have some of the top rated most comfortable underwear just for the ladies;
---
1
These are breathable and comfortable cotton undies for ladies with elastane in the waist for a comfortable fit.
They come in multi-colored sets and are available in more sizes.
The underwear is a bikini fit with a full gusset and proper rear coverage.
---
2
Another set of multi colored underwear in cotton and spandex for stretch.
The underwear has a wider and more comfortable waistband and is soft and stretchable.
They are available in more colors and plenty of sizes.
The underwear is great in design and offers a comfortable fit.
---
3
These are cotton briefs that offer fuller coverage.
The briefs are available in all sizes and in more colors.
They are comfortable and breathable cotton with an elastic waistband.
The design offers a soft and silky feel.
---
4
Nylon and Elastane underwear that has a smoother and softer feel.
The underwear is smooth with flexible microfiber and clean-cut edges for less irritation.
They offer more invisibility underneath clothing.
The underwear is available in more colors and size options.
---
5
Victoria's Secret Cheeky panties.
These are stunning lingerie pieces available in a set and more colors.
They are flattering and feminine as well as comfortable to wear.
They offer a low rise and cheeky less covering fit.
---
6
Comfortable Victoria's Secret Thongs for ladies.
They are brightly colored and available in sets of three with two different variations.
The thongs are stunning lingerie pieces with laces and mesh.
They have a low rise and a wide sideband for your comfort.
---
7
Cotton and Elastane underwear.
They are breathable and comfortable, and cotton is quite durable.
The underwear is a stretchable bikini design and available in more colors.
They are fully machine washable and come in a set of six panties.
---
8
Jockey is a top brand that makes some of the most comfortable, quality underwear.
These are Elance French cut panties in three packs.
There are more colors available and larger size options.
The panties are the full rise and offer excellent coverage.
---
9
Nylon and Polyester sporty underwear for the ladies.
They come in sets of three with two options, in neutral colors.
The underwear is durable and seamless for less friction and more comfort.
They offer 360-dimensional comfort and support,
The materials have moisture-wicking technology to keep you cool and dry where you need it the most.
---
10
From Fruit of the Loom, we have the specialized Beyond Soft comfort underwear range.
The underwear is a regular fit panty, available in regular and plus-size options.
The panties come in colorful, multi-packs.
They are mostly cotton with some polyester and have a soft and silky feel.
---
Index Table: Top Rated Underwear for Women
---
---