Merino wool used in clothing is the result of millions of years of evolution t our great advantage.
Merino wool has rich natural properties and is one of the world's leading brands. But did you know that you also get underwear inMerinoo Wool?
Well, in our article, we will cover some of the best merino wool underwear and why they are so outstanding.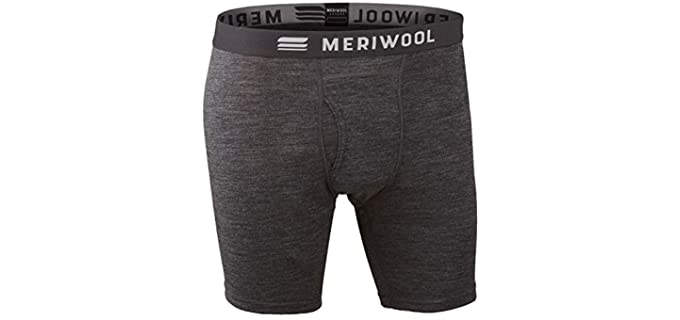 ---
Why Choose Merino Wool Underwear
Merino wool in clothing, especially underwear,r has so many excellent features and benefits. Here are only a few;
Sustainable and Eco-Friendly – Merino Wool is renewable, and Merino sheep produce more than enough wool every year.
Biodegradable and Safe – Merino wool is biodegradable and safe for the environment.
UV Protection – Merino wool in clothing provides natural UV resistance.
Stain Resistant Lanolin – The natural protective outer layer consisting of lanolin in Merino wool prevents stains from being absorbed.
Very Absorbent and Moisture Wicking – Because merino wool can absorb three times its own weight in moisture, it reduces sweat and body odors.
Machine Washable and Easy to Maintain – Today, you can machine wash most merino wool garments easily and sometimes even tumble dry them.
Keeps Its Shape – Merino wool is static resistant and will always drape properly.
Temperature Regulating – Merino wool regulates temperatures to keep you warm in cold weather and cool in hot weather.
Moisture Control and Odor Resistance – Merino wool fibres help to control moisture and still keep their Thermoregulating properties, even when holding moisture.
Breathable and Light – The fibers in Merino wool are very breathable and will never feel clammy.
Soft and Comfortable Non-Scratchy Feel – Merino wool has a soft and comfortable feel because of the exceptionally fine fibers.
Elastic and Stretchable – Merino wool is likewise naturally elastic and will stretch, as well as go back to its original shape.
---
Merino Wool Underwear Style and Cost
Merino wool underwear can be very stylish and comfortable, and you do not have to worry about bulky and overly hot items;
Sleek and Elegant – Merino wool fabric drapes and handles very well, so the clothes have a soft feel and graceful fit on the body.
Colors – Merino wool clothing is extremely colorfast, so the colors will not fade out when washed or with time.
Fashionable – Marino wool underwear come in many fashionable and comfortable styles, from which you can choose. Merino wool fibres can also be blended with other fibres to enhance fabric performance.
Cost – Keep in mind the purer the Merino wool underwear, the more expensive it will be; your blended options are a bit more affordable. Quality is key,y and a pure merino wool underwear piece is always the better choice.
---
Features of a Good Merino Wool Underwear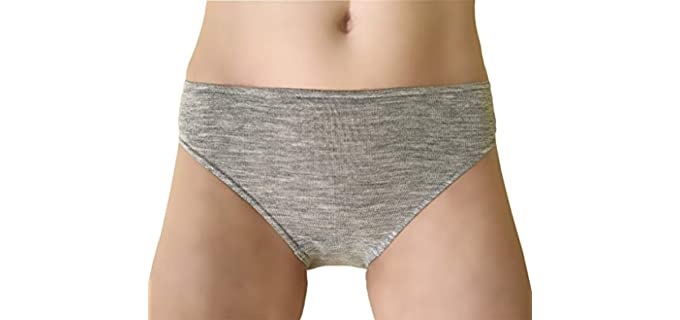 Materials – Merino Wool Underwear will consist of either 100% Merino Wool with Elastane or Spandex in the waistband area for fit. Merino wool underwear may likewise be available in blends consisting of cotton, Polyester, Nylon and merino wool blends, as well as spandex or Lycra for stretch.
Fit – As with any other form of underwear Merino Wool Underwear will also be available in similar fits and designs, including briefs, boy shorts, bikini fit, tanga, G-String,s, and Thongs.
Options – Merino wool underwear comes in a huge range of colors and prints, as well as plus and standard size options, which of course,e all depends on the brand and model chosen.
---
Reviews: The Best Merino Wool Underwear
Below is a list of our top favorite underwear that consist mostly of Merino Wool;
---
1
The Meriwool briefs consist of 1005 pure merino wool and are available in more color options.
Super soft and comfortable boxer briefs for men in 100% merino Wool.
The briefs are constructed from 17.5 Micron merino wool and have a silky smooth finish to them.
They are quick-drying and machine washable.
There are plenty of colors and sizes available to you.
The materials have moisture-wicking and odor-resistant properties.
---
2
From Smartwool,l we have comfortable Boxer Briefs in pure Merino Wool.
Colorful and comfortable boxer briefs for men.
They come in different solid and striped color selections.
The briefs consist of merino wool with a merino wool-covered elastic waistband for comfort.
They are machine washable and very quick drying.
---
3
Icebreaker merino Wool Boxers have an anatomically supportive shape and design.
Comfortable merino wool boxers.
The boxers have a comfortable anatomical shape to fit your perfectly.
They consist of merino wool with some Lycra Spandex for stretch.
They offer a slim yet comfortable fit that will keep you warm.
More color options and sizes are available to you.
---
4
For the ladies, we have the Sprite Hot Pants style Merino Wool underwear from Icebreaker.
These are the Merino sets for ladies from Icebreaker, a top brand. They are mid-waist briefs that are soft and comfortable.
Consisting of 83% Merino wool, 12% Nylon and 5% Lycra, they are super soft and stretchy.
The comfortable underwear comes in a few neutral colors and more size options available to you.
They are machine washable and will dry quickly on the line but should, however, not be placed in a tumble drier.
---
5
The Ecoable underwear consists of a blend of Merino wool and silk for thermal protection and comfort.
These are thermal underwear in Merino wool to keep you warm as needed.
They come in a grey or black color selection, as well as more available sizes, giving you some extra options.
The underwear consists primarily of Merino wool with some silk in the blend, making them luxuriously soft and of premium quality, natural fabrics.
These materials wick away moisture, are soft against the skin, and naturally regulate your body temperature.
---
6
The Smartwool seamless bikini underwear is a pure merino Wool and comes in some lovely feminine colors.
Here we have a seamless bikini brief in merino wool that is naturally soft and comfortable.
Merino wool will not scratch and itch, such as other wools and synthetics.
They are available in quite a few colors and size options.
The briefs are comfortable and offer good coverage with a stretchable fit.
They consist of merino wool, nylon, and elastane for stretch.
---
Index Table: Top Rated Merino Wool Underwear
---
---