Many women seem to enjoy the feel and fit of seamless underwear nowadays. Such underwear is comfortable, and they leave no visible panty lines even when they are worn under light garments.
Whether you are a college student, a working woman, or a professional athlete, seamless underwear is a great option on many occasions!
So which are the best seamless underwear for you? Our guide will help you decide!
Below, we will present you with some of the best seamless underwear that is comfortable and made of quality fabrics.
---
Things to Consider When Buying Seamless Underwear
Fabric – When it comes to seamless underwear, the best that you can get are those that are made of cotton. The natural fibers in cotton work excellently to keep your business fresh and aerated. They absorb sweat and moisture from the skin, which goes a long way in preventing yeast infection. Synthetic fibers such as nylon and Lycra trap heat and moisture, providing a breeding ground for yeast. You should, therefore, pick cotton underwear as much as possible.
Size and Fit – This is one of the most important considerations when buying seamless underwear. Wearing the wrong sized underwear results in unwanted bumps and bulges when they are worn under tight-fitting clothes. Tight underwear accentuates your hips and thighs, leading to the appearance of a muffin top.
Styles – Seamless underwear are available in different styles. Therefore, you should ensure that the underwear you are going to wear with a certain garment actually works for it. Getting this match wrong usually leaves you very uncomfortable. Thongs provide close to minimal coverage, and if you're uncomfortable wearing them, you should choose seamless panties that have better coverage.
---
Features of Good Seamless Underwear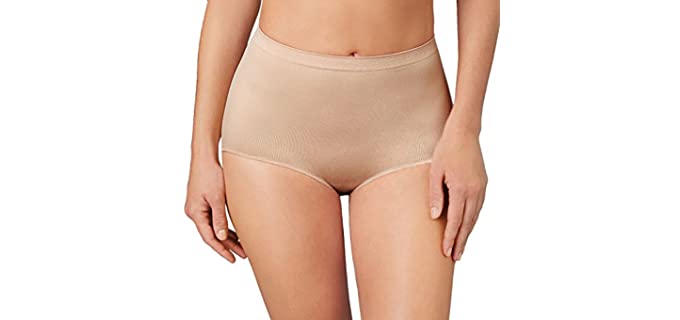 Materials – Many seamless underwear designs use nylon, although there are other optiosn such as cotton and polyester. Spandex or elastane is used for stretchability and in the waistband.
Design – Seamless underwear usually does not have a separate waistband, frills, added materails, or tags of any kind that can irritate.
Colors and Designs – You will find many solid and printed color options available in most seamless underwear brands and models.
---
Reviews: Best Seamless Underwear
Below You will see the top choices when it comes to Seamless Underwear;
---
1
Bali Women's Comfort Revolution Seamless Brief Panty is the best seamless underwear that you can get. It is soft and smooth, and its microfiber fabric blend ensures you are comfortable for the entire day.
They absorb sweat and moisture effectively, thereby keeping you dry and protected all day long.
Its hi-cut design provides you with full coverage, and its stretchy nature holds everything in place. It doesn't ride up or create uncomfortable wedgies.
The waistband is comfortable and won't burn or irritate your skin.
---
2
The best seamless briefs you can get are Jockey Women's Underwear No Panty Line Promise Tactel Hip Brief. It provides a flattering look with ample coverage under any outfit.
It is made of nylon and spandex material that is soft and gentle on your skin and full of stretch.
Its unique binding at the waistband, and the legs, eliminate panty lines for a smooth and polished look.
What makes these briefs amazing is that they never ride up. This way, you are forever comfortable in them.
---
3
Calvin Klein Women's Invisibles Hipster Panty is one of the best seamless underwear that you will ever lay your hands on.
Not only does it ensure that panty lines don't mess up your look, but they are quite comfortable as well. They are light in weight and feel soft and smooth on your skin. It does not feature itchy tags and labels that are quite uncomfortable.
Washing them is quite easy, and they dry up pretty quickly as well.
All these attributes added to the fact that it is quite cheap has made it very popular with women of all ages.
---
4
From Fruit of the Loom, these are very comfortable and soft seamless panties that come in sets and many color options.
The panty consists of 100% nylon and is very stretchable.
They will fit smoothly underneath your clothing with no irritating brands and materails or closures.
There is a different color assortment that may differ from the pictures.
---
5
The Anzermix seamless laser cut briefs are ideal for everyday wear and comfort.
The briefs are comfortable and completely seamless with cotton panels.
They consist of polyamide materails and spandex for flexibility.
There are also some color options available from chi you can select.
---
6
The Seamless Hipsters from Reebok have a sporty style and come in five panties in many color options.
These panties are comfortable Nylon and Spandex with a seamfree design.
The performance fabric is designed for ultimate comfort and fit.
They are fully machine washable and quick drying.
Reebok is a top sports brand, and their panties will offer you optimal performance. They are also available in many colors from which to choose.
---
7
Calvin Klein's singles offer you a seam-free bikini fit panty available in many colors from which you can choose.
Calvin Klein is another top brand in clothing and underwear.
Here we have their seamless bikini cut panty that is available in many color options.
The panties consist of nylon and elastane materails and have a pull-on closure.
They are fully machine washable and quick-drying with a slim elastic waistband.
The panty has a solid design and a bikini silhouette.
---
8
The Ellen Tracy Seamless range comes in more neutral colors with a higher waist.
The Ellen Tracy Brief offers fuller coverage and comfort.
Their seamless design is non-irritating or constricting.
They are available in a few neutral colors in single options.
The website is more flattering and helps to flatten your tummy a bit.
---
9
From Puma, another top sports brand, we have the gorgeous Boyshort seamless underwear range.
The Puma Boy shorts have a sporty style and come in two color options in sets of three.
The materails are moisture-wicking to keep you cool and comfortable all day.
They are stretchy and sporty in style, as well as machine washable.
---
10
Luxury soft and seam-free panties brought to you by Fruit of the Loom.
From the Fruit of the Loom, we have the Beyondsoft seamless range in 6 pack options.
The six-packs contain soft pastel color underwear pieces in six and varying colors.
They are cotton and polyester with a 100% cotton lining.
The underwear is completely tag-free and seamless, as well as machine washable.
---
Index Table: Top Rated Seamless Underwear
---
---