Choosing the right underwear is just as important as choosing your clothing style. Flattering underwear for an apple shape may not always seem to be the easiest thing to pull off.
However, in this article, we will help you find the best underwear for an apple-shaped body that will fit comfortably and flatter your shape beautifully.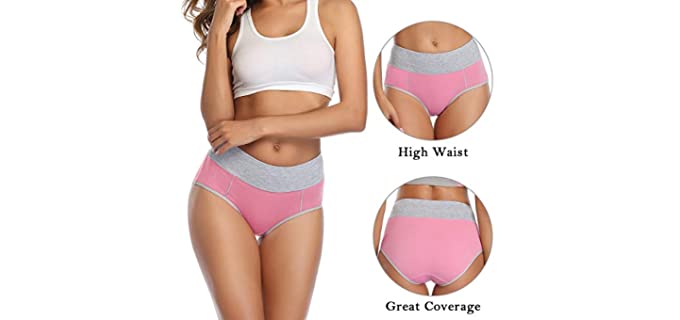 ---
Different Types of Underwear for Women
Generally, there are five cuts of underwear available for women;
Thongs – We start out with the least coverage underwear. Thongs give no cover to the behind and have a tiny bit of material between your butt cheeks. Most offer little to medium coverage in front. Many women love the freedom of a thong, while others hate the fact that it feels like they have a permanent wedgie.
Bikini Cut – The Bikini cut underwear is the most widely available and acceptable form of underwear. They sit low on the hip and cover the front and behind with medium coverage. Bikini cut Panties also come high up the leg. They fit similar to an actual bikini bottom.
Hipster Briefs – Hipster briefs offer fuller coverage and sit on your hips instead of your waist. They usually have a thicker waistband and a lower leg cut.
Classic Briefs – Sometimes called full briefs or high-waisted briefs, they offer full coverage in the front and behind with a more closed leg and a higher waist or mid-waist.
Boy Shorts – A full coverage option that is shaped exactly like a snug-fitting pair of shorts, with more leg and behind coverage. They also sit on the hip or mid-waist.
---
Best Underwear Types for an Apple Shaped Body
So exactly what style should you choose to compliment an apple-shaped body?
Well, most women with an apple or rounded body shape feel like their underwear is always falling down and does not provide sufficient coverage.
However, when they opt for high-waisted briefs, it feels like there is just too much fabric bunching up.
So, we have to go for a happy medium with an apple-shaped figure.
If you choose high-waisted underwear, always select something with a wide flat band that will not bunch up or slips down. Never get any form of flimsy underwear with the light elastics at the top, as they will start to roll down after a few years. Choose underwear with a high to medium waist that is a bit higher up around the legs, and stay clear of boy cuts. So basically, you want higher on the waist and a higher fit on the legs to put it in a nutshell, with a flat wide waistband all together.
---
Features of Good Underwear for an Apple Shaped Body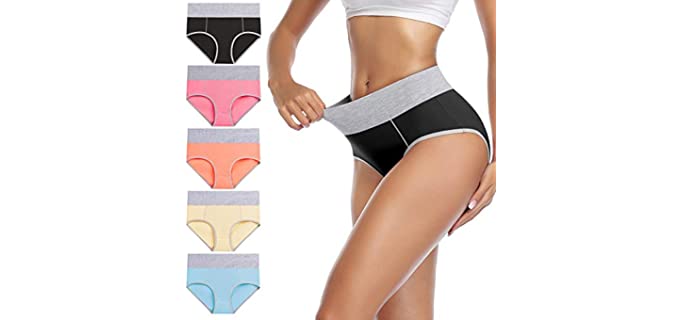 Materials – Underwear for women come in many different materials from natural cotton, bamboo, rayon and even Merino wool, to more synthetic polyesters and nylon. Lycra, spandex or elastane is added for stretch or in the waistband.
Fit – The best fitting underwear for an apple shape should have a higher waist with a large and wide elastic band. Also, look for a higher leg cut such as a bikini or French cut design.
Options – Plus and standard size options will be available to you depending on the underwear brands, as well as many colors and printed options from which you can choose.
---
Reviews: The Best Underwear for an Apple Shaped Body
In our list below, we look at some of the best available underwear brands and models that will beautifully flatter and apple-shaped body;
---
1
The Fruit of the Loom High waist panties is available in plus and standard sizes, as well as many more colors.
The Fruit of The Loom panties is breathable and lightweight.
They consist of polyester and spandex for stretch.
The fit is perfect for an apple-shaped body.
You can choose from plenty of colors and sizes available.
---
2
I find that the Jockey French cup panties have a stunning higher cut and high leg design for apple-shaped ladies.
The Jockey French cut has a wider waistband and complements an apple shaped body beautifully.
They consist of pure cotton and are machine washable.
Standard and plus sizes are available, as well as plenty of colors and prints.
They also come in a set of three panties.
---
3
Something a bit more elegant in a high cut and high waist design from Bali for the apple-shaped ladies.
The Bali underwear has a higher waisted cut and higher legs.
They are nylon, cotton and have plenty of spandex for stretch.
The underwear will look smooth underneath your clothing and have a U-waistband.
They will not ride up, and there is a hidden elastic to keep them in place.
---
4
From Wirarpa, we have comfortable and breathable high waist underwear with a wider band.
The underwear consists of combed cotton and spandex.
They have a brief fit with a higher waist and wider waistband.
There are sets of 6 that come in multiple colors, and you can choose from many options available to you.
They are breathable and consist of lightweight materials.
---
5
The Maidenform Tame Your Tummy panties have firm control panels and cooling fabric to keep you comfortable.
The tame Your Tummy range is designed to flatten your tummy and offer a comfortable fit.
They come in many color variations and size options.
The underwear is lightweight and stretchable, with nylon and spandex as materials.
They offer firm yet comfortable control and shaping.
---
6
The Annenmy underwear comes in sets of five multi-colored, high waisted panties with high cut legs.
Comfortable high waisted underwear to flatter your apple-shaped figure.
They are mostly cotton with some elastane in the waistband for a stretchable fit.
There is a broad waistband and a medium-high waist design, which flattens your tummy and will not dig into your skin or causes slipping.
They offer full and comfortable coverage for an apple shape, that will not bunch up or show lines.
They are also available in sets, with more colors and plus sizes.
---
Index Table: Top Rated Underwear for an Apple Shaped Body
---
---