The icicles are hanging from the rooftops, from your car, and even from your beard! It's cold outside, and keeping your body temperature at a comfortable level can be quite difficult.
What to do? Apart from some cold weather clothing and accessories, we suggest that you dig a bit deeper and think twice about the underwear you've chosen.
Below, we highlight the best long underwear for both men and women and help you choose the right one for your needs.
By arming your body with the proper base layer, you can help trap in the heat and block out the cold without piling on the thick, bulky jackets and numerous sweaters.
Surprisingly comfortable and effective, long underwear is lightweight and helps keep you warm and dry when the temperatures drop outside.
---
Buying Consideration for Long Underwear
Before you select a pair of long underwear, consider the following:
Tops, Bottoms, Set or Suit – Often, long underwear is associated with the bottoms only, but depending on where you're going to need them and how cold it is, you might need just the top, just the bottoms, both, or even a single-piece suit. If you're getting the underwear to sleep in (like pajamas), then they should be loose-fitting. If you plan to wear them as a base layer under other outdoor clothing, then they should fit snuggly yet comfortably.
How Cold? – If you're headed outdoors, you need to determine the fabric's weight: lightweight, mid-weight, or heavyweight. Lightweight for mild temperatures, mid-weight for moderate cold, and heavyweight fabric for those frigid, Arctic temperatures that chill you to the bone. If you are stationary outside and won't be moving around much, you should probably choose something heavier, even if the temperature isn't frigid. If you are walking, running, or working outdoors, then you can probably get away with a lightweight to mid-weight fabric because your movement will help keep your body temperature higher.
---
Long Underwear Materials
Long Underwear materials usually consist of the following;
Cotton – Many of the long underwear are made from cotton/polyester mix. Cotton underwear is great for those with sensitive skin or allergies (100% cotton, to be precise), but it may not be the right choice for certain outdoor activities since it doesn't keep you insulated when it gets wet. Cotton is best for underwear that you plan to sleep in.
Silk – As used in some on our list, silk is a thin material used as a base layer for moderately cold weather conditions. It won't add bulk under your clothing, which means that you'll be able to move around more easily, so if you participate in any winter sports, you might try some long silk underwear to keep you warm.
Fleece Lining – For a bit of thermal insulation, you might want some long underwear with a fleece lining. This can add bulk, so if you already have some snow pants or a large coat on, you might want to save the fleece underwear for the end of your day!
---
Features of Good Long Underwear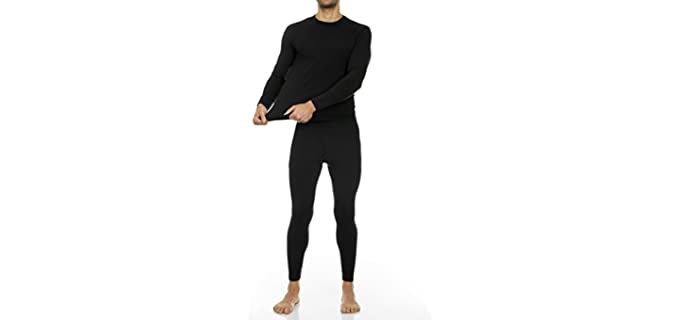 Materials – Long underwear consist of warm thermal materails that also breathe well and allow for more stretchability. Poleyster, cotton and spandex is mostly used, with an elastic in the waistband.
Design – Most long underwear have a snug and comfortable fit, with cuffs that are ribbed and more elastic to keep cold out. The waistband is flexible and elastic for a comfortable sit.
Options – Thermal Long Underwear comes in either single top or bottom options, although some come in sets and packs of two. There are also usually more colors available, from which you can choose.
---
Reviews: The Best Long Underwear
While we do highlight favorite men's long underwear below, remember that the same brand usually makes a women's version, as well. If you like the quality and fit of the men's underwear below, be sure to check out the women's version, as well!
---
1
The Carhartt Force is a midweight design warm thermal base long underwear for men.
The Carhartt brand knows how to protect you against the elements, and it's hard to beat their Cold Weather Leggings.
These 100% cotton leggings are a staple item for the outdoorsman.
Whether you're out working hard at a construction site, hunting in the backwoods, tending to farm chores, or just raking some leaves in the garden, these leggings are comfortable to wear and keep you warm.
Buy a pair, and you won't need to replace them next season like you would with many other cheaper brand names. These are some of the best long underwear on the market!
| Rating Category | Weight % | Score |
| --- | --- | --- |
| Warmth | 25% | 100 |
| Breathability | 20% | 100 |
| Comfort | 20% | 95 |
| Fit | 15% | 95 |
| Price | 20% | 95 |
| Total Score | 100% | 97.25 |
---
2
From Fruit of the Loom, we have the best thermal underwear for women.
The long underwear consists of cotton and polyester.
The warm waffle thermal bottoms are ideal for cold weather and also breathes well to wick away moisture.
The underwear will easily retain heat to keep you warm.
With the tagless and covered elastic waistband, there is less friction and irritation.
| Rating Category | Weight % | Score |
| --- | --- | --- |
| Warmth | 25% | 95 |
| Breathability | 20% | 100 |
| Comfort | 20% | 95 |
| Fit | 15% | 95 |
| Price | 20% | 95 |
| Total Score | 100% | 96 |
---
3
The Noble Mount Long underwear for men has a knit thermal design for warmth.
Next, we have the Noble Mount Extreme Cold Thermal Underwear Set, which is perfect if you want to keep your top half as warm as your bottom half!
The fabric is a mix of cotton and polyester that is then woven into a typical waffle knit pattern.
They have knitted ribbing on the wrist and ankle cuffs, which will prevent any drafts of cold air whisking toward your skin.
Since you get both the top and the bottom, you really can't beat the price at this level of quality. There are six colors to choose from, so be sure to check them all out!
---
4
Here we have full thermal underwear set for ladies that is ultra-soft and comfortable.
The Long Underwear comes in a set with a top and bottoms.
They are ideal for wearing alone as loungewear or underneath your clothing.
The underwear has four-way stretch material technology that is extremely stretchable and comfortable to wear.
The Poly-spandex blend is durable, breathable, and keeps you warm without restricting movement.
Furthermore, the design is completely tagless for your comfort.
---
5
From Duofold, we have a mid-weight men's warm long underwear that also helps to wick away moisture.
For standard, everyday activities, you might do well with a pair of the Duofold Mid-Weight Thermal pants.
They feature flat-locked seams so you won't experience any chafing as you move, and the knit helps trap air between the two layers of fabric, creating a thermal layer that traps in the heat and blocks out the cold.
They also wick moisture away from your skin to keep you dry throughout the day.
No annoying tag to scratch and irritate you. These are tag-free and very comfortable to wear!
---
6
The Terramar long underwear comes with ClimaSense technology that breathes well and keeps you warm.
The underwear consists of synthetic fibers with 100% Filament silk that is extremely comfortable and a soft base layer.
The ClimaSense technology keeps you warm in cold weather and still breathes well.
The underwear allows for more flexible and easy movement.
They are ideal to use for sports and many other activities.
---
7
The Thermajohn long thermal underwear is ultra-soft and consists of premium quality fabric.
Lightweight thermal underwear for men with a thermal top and bottom available.
The underwear consists of Poly-spandex material that stretches and flexes easily.
The underwear will not hinder your movement and is not heavy.
They are comfortable to wear for all activities.
---
8
The Cuddle Duds Underwear has warm fleece on both sides and a more flexible and comfortable fit.
The Underwear has temperature regulating technology to keep you warm and to breathe well to prevent moisture build-up.
The material has fleece on both sides for warmth and softness.
The more flexible design allows you to move freely, without restriction.
The underwear is available in three neutral color options.
---
9
The X-Temp thermal Underwear for men is warm and cozy, with a free, flexible design.
The underwear consists of cotton, polyester and has a snug and comfortable fit.
The base layer underwear is a pull-on design with no closure.
The materials adapt to your body heat to keep you warm.
The underwear flexes and stretches with your movement and has comfortable rib knit cuffs to keep heat in.
---
10
From UYES, we have another pair of thermal long underwear for ladies.
The set comes with two long bottoms and two long sleeve tops.
They consist of fleece-lined materials that insulate and keep you warm.
You can wear them alone as pajamas or underneath your clothes.
They also come in many more available color options.
---
Index Table: Top Rated Long Underwear
---
---