Long johns, base layer, thermal underwear, long underwear… Do underwear by any other name keep you warm?
While there may be several names for them, you're interested in soft clothing that will keep you warm during the winter months, and that's exactly what we'll show you on our list below.
We highlight the ten best thermal underwear (a.k.a. long johns or base layer) and provide you with a few practical tips that will help you choose the right kind for your needs.
---
Before You Choose
Before you choose your thermal underwear, here are a few things to consider:

Activity –  Are you in need of something to sleep in, work in, work out in, or for sports? For more rigorous activity, get lighter weight, breathable fabric. If you are stationary (sitting, sleeping, etc.), you might want something a little heavier to keep you warm.
Tags – Check to see if they underwear have tags! There is nothing more annoying than a rough size and care instructions tag scratching its way across your fanny and other delicate parts. Sometimes even after you cut it off, the jagged edges remain and rub.
Top, Bottom, or Set – Remember that they come in individual pieces (either the top or the bottom) and as a set (top and bottom together).
Compression – Compression pants, typically used for running or other sports, are another option. These help keep you cool in the summer yet trap the heat in the winter, and many like to use them as a base layer for winter sports. If you're interested in some good compression pants, then check out number 7 on our list below.
---
Material
There are several materials used to make thermal underwear:
Cotton. 100% cotton is the classic choice. It is natural, soft, and great at retaining heat. This is usually the best choice for those with delicate or sensitive skin.
Cotton Mix – Cotton and polyester or cotton and elastic are most common in thermal underwear. You get the best of both worlds (that of cotton and polyester fibers), which is why so many underwear manufacturers blend the two for thermal underwear (usually, there is a higher percentage of cotton).
Polyester Mix – Usually, polyester is mixed with elastic or elastane. As a synthetic fiber, it's very durable, it will dry quickly, and it's pretty good at wicking moisture away from your skin.
Fleece (lining) – Some thermal underwear has fleece lining on the inside. In general, it's best to use them when you're stationary (lounging, sleeping, light physical activity) because they might get too warm and cause you to work up a sweat if used during rigorous physical activity.
---
Waffle Texture
You'll notice that many of the best thermal underwear bottoms have a waffle/honeycomb texture. Why is that?
Rather than just having a flat, smooth surface, this particular "waffle" weave of the fibers actually makes the fabric more absorbent and allows the air to flow better.
These are two important features for thermal underwear because sweat build-up + chafing can cause some very uncomfortable skin irritations.
If you work outdoors or need something as a base layer for winter sports, then thermal underwear with a waffle texture will serve you well.
---
Features of Good Thermal Underwear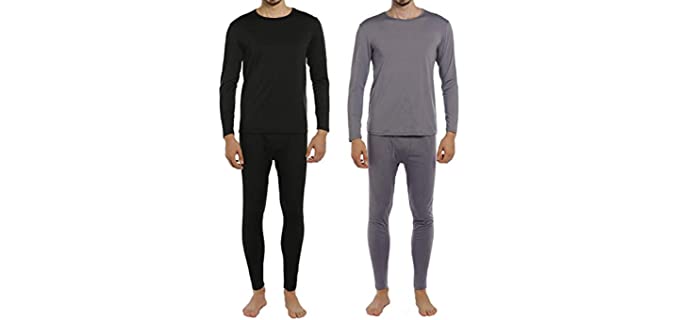 Materials – Polyester, cotton, and other wool materials are used in most thermal underwear. Elastane and spandex may be added for stretch.
Design – Thermal underwear is designed to provide warmth and insulation for cold weather underneath clothing. Carbon fiber heating technology and certain advanced technology materials are used to achieve a heating and insulating effect.
Options – Thermal underwear usually come in neutral solid colors such as black, white, and nude, though some brands offer more colors and variations. You should also be able to get both standard and plus-sized choices.
---
Thermal Underwear Tips
---
Reviews: The Best Thermal Underwear
Looking for the best Thermal Underwear, well then look no further than our extensive list of some of the best available thermal underwear;
---
1
The Venture heat offers you thermal underwear with carbon fiber heating technology.
There is four-way stretch technology for your comfort and mobility.
Carbon fiber heating elements target the back, shoulders, and abdomen for heating.
There is a low, medium, and high-temperature setting.
The underwear is machine washable and quite stretchable.
---
2
The Warm Merino Wool underwear from Minus33 is available in standard and plus-size options.
The underwear here consists of 100% pure Merino wool.
Merino wool is temperature regulating, keeping you warm when it's cold and cool when it gets warmer.
Merino wool offers excellent breathability and insulation.
The underwear is fully machine washable and quick drying.
---
3
The Lapasa thermal underwear is lightweight merino wool with insulating properties.
These are lightweight thermal underwear sets with merino wool.
It will keep you warm and regulate your temperature for optimal comfort.
There are neutral colors available for your perusal.
The underwear is very lightweight and flexible to wear under any garment or on its own.
---
4
Another addition from Lapasa is their midweight, warmer, merino wool thermal underwear.
This is the midweight set from Lapasa, a thicker Merino wool design.
It offers more warmth and insulation against extreme cold weather,
The underwear consists of 250-gram thick merino wool.
There are also neutral color options available.
---
5
From Rocky, we have a premium Thermal underwear range to keep you warm and cozy.
These are fleece lined thermal underwear.
They consist of polyester and spandex for flexibility and stretch.
The thermal underwear comes in a two-piece full set.
They are moisture-wicking as well as keeping you warm and well insulated.
More colors are likewise available for you to choose from.
---
6
The Just Love thermal underwear set can be worn underneath clothing or even as pajamas.
Use it as pajamas or an extra layer underneath clothing, and this is a versatile set.
The underwear is mostly cotton with soft fleece lining for warmth.
You can choose from a variety of solid colors available to your liking.
You get great value for money with a versatile set of thermal underwear.
---
7
The Base force range from Carhartt is midweight thermal underwear.
This is a classic crew neck top only.
It consists of soft and warm polyester with FastDry technology to wick away moisture.
Rugged flex technology allows for easier movement and more flexibility.
The classic waffle knit design helps to trap heat and keep you warm.
---
8
From Thermajane, we have ultra-soft, fleece-lined, thermal underwear.
The ideal thermal underwear set for women.
It consists of soft polyester fleece that is flexible and allows for full mobility.
The set comes in more available solid color selections.
It has a soft fleece interior lining to keep you warm and comfortable.
---
9
The Base set from ViCherub offers you a warm fleece-lined thermal underwear set.
This is an ultra-soft polyester and spandex thermal underwear set.
There are more colors available and plenty of size options.
The fabric has good moisture-wicking and thermal properties.
The underwear is designed to allow for more mobility and stretch to your shape.
---
10
The Dikamen Thermal underwear is a shapewear set that keeps you warm and shapes.
A fleece-lined, performance thermal underwear set.
The top and bottom ate designed to be used as sportswear underneath clothing or on its own.
The design allows for maximum mobility and wicks away moisture.
It consists of polyester and spandex for stretch.
---
Index Table: Top Rated Thermal Underwear
---
---