Dres's socks – unlike casual socks – are woven from much finer threads and come in a variety of different patterns that can add a unique touch to your professional look.
While it may be tempting to fill up the sock drawer with pairs that have the lowest price tag, you will most likely spend more money in the long run if you do so.
Wondering which brands offer men a quality selection of socks that won't need to be replaced after just one month?
Read on, and we will show you some of the best dres socks in this useful buying guide.
---
Where to Start
The best place to start when it comes to choosing dress socks is by considering the thickness and the height. We will discuss the material later, as it is equally important, but we'll start with the basics to help you narrow down the choices.

Height – Make sure that the socks sit high enough up on your calf so that no part of your leg will be exposed when you sit. When the temperatures dip down, knee-high socks (or those that rise close to the knee) will help keep your legs warm. Avoid these in the summer, however, as they will only overheat you.
Thickness & MaterialA – gain, weather plays a factor here, too. Dress shoes and dres' slacks are not ideal in the winter or cold weather, but if you provide yourself with a good base layer, you'll be able to keep the chill away. If you like a certain style of sock, check to see what material it is made of and how thick they are to make sure you're getting the right socks for the season.
---
Consider the Material
Manufacturers use a few basic materials when it comes to socks, including cotton, nylon, and Spandex.

Cotton – The best dres' socks on our list – Boldfoot Socks – contain Supima cotton; this is one of the highest qualities of cotton there is, and it is grown in the USA. The cotton fibers of the plant are longer than those of other species of cotton plants, and they are known for their softness and strength.
Wool – Wool is usually quite bulky, but when mixed with other fibers such as cotton or nylon, manufacturers have no problem creating dres's socks that are both thin and warm. The only problem is that many people forget to wash their wool socks separately and they shrink! Anything containing wool should always be washed via the "wool" cycle on their washing machine. When handwashing, just look online to see what temperature is safe for wool so you avoid shrinking it.
Polyester, Nylon & Spandex – These are all synthetic fibers. Nylon and polyester are more durable than cotton is, but they are also less breathable. If you have sweaty feet, a high percentage of nylon or polyester might cause you some stinky problems. Spandex is simply there to give your socks some stretch.
---
Features of a Good Dress Socks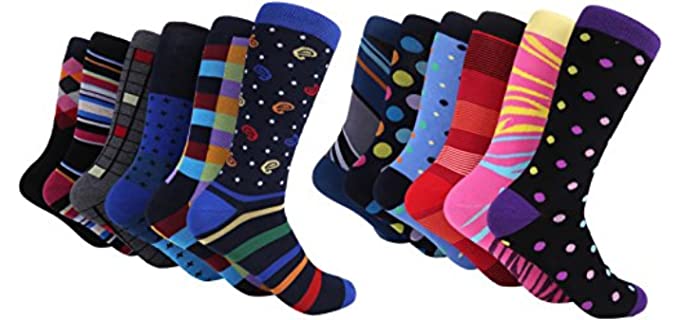 Materials – Dress socks consist mainly of materials such as cotton, polyester, wool, or acrylic wool, with spandex, elastane, or lycra added for stretchability.
Design – Dress socks are designed at a crew cut or ankle-length design, usually with a smoother feel that is more elegant and sophisticated.
Options – Dress socks come in multiple solid colors, as well as pattered and printed options depending on the brand. They are also available in different size selections.
---
Reviews: Best Dress Socks
Here are some fun, funky, and even professional and more formal looking dres's socks, for every style and preference;
---
1
The socks come in nine pairs of colorful printed dres's socks.
They are a premium quality design and ideal for formal and professional wear.
The socks are available in larger sizes and standard sizes.
---
2
The SoxTrot socks come in solid colors only.
They are quality dres's socks for all occasions.
The socks ate durable and comfortable.
They will keep your feet dry and protected.
---
3
The perfect professional work socks from Pierre henry.
They are premium quality and material socks for everyday wear.
The socks come in a variety of colors and prints.
They are durable and comfortable to wear.
---
4
Roll over image to zoom in
Visit the MUK LUKS Store
Muk Luks are longer-length winter socks for ladies.
You can wear them with your boots and almost any outfit.
They are a premium dres's sock.
The socks consist of polyester Nylon and spandex for stretch.
---
5
The socks come in many fun prints and colors.
When you purchase them, they will also come in a nifty git box.
The socks are durable and comfortable with a dres's design.
They make for an interesting novelty gift.
---
6
Many colors and prints are available in the Good Threads dress socks.
They are Cotton, Nylon, and elastane.
Cotton will breathe well and is also very durable.
The socks have a reinforced heel and toe, as well as a spandex top toe for comfort,
They come in sets of five pairs of crew length socks.
---
7
These are cotton spandex and polyester socks that breathe well and are durable.
They come in large twelve-pack sets with multiple color selections.
You can choose your size and favorite color prints and collections from the options.
The socks are comfortable and durable.
---
8
These are check argyle design dress socks that come in three packs.
They consist of cotton spandex and polyester, with some nylon.
The socks are available in more neutral color selections.
They ate moisture-wicking and also stretchable.
---
9
Cotton polyester and elastane socks that are breathable and durable.
The socks come in a six-pack set with dress designs.
They are available in more colors.
The socks are one size fits most option for men.
---
10
We have comfortable and colorful dress socks from Tipi Toe or the ladies.
They are polyester and spandex for stretch.
The socks come in sets of 12 pairs that are very colorful and printed.
They are durable and will also keep your feet dry and comfortable.
as you can see, there are plenty of colors and print sets from which you can choose, and you can also select your nearest size option.
---
Index Table: Top Rated Dress Socks
---
---