Socks are some of the most undervalued pieces of clothing. People are willing to invest in high-quality winter garments, but when it comes to shopping for the best wool socks, things are a bit different.
In spite of that, you should know that the choice of socks is of crucial importance. They are clothing items that are worn directly on the skin, and therefore, they have a direct influence on your comfort and overall well-being throughout the entire day.
High-quality, well-made winter socks will keep you warm and dry in spite of the adventures on which you embark.
In this article, we included only the wool socks that have been tested for their enhanced performance.
---
Buying Wool Socks – Things You Should Consider
Material – The choice of fabric is vital while browsing for socks. For instance, most wool socks encompass a mixture of materials. Purchasing socks manufactured with synthetic fabrics will provide inadequate antimicrobial performance while absorbing little to no moisture. Thanks to their physical nature, wool fibers are featured by antibacterial properties. This means that wool socks are odor resistant. Merino wool, in particular, is always blended with synthetic fabrics such as nylon. However, the socks that have a notable percentage of this type of wool provide excellent breathability while absorbing the extra moisture. Distinct from cotton, wool is an excellent insulator, and it maintains this feature while wet.
Comfort – The best wool socks will offer an excellent level of comfort, as compared to standard items. Winter socks, especially those designed for hiking and outdoor activities, should be breathable while ensuring excellent temperature regulation. In other words, you shouldn't feel your feet too hot or too cold. Either way, your comfort is jeopardized. In this direction, the breathability and temperature regulation features are influenced by the quality of the fabric.
---
Features of Good Wool Socks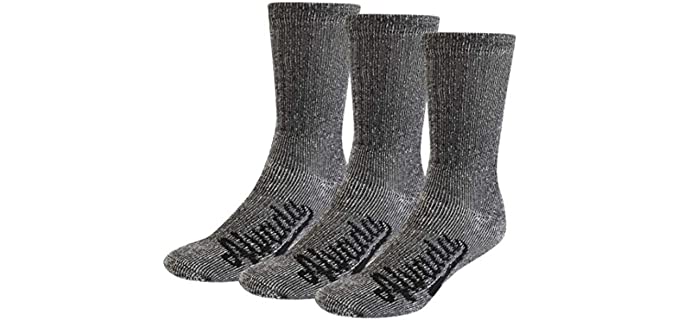 Materials – Wool socks usually comprise of premium merino wool that may be blended with elastane and spandex for flex. Acrylic wool, polyester, and cotton may be blended with the wool for durability and softness.
Length – Wool socks come in a variety of lengths from ankle socks to crew style, calf-length and even thigh high styles.
Options – You can get wool socks in a large variety of colors and prints, as well as in sets of two or more pairs of socks.
---
Reviews: The Best Wool Socks
Listed below are some of the most luxurious and popular wool socks available to you Today;
---
1
The PureAthlete Ski Socks consist of premium Merino wool.
Here we have premium Merino wool socks for enhanced warmth and comfort.
The socks consist of Merino wool, nylon, and spandex for stretch.
They have a midweight design and are ideal for colder weather and outdoor activities.
You can also select from a few more colors available.
---
2
From Justay, we have a high-quality wool sock for men and women.
An Ultra Plush and comfortable sock that has a jacquard blended weave of wool ad other materials.
The socks consist mainly of wool and have a fun vintage design.
They are of excellent quality and very soft and cozy to wear.
there are also more color variations available to choose from as needed.
---
3
The Danish Endurance wool socks are ideal for hiking and heavy-duty use outdoors.
Danish Endurance is a top brand that manufactures very durable, heavy-duty socks.
The socks consist of premium Merino wool and keep your feet dry and comfortable.
They are ideal for hiking and outdoor use.
The socks are designed in Denmark and made in Europe.
---
4
The Fun Toes wool socks come in a range of colors and options for you to choose from as you wish.
Fun Toes socks are more neutral, and formal for everyday use.
They are Merino Wool, Polyester, Nylon, and Spandex.
The design is tch free and also odor-free with specialized technology.
They will provide all-day warmth and comfort.
---
5
The Joyce and Co. blended socks are comfortable and highly breathable for everyday use.
These are blended wool socks that will not scratch or itch.
They consist of wool, cotton, polyester, and spandex materials.
The socks come in fun colors and prints from which you can select.
The design is one size fits most.
---
6
From Cozia, we have Thermal 80% Merino wool socks for both men and women.
The socks consist of Merino wool, spandex, polyester, and nylon.
They are durable, soft, and warm.
You can wear them indoors and outdoors, as well as for all activities.
The socks also offer thermal protection and warmth.
---
7
The Alvada socks are thermal hiking socks that consist of Merino Wool.
These are thermal wool socks from Alvada.
They consist of 805 merino wool, nylon, polyester, and some spandex for stretch.
They are also available in more colors and come in a set of three socks.
The footbed is cushioned for your comfort.
---
8
The Wigwam Comfort Hiker is a crew length wool sock for men and women, with a midweight design.
Merino wool socks also contain stretchable nylon, rubber elastic, and acrylic synthetic wool.
The socks are durable and soft against your skin so that they won't itch or scratch.
They come in more color options from which you can choose.
The design is a crew cut, and they are ideal for hiking and outdoor activities.
---
9
From Darn Tough, we have a Hiker Micro Crew wool sock that is cushioned for comfort.
Darn Tough is a reliable brand making high-quality socks.
These are Merino Wool, Nylon, and Lycra socks,
They are extremely durable and comfortable with added stretchability,
The socks are ideal for hiking and other purposes.
---
10
The Yoicy Store wool socks are very thick and warm for cold weather.
Here we have thick and warm winter socks for men.
They are wool, cotton, and spandex, with added polyester for thickness.
The feel is super soft and comfortable, as well as very thick.
They are ideal for cold winters and are wool lined on the inside.
---
Index Table: Top Rated Wool Socks
---
---