If you're an avid hiker or enjoy working out daily, you know the importance of having clean, dry socks. Normal cotton socks take a long time to dry and can also trigger sweating, so it's essential to have performance socks that decrease – rather than increase – moisture.
Moisture-wicking socks feature special fabrics and design elements designed to speed drying time, making them essential for comfort and performance. If you're looking for the best moisture-wicking socks, you've come to the right place.
With so many options out there, it can be difficult to find the ideal pair of performance socks. In this guide, you'll find the best moisture-wicking socks, and we will explain some of the key features to look for when shopping for them. Don't forget to check out the in-depth reviews of our three favorite pairs, too!
---
Understanding Different Moisture Wicking Socks
Below are some things that will help you understand which moisture-wicking socks to buy, depending on your preferences and the activity you plan on using them for. Of course, socks are very versatile, and you can use one performance pair for many different activities!
The first consideration is the height of the sock. Options include no-show socks, ankle socks, and calf socks. Note that very often, moisture-wicking socks – including many of the choices in our table of the best moisture-wicking socks above – are available in different heights.
Secondly, socks may have different levels of cushioning. How much additional padding you need to have on the inside of your socks depends on the type of activity you plan on doing. The longer you plan on walking or hiking, the more padding you need. If the terrain is rough, you also want to go with a higher padding level.
---
Sock Types
Athletic Socks – These are lighter than hiking socks and not generally padded, although running socks may have some light cushioning.
Hiking Socks – Hiking and walking socks are designed to be worn for many hours. They go from lightweight socks to heavyweight options for mountain treks. The heavier the sock, the greater the amount of padding in the foot's heel and ball, which helps comfort and prevents blisters.
Liner Socks – Liner socks are thin shell socks worn under thicker socks and are particularly useful to remove sweat while hiking.
---
Understanding Different Wicking Fabric Types
Merino Wool – Merino wool has terrific natural antibacterial and moisture-wicking properties. It is also very comfortable in all climates.
Synthetic Fabrics – A common alternative to merino wool, synthetic fabrics are frequently made up of a blend of different materials. They dry even more quickly than merino wool and provide an excellent fit, particularly for sports and other rigorous activities. On the other hand, synthetic fabrics may be less comfortable than merino wool when the temperature is very elevated.
---
Features of a Good Moisture Wicking Socks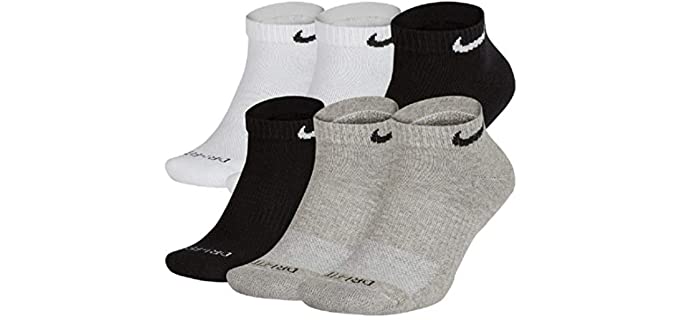 Materials – Most breathable and moisture-wicking socks consist of materials such as cotton and merino wool or polyesters with Dri-Fit technology.
Design – Moisture-wicking socks have moisture-wicking technologies and materials, and some are infused with copper or silver fibers also to be antimicrobial. The socks come in different lengths and weights.
Options – Moisture wicking socks should be available in many color options as well as men's and women's size options depending in the brand.
---
Reviews: Best Moisture Wicking Socks
Listed below are our top choices in socks that are moisture wicking;
---
1
The socks are designed to prevent blisters and chafe and cushion you from hard impacts.
The materials are moisture-wicking to keep you dry, and the socks have underfoot cushioning.
The socks are durable and comfortable with a seamless, anatomical fit.
They are also available in more colors.
---
2
These are Nylon and cotton socks that are comfortable and breathe well.
They offer excellent moisture-wicking capabilities to keep your feet dry.
They are available in men's and women's size options, for your choice.
They also offer light arch compression for better stability and support generally.
---
3
Premium Merino wool socks for colder weather conditions.
Merino wool regulates temperatures so your feet will not overheat and sweat profusely.
They are moisture-wicking socks with comfortable arch support,
The design will stay up and not bunch up in your shoes.
---
4
Cotton and Polyester socks that are durable and comfortable.
They have Dri-Fit moisture-wicking technology that keeps your feet dry and cool.
The socks have an improved fit with more spandex for stretchability.
The mesh panels allow for better ventilation to keep your feet cool and dry.
---
5
The Winterlace socks consist mostly of cotton with some spandex for flex.
Cotton is naturally moisture-wicking and very breathable, not to mention breathable in turn.
These cotton socks ate comfortably in a crew length with durable construction for sports and hiking wear.
They are available in men's and ladies' sizes.
---
6
Another pair of cotton socks with some polyester and spandex from Dickies.
Dickies is a top brand, and their socks offer excellent moisture-wicking capabilities.
The socks have arch compression for support and stability and a reinforced heel and toe for durability.
Mesh ventilation panels allow for better airflow to keep you dry and comfortable.
---
7
The Onke cotton socks ate durable cotton and polyester with spandex for stretchability.
They are moisture-wicking socks that will keep your feet dry and comfortable with advanced technique fibers.
They come in more colors available o you and are quite durable with the additional nylon.
These socks have a performance design with cushioning and a deeper heel for sports and hiking use/.
---
8
Comfortable Hiking, sports, and trekking crew socks for everyday use.
The socks ate performance-based, so they are more durable and comfortable.
The blends are there for strength and durability, with breathable features to keep moisture at bay.
They offer light compression and will not bunch up.
---
9
Here we have quick Dry technology sports socks for everyday wear.
They are cotton and Nylon, with spandex for stretch.
The socks are a low-cut crew design, ideal for wearing athletic socks.
They will keep your feet dry and comfortable.
---
10
The socks from Kodal are also athletic socks with infusions of copper.
Copper is an excellent antimicrobial that will prevent odors and keep your feet healthy.
The socks ate moisture wicking and will prevent foot fatigue.
They consist of combed cotton, Copper yarn, and spandex for stretch.
---
Index Table: Top Rated Moisture Wicking Socks
---
---