Time to update your sock drawer, gentlemen?
We have a hunch that you're taking the time to search for a decent pair of socks because you're sick and tired of the cheap brands wearing out on you in just a few months.
Our guide will show you some of the best socks for men so that you won't have to waste money on the cheap, low-quality brands anymore.
Whether you need socks to wear with a suit or socks to wear with boots, we have all of the top choices you can pick from below.
---
Choose Your Type
There are a few things to take into consideration as you search for the ideal socks, so here are a few tips to help you choose:
Work – If you work in a formal office setting, height is key. You want something that will cover the leg when you sit down because the pant legs will rise slightly. Make sure they rise high enough up the leg to keep you covered when you sit! For outdoor or more physically involved jobs, you want something that is made of durable material (they'll be going through the washing machine a lot and they'll take a lot of wear and tear in your shoes). The height depends on the shoes or boots you wear, so choose accordingly.
Color –  When you're wearing a business suit, it's best to stick with socks that are the same color as your trousers. If you're feeling a bit bold, you can choose something with different patterns or designs, but in general, it's best to stick with the same color as your trousers. For more casual work settings, look for something that is the same color as your shoe.
Reinforcement –  Some socks are designed with reinforcement in the heel, arch and toes. This is to provide you with comfort and support and help prevent wear and tear in certain areas (think of the toes and the heel, for example, where holes occur the most.) If you hike, hunt, or head a lot outdoors, then make sure you get a thicker sock that won't wear down and cause your foot to rub in the inside of your shoe or boot.
---
Materials
If you've never really given much thought to the type of material that your socks are made of, or you're just not sure what the different options are, here we'll provide you with a few tips.
Cotton – Cotton is the most popular choice, but there is definitely a huge difference in quality regarding the type of cotton used.
You might find 100% cotton socks or those that mix cotton and other fibers (which is completely fine).
If you're interested in a more natural fiber because you have sensitive skin (wool irritates you, etc.), bamboo cotton socks are a great alternative to regular cotton.
Wool – Many socks are made of merino wool, which is also used to make many other clothing types.
This will help keep you warm and help wick moisture away from your feet in the colder weather. Yes, they can still get a little damp if you sweat a lot, but if your shoes don't have much insulation, they'll definitely keep your feet warm.
As you probably already know, Wool socks require special attention when cleaning. You'll either need to hand wash them separately from your other garments (always follow the washing instructions on the sock) or put them through the "wool" cycle in your washing machine. You don't need a perfect pair of socks to shrink because you didn't wash them properly!
Cashmere and Silk – Here, we're not referring to a 100% cashmere sock or a 100% silk sock, but rather a blend of the two. These are best for the workplace (in an office environment) when you wear a suit.
These won't keep you as warm as wool, but the fact that they're blended means that they're great in cooler weather when you need something a little more formal.
---
Features of a Good Sock for Men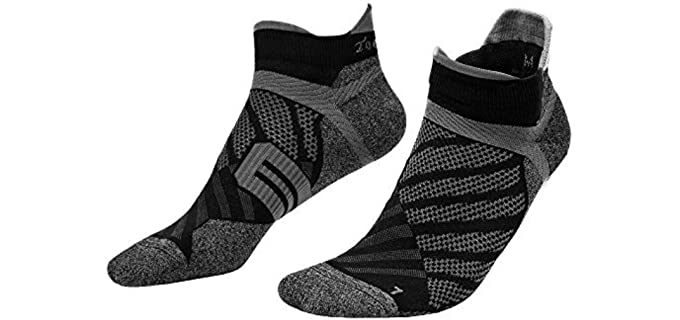 Materials – Men's socks can consist of a variety of material's including cotton, acrylic, wool or polyester, with added spandex, or elastane for stretchability.
Design – Socks come in a crew fit, ankle fit, secret sock fit, or knee-length designs for men.
Options – Men's socks will be able in different colors, prints and style options, as well as men's sizes depending on the brand and model.
---
Reviews: Best Socks for Men
In our extensive list we have some of the most sought-after sock brands and models specifically for men;
---
1
Nike is a top brand, making some of the best available socks for men.
The Nike socks have a crew length and come in black or white color options, with a contrasting logo.
They are moisture-wicking to keep your feet dry and cool.
The heel and toe are cushioned for comfort.
The sock offers a locked fit design with Dri-Fit technology.
---
2
The Under Armour socks for men are very durable and have mesh panels for ventilation.
The socks are polyester, cotton, spandex, and machine washable.
They ate moisture-wicking with mesh panels for better ventilation.
The is an arch support to help reduce foot fatigue.
The fabric also helps to wick away moisture from your skin.
Only black and white color options are available in this range.
---
3
Another excellent choice from Nike is its Dri-Fit technology sock range for men.
These are a low-cut design sock for a sporty ankle fit.
They have Dri-Fit technology with a lock-in fit design.
The materials are moisture-wicking and allow for better ventilation.
The socks consist of cotton, polyester, and spandex and are available in more colors.
---
4
The Adidas Low Cut sock is cushioned for complete underfoot comfort.
The low-cut design is ideal as a sports sock that fits your ankle.
The foot is cushioned for comfort and impact resistance.
The heel and toe are reinforced for better durability.
There is also a double welted cuff design for durability.
The sock is available in black and white color selections.
---
5
The Under Armour Cotton socks have a crew cut and are available in more color options.
The socks are cotton and polyester, with spandex fr stretch.
They are fully machine washable and highly durable.
The dynamic arch support helps to reduce foot aches and fatigue.
Strategic cushioning is placed to reduce bulk and improve flexibility.
The material's wick away moisture, and there is anti-odor technology to keep your feet fresh and dry.
---
6
The Cozia Merino Wool socks are the ideal winter boot socks for men.
The Cozia socks are warm wool socks for everyday use.
They consist of Merino Wool and Polyester with Spandex for stretch.
They are the ideal winter socks for indoor and outdoor use.
The Merino wools are moisture-wicking, insulating, and regulates temperatures.
The socks are durable and quality in design.
---
7
The Loritta Store socks are designed to be warm winter socks that are durable and comfortable.
These are also warmer winter design socks for men.
They consist of Acrylic wool, Polyester, and Spandex for stretch.
They provide a soft, itch-free, and warm feel.
The socks are much warmer than regular cotton socks and also breathable.
---
8
The Champion Dry socks are the perfect summer socks that wick away moisture.
These are lightweight and breathable polyester socks with spandex for stretch.
They are moisture-wicking and breathe well to keep your feet dry and cool.
There is also arch support that gives you a more comfortable and secure fit.
---
9
The Toes and Feet ankle socks have a perfect fit for men and will keep your feet dry.
We have fresh cotton and polyester socks with some nylon and spandex for flex and durability.
They are designed to keep your feet dry and odor-free.
The socks are machine washable and will dry quickly.
They also come in more color options.
---
Index Table: Top Rated Socks for Men
---
---