Whether you're putting in a backbreaking 10-hour day on a construction site or brainstorming marketing techniques in an office all day, you need something between your footwear and your feet: a great pair of socks.
Everyone has different needs and expectations from his or her work socks, and that is why we chose to highlight some of the top pairs in each category.
Everyone has different needs and expectations from his or her work socks, and that is why we chose to highlight some of the top pairs in each category.
Read on to learn more about what to look for when shopping for appropriate work socks!
---
Considering the Height of Work Socks
Not sure which are the best work socks for your profession? Here are some tips to help you choose the right ones.
Here is a breakdown of different sock cuts:
Mini Crew – These rest just above the ankle, rising about 6 inches up the leg. These are great if you have long pants and wear sneakers or tennis shoes to work.
Crew – Typical crew socks sit halfway up the shin. If you have low-rise boots or if it's cooler outside, these will provide you with protection and warmth.
Mid-Calf – Mid-calf socks sit about ¾ of the way up calf/shin (below the knee). If you wear trousers to work, these are long enough to cover your leg. If you wear high-rise boots, they should sit slightly above them.
Knee-High – Knee-high socks are common office attire when the weather is cooler. Trousers are made of lightweight material that isn't very warm, so think of knee-high socks as extra insulation to keep you warm.
---
Features of a Good Work Socks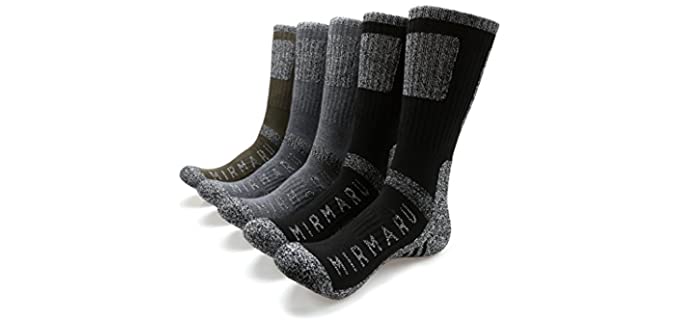 Materials – Good work socks consist of more natural fibers such as cotton, and merino, or other forms of wool. However, certain polyester and acrylic blends and materials may also be just as acceptable.
Design – Work socks should fit with your shoes of choice. If you wear work boot,s a longer length boot sock is advised. For general low-cut work shoes, you can wear ankle socks or crew length socks. Work socks generally have a reinforced heel and toe for quality and durability in these high wear areas. Many work socks come with underfoot cushioning to provide good underfoot impact protection. Some work socks models are designed for wearing with steel toe work boots and have features ideal for protection with regard to steel toes.
Options – Works sock are usually available in a few size options, as well as many colors and prints, depending on the brand or model. Also, check for men's and women's sizes, as there is a difference. Most work socks will be sold in a set of two or more, and even up to twelve pairs of socks, which you can most likely select.
---
Reviews: Best Work Socks
Listed below are our top picks in durable, comfortable, and moisture wicking work socks;
---
1
These are very durable and temperature regulating Merino blended wool socks for work.
Merino wool helps to regulate temperatures and is moisture-wicking.
The socks are high quality and durable for sports and work.
They come in packages of four pairs of socks, and multiple colors are available.
---
2
colors

Another set of merino wool and polyester socks, with some spandex for stretchability and acrylic for warmth.
These are the ideal work socks for colder weather conditions that provide good temperature regulation and a soft feel.
They are available in many colors and sizes for men.
The toe and heel are reinforced for quality and durability, while cushioning are in all the high impact areas.
---
3
Moisture-wicking and absorbent bamboo are used in these socks, which are also blended with Lycra and Elastane for ultimate stretch and flex.
The socks are highly durable and will regulate the temperature inside your shoes.
They are eco-friendly, produced from organic bamboo fibers only.
These e socks are seamless and have a reinforced toe and heel.
Furthermore, they are extremely strong and durable.
---
4
These are breathable and light cotton, polyamide, and elastane socks.
Cotton is highly breathable, durable, and will help o wick away moisture.
The socks are machine washable and of excellent quality.
There are reinforced stress zones for quality and flat whipped seams for comfort and less friction.
---
5
Cotton, polyester,r, and spandex socks that are durable and ideal for work.
They come in sets of three pairs and are available in more neutral colors.
The socks have an ankle to crew length and offer good arc and ankle compression for comfort.
They have full underfoot cushioning for your comfort and are of industrial-strength construction.
---
6
These socks come in a large variety of colors for our perusal.
They are durable and heavy-duty work socks for everyday wear.
The socks are cotton, polyester, and spandex for stretch.
They have arch compression to enhance sport and Ventilation channels to allow for cooling and breathability,
They can also be machine washed in turn.
---
7
Comfortable work socks in a crew length.
They come in three neutral color options and more sizes.
The socks are polyester and nylon, with acrylic and rubber in the blend.
The socks are built ideally for wearing with steel toe boots and offer midweight boot protection.
They are fully cushioned and have reinforced heels and toes for quality and durability.
---
8
Light and breathable cotton and polyester socks, with some spandex for stretchability.
The socks are of excellent quality and will breathe well to keep you dry and comfortable.
There is a reinforced heel and toe for durability and mesh ventilation to keep you cool.
The materials are moisture-wicking and highly absorbent.
---
9
Crew length socks that are ideal for work.
They come in more neutral colors and in sets.
The socks are cotton, Polyester, and Lycra Spandex for flex.
They are machine washable and very durable.\the socks are ideal for work and hiking and can be worn with boots.
---
10
Carhartt is a top-quality brand that makes some excellent socks for work, in turn.
The socks are polyester and spandex with FastDry technology to wick away sweat and fight odors.
They are spandex with light compression in the arch for full motion and stability support,
The toe and heel are reinforced for quality and durability.
---
Index Table: Top Rated Work Socks
---
---