Socks are necessary yet often an unappreciated piece of clothing. Many of us probably don't put a lot of thought into the socks we wear, one of the biggest deciding factors being how comfortable they are!
Here is a useful guide to help you get started to help ensure that you choose the most comfortable socks for your feet.
---
Buying Information
Here are some useful tips to help you choose the most comfortable socks:

Choose Season-Appropriate Material – You don't want anything that will cause you to sweat excessively in the summer or something too light in the winter. Choose socks either for wearing in winter that will keep you warm or with moisture-wicking properties and ventilation for hot summers to keep you cool.
Choose Socks That Fit Your Activities –  Active people should buy socks that easily absorb sweat. Work socks and sports socks are performance socks that are usually much more durable and comfortable to wear.
Make Sure You Know How High They Rise are they low-cut, above the ankle, or just below the knee? Then there are also comfortable and light no-show socks for wearing with sneakers and athletic shoes.
---
Features of Good Comfortable Socks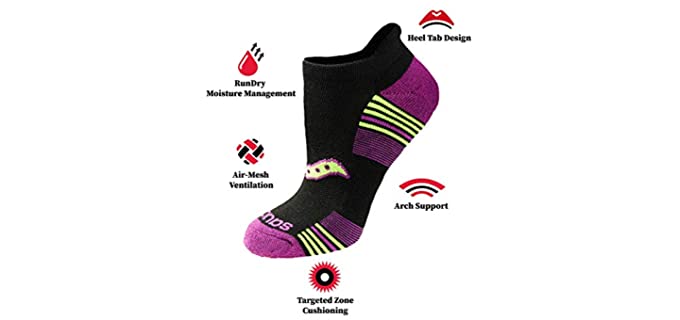 Materials – Cotton and polyester, or nylon are good materials for comfortable socks. Elastane and spandex are used to add stretch to your socks. Some socks consist of Merino wool, which helps to regulate temperatures.
Technology – Technology such as moisture-wicking fibers may be used to keep your feet dry. Ventilation channels or mesh is added to allow for better airflow. Arch support or compression in the arch area helps with stability and support. Cushioning in the heel or toe or the underfoot area protects your feet against impact.
Options – Most comfortable socks come in a range of color and print options with fits for men and women. Comfortable socks may be any length from crew to the knee, ankle design, or no show socks. You also get a heavy-duty performance design ideal for sports and work socks or lighter everyday wear models. Soft and thicker socks with more insulating properties are more ideal for cold weather conditions. Some of these include ski-socks that are also great for outdoor wear.
---
Reviews: The Best Most Comfortable Socks
In our extensive list we have some of the most comfortable socks available today;
---
1
The Nike Socks are affordable and come with excellent arch support for a better fit.
The Socks consist of cotton, Nylon, and Spandex with some polyester.
They are fully machine washable and quick drying.
The socks have ribbed cuffs for a snug and more comfortable fit.
They also have arch support for a more secure fit.
---
2
These are classic cushioned socks from Nike with moisture-wicking materials.
The socks consist of materails that wick away moisture and keep your feet dry.
The socks have to cushion under the feet for support and comfort.
The fit is comfortable and secure with a crew fit design.
They are available in a black or white neutral color option.
---
3
These are the ideal training socks from Nike, with moisture-wicking technology.
The socks have a cool ankle cut that is ideal for wearing athletic shoes.
They consist of moisture-wicking soft fabric to keep you dry and comfortable.
There is a terry cloth sole design to absorb impact and provide cushioning.
---
4
The Zando Supersoft socks are perfect for keeping warm and cozy in those cold winters.
The socks consist of super-soft materials that are of high quality and lightweight.
They are available in a wide range of colors and prints from which you can choose.
They offer a stretchy and comfortable fit that is not to lose.
The fluffy materials are soft and warm against your skin.
---
5
The Zensah socks are wool running socks that help to regulate temperatures.
The wool socks have hex-padded technology in the heel and toe area to reduce impact and resist abrasion.
Your feet will stay dry with the special wool fiber blend that wicks away moisture.
The fine merino wool used is a natural temperature regulator.
The socks provide an anatomical fit with light arch support and a seamless toe for less friction.
---
6
These Ski Heated socks are ideal for cold weather and outdoor excursions in the snow.
The socks consist of mostly cotton, polyester, elastane, and Coolmax fiber technology.
They have infrared heating elements to keep your feet warm and to stimulate blood circulation.
The socks are perfect for outdoor sports and activities.
You can also select from more available colors.
---
7
The Dickies Dri-Tech socks are very durable and comfortable for all occasions.
The socks consist of cotton, Polyester, Spandex, and Nylon.
They have Dri-Tech technology to wick away moisture keeping your feet cool and warm.
In the socks are ventilation channels for breathability.
There is arch compression for stability and support in the arch area of the sock.
The socks also have a more durable reinforced heel and toe.
---
8
The socks from Fruit of the Loom are extremely durable for heavy-duty wear and quite comfortable.
They consist of cotton, Polyester, Lycra Spandex, and a few other fibers in the blend.
The socks have a heavy-duty design with reinforcement in high impact areas.
They are performance socks that will wick away moisture and breathe well to keep you dry and comfortable.
Ideal as work socks and outdoor socks.
---
9
From Saucony, we have ventilating no show socks that are ideal for sweltering summers.
The socks consist of Polyester and spandex.
They have moisture-wicking fibers and Airmesh venting to keep you cool and comfortable.
The no show sock is ideal for wearing with sneakers and athletic shoes.
There is also targeted arch support with light compression for a more stable arch.
---
10
The Carhartt Force socks are the most comfortable work and performance socks that you will find.
The socks ate mostly Polyester with spandex for stretch.
They are lightweight, soft, and comfortable to wear.
Fast Dry technology wicks away moisture to keep your feet dry and cool.
Mesh cooling channels also allow for proper ventilation in the socks.
---
Index Table: Top Rated Most Comfortable Socks
---
---