We spend so much time making sure we have the perfect clothing and shoes for CrossFit training, but what about your underwear.
Having comfortable underwear that flexes with you and absorbs moisture is just as important as your clothing for CrossFit.
So, in this article, we will look at the best underwear for CrossFit training.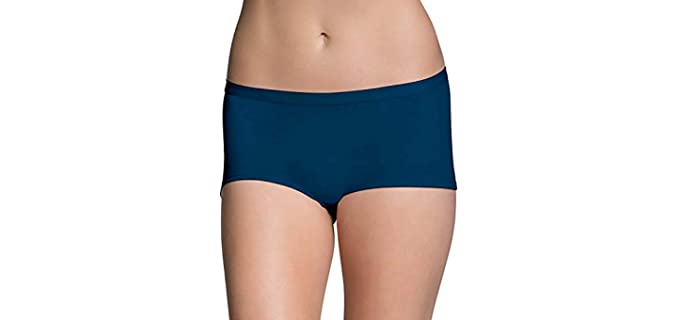 ---
Choosing the Right Underwear for CrossFit Training
The best underwear for CrossFit training or any workout routine, for that matter, will be made of either cotton or a synthetic blend with moisture-wicking technology.
Keep in mind that you also need underwear that stretches and flexes with you when you move and conforms to your natural shape. Hence, flexibility is necessary, which can be obtained by adding spandex, lycra, or elastane to the blend of fibers in the underwear.
---
Choosing Underwear for CrossFit Training
Ultimately finding the perfect underwear for CrossFit workouts adds to your personal preference in what styles you would like to wear. However, there area few components to consider;
Coverage – Coverage depends mostly on what feels more comfortable for you. Generally, I would go for a happy medium when it comes to coverage, as too much coverage may cause bunching up and even wedge when you ate performing intense workouts. However, too little coverage can also be quite uncomfortable. Basic bikini-style underwear for ladies and basic briefs seem t be the preferred style when it comes to coverage.
Seams and Tags – Friction is an issue in working out and underwear. Therefore, you want something that has no-show or no seams and flat waistbands that will not chafe or dig into your skin. Also, look for tagless underwear options.
Materials – As mentioned before, you definitely want either cotton or a mmoisture-wickingtechnology synthetic material,which are your best options. Lycra, elastane, or spandex can be added for stretchability.
---
Features of Good Underwear for CrossFit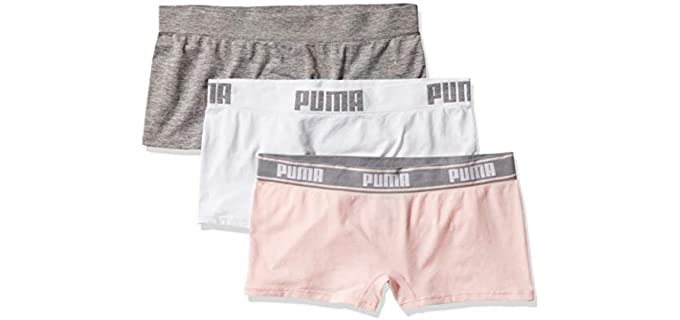 Materials – For CrossFit you want underwear that breathes well, wicks away moisture and that will not irritate your skin. In most sports brands there are may technologies used in their materials that provide moisture wicking and drying capabilities. Polyesters and polyester cotton blends can be modified to keep you dry and comfortable. Other materials may include cotton, lycra, and spandex as well as blended options.
Design – A comfortable underwear for CrossFit needs to be free of irritating tags, seams, and stitching details, with an almost seamless design. They need to stretch and fit well and be flexible enough to move with you and not restrict movement.
Fit – Look for a fit that is snug and comfortable without squeezing or being too tight around your waist and legs. You can opt for boy shorts, briefs, or bikini design underwear, which are usually the most comfortable. I do not recommend thongs or G-Strings, which may not offer the most comfortable fit for cross-fit training.
Options – As you will see, there will be many color and print options in underwear for CrossFit training, as well as plus and standard sizes. These all rely on the specific brand that you choose.
---
Reviews: The Best Underwear for CrossFit
In our list below I have opted for some of the most comfortable, breathable, and moisture wicking underwear, ideal for CrossFit training;
---
1
The assorted color briefs from Fruit of the Loom are a breathable Micromesh ideal for CrossFit training.
The fruit of The Loom briefs for men is designed with micro-Mesh for improved breathability.
They will wick away moisture and stretch with you as you move.
They are polyester and spandex, with a contoured pouch at the crotch for added support.
The design is tag-free and seamless for your comfort.
More colors and sizes are likewise available to you.
---
2
The David Archy Rayon Bamboo underwear is absorbent, breathable, and stretches.
The versatile performance underwear for men offers a great fit and maximum comfort for CrossFit training.
They consist of absorbent bamboo rayon with added stretch.
The underwear is lightweight do in solid and black colors, available in a set of 4.
They are machine washable and quick drying.
---
3
The Souke Cycling shorts underwear is designed for CrossFit training routines that include plenty of cycling.
These are cycling shorts for CrossFit training involving cycling and similar routines.
They are comfortable in fit with a padded bottom.
The underwear can be worn as a second skin set and have anti-slip leg grips.
They are polyester and spandex for stretchability that conform to your body and movements.
The materials are very light and breathable to keep you cool and comfortable.
---
4
The Under Armour Pure Stretch underwear are the perfect pair for your CrossFit training routines.
Hipster underwear for the ladies that offer good coverage and a comfortable fit.
They are polyester with elastane for stretch.
They come in sets of three panties and a few color and size options.
These will fit your body just right and flex with you, causing no restrictions in your workouts.
---
5
The Perfect stretchable and moisture-wicking underwear for CrossFit from Puma.
From Puma, their underwear is designed for sports and training, offering you the best comfort, support, and cooling features.
These are boy short sets that are nylon and polyester, designed to wick away moisture and breathe, keeping you cool and comfortable.
They breathe well, wick away moisture, and stretch to your form.
They are available in more colors and sizes, from which you can choose.
---
6
The stretchable design of the Puma underwear makes them ideal for CrossFit training.
For something a little less restrictive, the Puma Bikini sets are ideal.
They offer a lower waist and high leg fit that is comfortable and less restrictive, so you can easily move your legs and wear pants that are mid or hip waist in fit.
They consist of breathable and stretchable polyester and Nylon materials.
The underwear comes in more color options in sets of four.
They also offer a tag-free and seamless design, ideal for less chafing and irritation while working out.
---
Index Table: Top Rated Underwear for CrossFit
---
---