Leggings are one of the most versatile bottoms that you will ever wear. They can take you from work to play and even exercise in no time.
Yet, wearing the wrong underwear with your leggings can look tacky and feel very uncomfortable, and that is why you need the best underwear for leggings.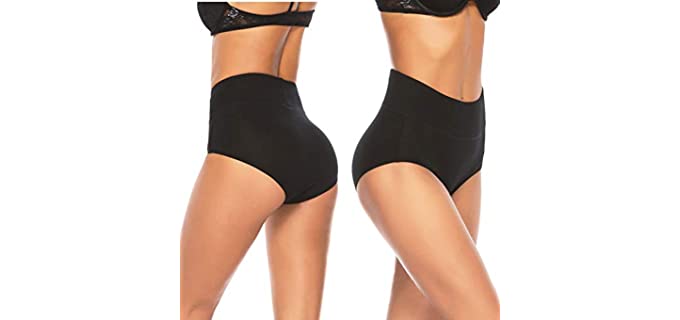 ---
Underwear for Wearing with Leggings
There are a few things to consider when choosing the best underwear to wear with your leggings;
Style of Underwear – You can wear almost any style of underwear, and this is where your personal preference comes into play. Select whether you like a high or mid-waist and choose your most comfortable coverage, from a full coverage brief to a cheeky and even a bare thong. Remember that it is better to have full coverage underwear with see-through leggings than a cheeky or thong style.
Visibility – Visible panty lines are what you are trying to avoid when selecting underwear to go with your leggings. Look for underwear with bonded edges and no-show seams at the waist and leg openings. Or look for styles with a wider waistband that will lay flat.
Materials – Cotton is a classic material for wearing with leggings, and some mesh can add breathability. I myself find that silky materials with high slip are not the best for wearing with leggings, as they may cause the leggings to slip off and bunch up.
---
Styles of Underwear for Wearing With leggings
Then we get to the specific styles of underwear that you could wear with your leggings;
Briefs – Briefs offer fuller coverage with a higher leg than a boy short and are ideal for wearing with more see-through types of leggings. They also usually have a higher waist cut.
Bikini – The Bikini cut generally has a mid-waist fit and a higher leg. It is a great and comfortable fit with any leggings.
Hipster – The Hipster offers fuller coverage at the back and sits on the hip.
Cheeky – The Cheeky design is similar to the Bikini but with less coverage around the back and the legs.
Thong – The thong has high cut legs and a completely bareback, yet I would not recommend it for wearing very ss-through leggings.
---
Features of Good Underwear for Leggings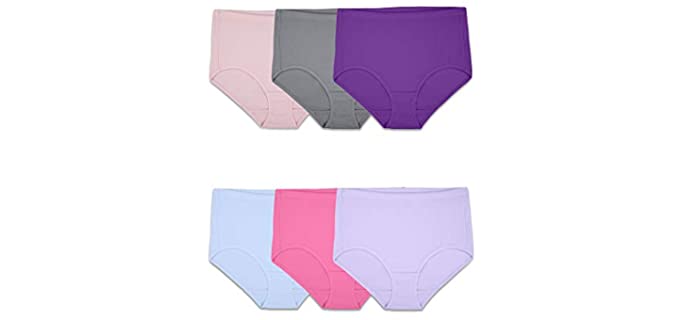 Material's – Soft materials that are less bulky and more lightweight such as satiny polyesters and soft nylons, as well as cotton and silks are all ideal for wearing underneath you leggings.
Design – Look for underwear that is seamless and has no rigid edges, decorative features such as bows, or prominent seams and edges. You want underwear that looks almost transparent underneath your leggings.
Cut – You can choose from any cut f underwear for wearing underneath your leggings. However, the regular bikini or brief cut is usually more suitable. Try to stay clear of a G-String or thong if your leggings are very seethrough.
Options – Underwear for leggings come in many colors, and I would suggest that you try and match the color to your leggings. For white or light color leggings, stick to neutral or pastel-colored underwear. For darker leggings, you can opt for black and darker colors in underwear. I would, however, not recommend patterned or printed underwear, especially with see-through leggings. Leggings Underwear will also be available in plus and standard size depending on the specific brands.
---
Reviews: The Best Underwear for Leggings
Below we have listed some excellent choices in underwear that will go well with your leggings;
---
1
The Soft and seamless panties from Fruit of the Loom are perfect for wearing with any leggings.
The underwear comes in a set of six with different colors that will match and colors in leggings.
They are mostly cotton with some polyester for softness.
The underwear has a low-rise brief cut and a cotton liner.
They are available in more color and plenty of size options.
---
2
The plain white cotton brief from Hanes will go well with light-colored leggings.
From Hanes, we have soft and smooth briefs.
They come in a solid white color, which is ideal for wearing white- or light-colored leggings.
The briefs are comfortable and breathable with a high-waisted fit.
They consist of 100% pure cotton.
---
3
The Calvin Klein Invisibles range will not show underneath your leggings and are available in dark and light color options.
From Calvin Klein, we have the Invisible Hipsters.
They are hipster-style underwear with a seamless design.
The feel is ultra-soft and silky, consisting of mainly nylon and elastane.
The edges are clean cut with no unsightly ridges that may stick out.
---
4
The Ellen Tracy full brief is seamless and has colors available for wearing with light and dark leggings.
These are full briefs that come in sets of four.
You can choose your color, which is mostly neutral, and they come in multi-colored sets.
The briefs offer full coverage with a wide and flat waistband.
They are mainly nylon with spandex for stretch.
You can machine wash and tumble dry the underwear.
---
5
The Anzermix seamless Lazer cut briefs come in various colors for all your needs and have a seamless design that will not show underneath your leggings.
These are polyamide and spandex panties that are smooth and soft.
They come in darker colors to match darker leggings.
The underwear comes in sets of 6 with multicolors available.
They are a seamless brief, laser-cut, which will show no lines or ridges underneath your leggings for a smoother look and silhouette.
---
6
The Bali seamless brief is a white color that pairs well with white- and light-colored leggings.
These are comfortable and full coverage brief underwear that comes us a solid white color only.
You can wear them with your light-colored and white leggings.
They are a brief cut that covers in front and behind fully. This cut will fit comfortably underneath your leggings with no tell-tale lines and ridges.
The seamless design means no edges sticking out or causing friction.
---
Index Table: Top Rated Underwear for Leggings
---
---