Many of us have times in our lives where we weigh a little extra and turn to shape undergarments to help give ourselves a little bit more of a sleek silhouette.
Enter the waist cincher, a fabulous mini-corset typically worn underneath the clothes to help you stand straighter and give the illusion of a slimmer waist and slimmer, shapelier silhouette.
If you're dying to get your hands on a waist cincher and are wondering which one to buy, look ahead at our reviews of different options to find the best waist cincher for your needs.
---
The Benefits of Wearing a Corset
Wearing body-shaping undergarments give us a little boost and shape for greater confidence, but they can also offer the wearer a range of other benefits.
You'll want to check with a doctor or other health professional before considering a corset or waist cincher for therapeutic reasons.

Better Posture – Wearing a corset daily can help to stabilize your core, leading to better posture. This can be useful for people prone to bad posture from working at a desk all day.
Pain Management – Corsets offer amazing lumbar support, which can offer lower back pain, people, pain relief.
Postpartum – Some garments like waist cinchers and girdles offer compression around the belly to help the uterus and other parts of your pelvic area come back into place after having a baby.
Long-term shaping – If you wear a corset regularly, you can actually "train" your waist to become smaller permanently.
---
Are Corsets Safe to Wear?
Some people wonder if corsets are risky. If a corset is worn too tightly daily for a long time, it can cause unhealthy compression of ribs and organs. But for moderate or occasional uses, cinchers and corsets are generally safe to wear.
Here are some pointers for optimal safety and comfort:

Start Loose – If you are wearing your corset daily in an attempt to shrink your waist, start by wearing it for only 1 hour a day and work up gradually from there.
Get Fitted – Get your waist cincher professionally fitted for both circumferences but also length. Optimal comfort will depend on the overall feel, and if it's too long, it will easily poke into your belly or chest.
Materials – The best types of waist cinchers to wear for maximum support for waist training or other purposes generally are natural fabrics, like silk, leather, or cotton blends.
Compression – Don't tighten your waist cincher so much that it is difficult to breathe or move, as this can be dangerous for your ribs and internal organs. Your waist cincher should offer enough give that you can move around and complete your regular daily routine with ease. The best corsets for waist training are typically the type with lacing up the back, as they can be shaped properly to your natural fit and thus avoid over-compression or pinching in different parts of your torso.
---
Features of a Good Waist Cincher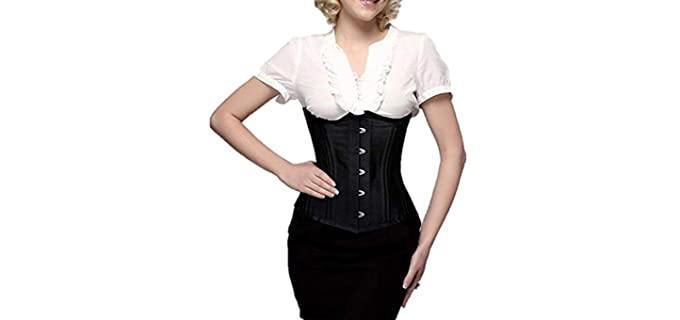 Materials – Waist Cinchers usually consist of s stretchable material such as latex, spandex, or elastane, with a smooth polyester or cotton liner for comfort against your skin.
Closure – Closures such as a hook and eyelet, busk, or zips may be found on most waist cinchers, allowing you to adjust the fit.
Options – Waits cinchers come in standard and plus-sized options. They are usually neutral in colors consist of mostly black, nude, and beige color options.
---
Reviews: Best Waist Cincher
These are some of the best available waist cinchers on the market today;
---
1
The waist cincher consists of power net materials and has a gorgeous look to it.
It has a very durable zipper closure that ensures you a more secure and comfortable fit.
The external layer provides compression while the internal layer is soft and smooth.
There are neutral colors only available in this specific model.
---
2
This waist cincher consists of 100% pure latex.
It is lined with soft cotton for your comfort and to wick away moisture.
The closure is a very durable YKK zipper.
It offers excellent tummy control and comes in neutral colors.
---
3
This is a heavy-duty waist cincher with a busk closure design.
It has quality cotton middle layers, a laminated outer layer and is much more breathable than other designs.
The waist cincher is available in neutral colors and offers excellent waist reduction.
---
4
This cincher model features an adjustable hook and eyelet closure so that you can get the perfect fit.
It is comfortable and has a corset design.
The design ensures good waist cinching and is very breathable.
It is highly elastic and consists of quality materials.
---
5
A Nylon and Elastane waist cincher that offers a more flexible and light fit.
It is available in different size options and is very stretchable.
The cincher will reduce our waist area and compress moderately.
It has a very comfortable and convenient design in general.
---
6
A Nylon and spandex multipurpose waist cincher.
This comes in a set of two waist cinchers with neutral color options.
The waist cincher is a three in one garment that can be worn as a waist cincher, bandeau top, or on your hips.
It will not constrict any of your movements.
---
7
A Black durable waist cincher from Nebility.
The cincher for your waist has a hook and eyelet closure so that the fit can be adjusted.
There are sizes available, and you need to select the closest to your size.
The cincher is durable and comfortable to wear.
---
8
A nylon and spandex waist cincher from Miracle suit.
This is a full waist-cinching suit that shapes and firm.
It offers extra firm control and is available in two neutral colors,
The materials will stay dry and keep you comfortable.
---
9
A Perfect control waist cincher for firm control.
It consists of a rubber outer layer and breathable cotton interior lining for your comfort.
There is a black and a nude color selection available to you.
The cincher is durable and comfortable and ideal for all-day wear.
---
10
A Nylon and Elastane Waist Cincher with a lightweight and comfortable design.
The waist cincher comes in a neutral black or nude color option from which you can choose, as well as more sizes.
It offers firm and comfortable control and a more breathable fit.
The waist cincher is a pull-on design, so you will need to get the correct size option.
---
Index Table: Top Rated Waist Cinchers
---
---