The ultimate solution to your wintery chills? A nice, warm jacket.
Thanks to technology's progressions (and some very chilly people), heated jackets are definitely the go-to solution for those who want constant, steady heat when the temperature drops.
Finding the best-heated jackets is a cup of hot cocoa, thanks to our list below. We shed some light on this handy piece of clothing while comparing and contrasting brands so that you can easily find the right one for your needs.
---
Consider This for Heated Jackets
Before you select a jacket, consider the following:
Safety – One of the biggest concerns people have regarding these jackets is the risk of electrocution if the jacket gets too wet or is exposed to water. This is something that developers and manufacturers have already thought of, so they designed these jackets with safety in mind. The outer shell is waterproof, so rain and snow won't penetrate it, and if the jacket is submerged in water while you're wearing it, there is virtually no risk due to the low voltage. Most models are machine washable and dryer-safe, but hand washing is best to avoid damaging it!
Where You'll Use It – Heated jackets are quite versatile. Use them while skiing, snowboarding, outside on the job, or if you want a way to stay keep warm. Down-filled heated jackets are great for downhill or cross-country skiing, jackets with plenty of storage and insulation will keep you warm on hunting trips, and medium weight flexible jackets are great on construction job sites.
---
How Does a Heated Jacket Work?
Heated jackets usually run on lithium batteries that range from 12-18 Volts, which must be secured in the jacket as you wear it.
When you're ready to turn on the jacket, pop the battery in and push a button (usually located above the breast pocket on either side of the jacket) to regulate the amount of heat you want. Most jackets have several heat settings and light up, so you know when they are turned on.
---
Battery Life
Battery life depends on the heat setting you choose at the beginning. If you choose the lowest setting and the battery is fully charged when you plug it in, the jacket should reach its maximum run time (which we listed above for you in our table).
---
Features of Good Heated Jacket
There are carbon fiber heating elements that are powered by Li-Battery.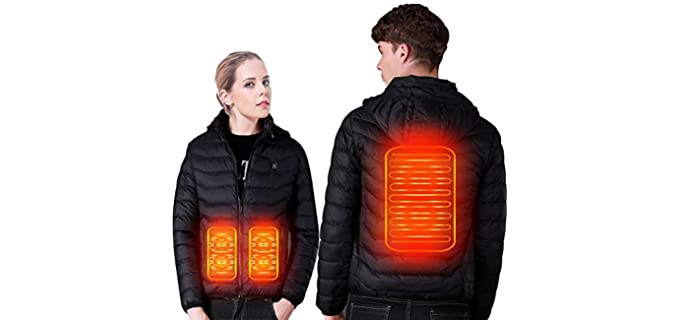 Materials – Heated jackets consist of materials such as nylon, polyester and cotton.
Heating – Heat is generated using carbon fiber panels or wires in the waist, back, and chest of the jacket, which use a USB charger or battery pack as an energy source.
Design – Most heated jackets have a warm interior fleece lining, as well as a soft- or hard-shell outer that is usually wined and waterproof, depending on the jacket model.
Options – Although most heated jackets do not come in many color options, some models offer two or three colors. Size options are usually available: men's, women's, or unisex.
---
Milwaukee Vs Dewalt
Milwaukee & Dewalt are the number 1 and 2 on our list as the best-heated jackets.
Here is a short video comparing Milwaukee vs. Dewalt heated jacket question.
---
Reviews: The Best Heated Jackets
Here is our list of some of the best available Heated Jackets;
---
1
The Milwaukee Heated Jacket offers warmth and flexibility for all year round wear.
This softshell jacket with thermal fleece lining offers you warmth and flexibility throughout your day.
It features a carbon fiber heating system that distributes the heat across the back and chest.
It's wind-resistant and water-resistant to keep you dry, and its slim design makes it great for everyday use on the job or watching those outdoor football games as the snow starts to fall.
Cold hands? Just stuff them into the heated pockets of this finger-friendly jacket.
This earns the best-heated jacket on our list, but keep reading for some other great suggestions.
---
2
The Dewalt Heated Jacket is a softshell weatherproof jacket that also insulates well.
You will love using the Dewalt heated jacket out on your next winter trip.
It offers plenty of storage (seven pockets total) and four heating zones to distribute the heat evenly. It comes with a pre-heating feature and three different heat levels so that you can choose the right setting based on the outdoor temperature.
As a bonus safety feature, it also has routing ports for USB or cell phones so you can keep things charged and ready for use in case of an emergency.
Everything you need out in the wilderness in one jacket.
---
3
From Gebring, we have a 4 heat setting insulated warm winter, heated jacket.

All of the chilly men out there will definitely appreciate the Gerbing insulated, heated jacket.
This cozy jacket is filled with 800-fill power down and has in-pocket heat control, which means you don't have to take your hands out to push any buttons!
The exterior is made of mini rip-shell material with a micro poly lining to keep you well insulated.
They do recommend that you hand wash this jacket, making it a bit less convenient, but there's no better choice to beat the cold than with a quality heated jacket like this one!
---
4
The Ptahdus is a soft shell, insulated, and heated jacket that is very versatile in use.
The jacket has five heating zones and a hand warmer,
There are carbon fiber heating elements that are powered by Li-Battery.
Heat is distributed throughout the chest, back, and hand warmers.
The Jacket has a comfortable and flexible softshell design that is also quite light in weight,
The quick heat function does not take too long to heat your jacket.
---
5
We have a hooded heated jacket version with three carbon fiber heating elements for optimal heat distribution.
The Jacket consists of Polyester and cotton with a warm fleece interior lining.
Three carbon fiber heating elements disperse heat evenly across your body and core, with low, medium, and high settings.
The jacket heats up quickly and retains heat for a long time.\It has a casual and comfortable design, and the fabric is quite breathable.
---
6
The ORORO Soft Shell heated jacket has a more formal and tailored design.
The Jacket is 100% polyester and machine washable.
Inside is a breathable lining that ensures you do not lose excess heat.
There are three carbon fiber heating elements to disperse heat evenly that are adjustable in heat intensity.
The jacket is durable and has a more tailored formal appeal to it.
---
7
The ORORO Fleece design jacket comes with a chargeable battery pack so that you do not run out of heat.
The Cotton and Polyester jacket breathes well and retains heat for a long time.
There is a three-carbon fiber element design to distribute heat evenly across the core of your body.
The jacket is warm and cozy with a more casual design.
You can also machine wash your jacket, and the materials are quick drying.
---
8
The RYNX heated jacket is a sleeveless vest design that keeps your body warm while allowing your arms' free movement.
The vest has eight heated elements and three different temperature controls.
The heater is designed to be safe and non-radiative for human use.
The heater works with a USB device that needs to be plugged in for use.
The vest is very lightweight and washable.
---
9
The Suptempo is a windproof and waterproof design heated jacket for men and women.
The Jacket is available in both men's and women's sizes alike.
The upgraded design has a safe heating system with no-radiation.
The jacket is fully wind and waterproof to protect you against the elements.
There is even heating, and warmth is kept for quite a long time.
---
10
The Insulated Venture heated Jacket comes fully equipped with a battery pack.
As you can see, the Venture Heated jacket is also available in three color options from which you can choose.
The jacket is fully insulated against the cold and very durable.
It comes with a full battery pack for heating and has ten hours of run time.
The elements are an ultra-thin carbon fiber layer for even heat distribution.
---
Index Table: Top Rated Heated Jackets
---
---