Once you put the light summer clothes away (goodbye cute sandals and sundresses), it's time to welcome in the fall and winter wardrobe (hello scarves, sweaters, and jackets).
Whether you're looking for something to dress you up or dress you down, we have a variety of choices on our list below to help you find what you're looking for.
Will you find something for yourself on our list of the best winter jackets for women?
Head on down and find out!
---
Before You Choose
Here are a few things to consider before you select a jacket:

Occasion – Are you looking for a formal jacket for a special event, a fancy night out on the town, or do you need something a bit more casual and durable for everyday use?
Hood – Do you prefer a hooded or a hoodless jacket? Do you want one that has a hood that can be removed?
WaterproofSome jackets are better at keeping the water out than others. If you spend a lot of time outdoors in the winter in snowy or rainy conditions, then make sure you get a jacket that won't have you feeling like you just stepped out of the shower after 10 minutes!
Length – Waist length, thigh length, knee length or somewhere in between? Find the one that will help you best balance out your proportions.
Check the Washing Instructions – If you don't have time for spot cleaning or the dry cleaners, then you'll need to make sure that the jacket is machine washable.
---
What You Wear Under the Jacket
The chances are that you won't be wearing just a t-shirt under the jacket. You'll have layers on!
Take this into consideration as you try on different jackets because those layers will add volume. Ensure that both you and your extra layers will fit into the jacket once you're dressed.
---
Jacket Weight
Do you need a heavy waterproof jacket because you usually get three feet of snow and sub-zero temperatures, or do you have a more mild winter with rain?
Find the right weight for your climate, and remember that you can always add on a few extra layers if you're on the chilly side.
---
Features of Good Winter Jackets for Women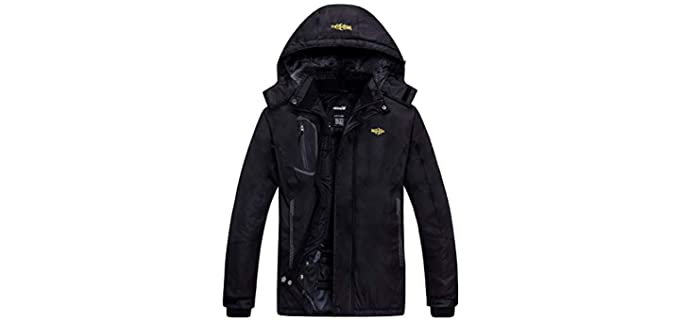 Materials – Jackets consist mostly of two or more layers to keep you warm. Polyester, Nylon or cotton may be used for the outer layers, with a fleece, Sherpa or similar material inner layer. Down or a polyester fill may be used in some jackets for insulation.
Closure – Most winter jackets will have a zip closure; some may have buttons and a drawstring for keeping the wind out.
Resistance – A good winter jacket should provide warmth and insulation. Some also provide good wind and water resistance or proofing.
Options – There are many different winter jackets, such as bomber designs, down-filled, softshell, hooded, and park styles. Most brands offer more color options in solids or prints and standard and size fit varieties.
---
Reviews: The Best Winter Jackets for Women
Below we have some of the best available winter jackets designed specifically for women;
---
1
The Marmot Winter coat comes with a zip-off hood and is water repellent.
The jacket consists of 100% polyester that is durable and warm.
It is fully machine washable for your accessibility.
The jacket is waterproof and filled with down for insulation.
There are the zip-off hood and microfleece-lined zip hand warming pockets, additionally.
---
2
The North Face brings you them down insulated warm winter jacket.
A polyester jacket in a parka design.
The longer length of a parka keeps you warmer.
The design is water-resistant and windproof.
The jacket has a down fill for insulation and offers a comfortable standard fit.
More colors are likewise available.
---
3
The down fill jacket from Marmot is moisture repellent and offers excellent insulation against the cold.
A machine-washable polyester jacket for ladies.
The jacket has a full length with down fill for insulation.
It is moisture-resistant and has a zip-off hood for your convenience.
There are also microfleece hand warming pockets additionally.
---
4
Another down-filled and heat-reflective warm winter jacket, this time from Columbia, a top brand.
This is a polyester, Omni-heat reflective taffeta jacket that is RDS certified.
It has a 100% pure down filling for insulation and warmth.
The jacket offers a comfortable fit, with a removable hood,
The sleeves have comfort duffs and thumb holes to keep your hands warm.
---
5
The Columbia jacket has a three in one design that is warm, waterproof, and breathable.
A Nylon jacket with a zip closure that is machine washable.
The jacket has Omni-tech heating technology to keep you warm.
The design is waterproof yet still breathes well and wicks away moisture.
It is available in more colors and plus-size options.
---
6
The Orolay jacket is a thickened duck down jacket to keep you warm and protected against the cold.
The jacket has a faux fur interior lining for warmth and a Ducktown fill for insulation.
It is polyester with a higher density that is water-resistant and windproof.
The hood is also fleece-lined for warmth.
The design is fashionable and feminine for ladies, as well as available in more colors.
---
7
The Moerdeng jacket is windproof and waterproof, ideal for outdoor wear.
This is a waterproof and windproof snow and ski jacket for use outdoors in freezing weather.
It has adjustable cuffs and stretchable glove holes,
The relaxed fit style is comfortable and easy to wear.
Inside is a warm lining and outside a durable coating.
---
8
The Calvin Klein jacket is down filled and very lightweight, with a packable design.
The Chevron jacket is designed to be very lightweight and folds small for easy packing and portability.
It is a water and wind resistant Nylon jacket with a soft and warm down fill for insulation.
The jacket is just above the knee to keep your back and buttocks warm in turn.
There are also more colors available in this jacket model.
---
9
An excellent choice in outdoor jackets is the Mountain range from Wantdo.
The jacket consists of a warm, waterproof, and wind-resistant fabric with 250 grams of polyester fiber for thermal insulation.
It can be machine washed or hand washed.
The outside shell is also waterproof and ideal for outdoor wear in inclement weather.
There are multifunctional pockets with zip closures.
---
10
More of a coat design from Grace Karin, with a warm inner fleece layer.
This is more of a coat than a jacket to keep you warm and cozy.
T consists of a polyester shell that is wind and waterproof, with a padded interior and fleece lining for warmth.
The jacket has a fixed hood with a fur trim for fashionability.
There are two utility side front pockets to keep your hands warm and to store small items in.
---
Index Table: Top Rated Winter Jackets for Women
---
---