10 Best Winter Jackets for Men 2018
For a stylish way to keep warm during the winter months, a jacket is a staple item for your wardrobe. You may need it for working outdoors, business environments or for the daily errands you run, but wherever you plan to wear it, sometimes finding the right one is a bit challenging.
Since there are so many styles to choose from, we've narrowed down the choices to the ten best winter jackets for men.
We've included jackets that are appropriate in a variety of situations, so check them all out to see if there is something that meets your individual needs!
Consider This
Before you choose a winter jacket, here are a few things you might want to consider:
Your Winter. If the winters are usually mild in your area, then you don't need an ultra-warm jacket that keeps you warm in sub-zero temperatures.
Get a jacket that matches the winter temperatures on your area.
Occasion. Where will you be wearing the jacket? Do you need something more formal for a dinner, a date, a business meeting or any other formal settings? Check out numbers eight and ten below
Do you need a tough work jacket that won't rip and snare on the job (number one below) or something for everyday use (numbers two, five or six below).
Weatherproof. Some jackets are water-resistant while others are waterproof. If you will be constantly exposed to the elements, then look for materials that are 100% waterproof and not water-resistant. The latter will have you soaked in minutes.If you're dashing from the car to the office as it's raining, then a water-resistant jacket is find.
What You Already Have. What's missing from your closet? You might need a jacket in a different color, a different weight or different style.Give yourself some options by adding in new and different styles than you're used it. Branch out!
Top 10 Winter Jackets for Men Ultimate Chart
Buttons, Snaps, Zippers
There are different types of jacket closures, so we wanted to point out the strengths and weaknesses of each kind:
Buttons. These give the jacket a more formal look. If you don't use the jacket often, then button closers look great.
Buttons also fall off easily, which means that this type of closure isn't appropriate if you work outdoors.
Snaps. These are sturdier than buttons, but they, too, can snap right off your jacket if you pull on them too hard.
Zippers. These are ideal in the winter months since they seal out the cold, however cheap zippers will break easily. You also need to be careful not to catch your clothing in them.
Many winter jackets combing a zipper with either snaps or buttons, the latter being more for decoration rather than for actual use.
Top 3 Best Winter Jackets for Men Reviews
For areas that experience cold winters, this tough Carhartt jacket will have you feeling like it's summer inside.
It's made of a 100% cotton duck canvas, a strong material that won't puncture easily, and inside is a warm, quilted flannel that keeps your body heat in and the cold out. The cuffs and the bottom of the jacket also have ribbing, which ensure that no cold air leaks in.
You could use this both as an outdoor work jacket or a casual everyday jacket. Carhartt is a versatile brand that looks great on many guys in many circumstances, and they have a wide range of sizes so that each guy can find the perfect jacket for his frame.
If you don't yet have a Carhartt in your wardrobe, this may be the perfect time to try one out! The make some of the best winter jackets for men and all-season jackets in general
If you aren't too excited about the fur on this North Face jacket, don't worry. It's detachable!
This jacket is great for those who are going for a sporty look. It is 100% waterproof, keeping you dry in the heaviest of snowfalls or rain showers, it has a warm goose-down filling and it's also insulated to trap body heat in and keep the cold out.
It features a neck gaiter that you can tuck away when you don't need it, chest pockets with snap closures, angled waist pockets with snap closures, ribbing on the cuffs and waistband and a front zipper along with snaps.
It comes in three other colors, so if you prefer something other than black, check out the other options!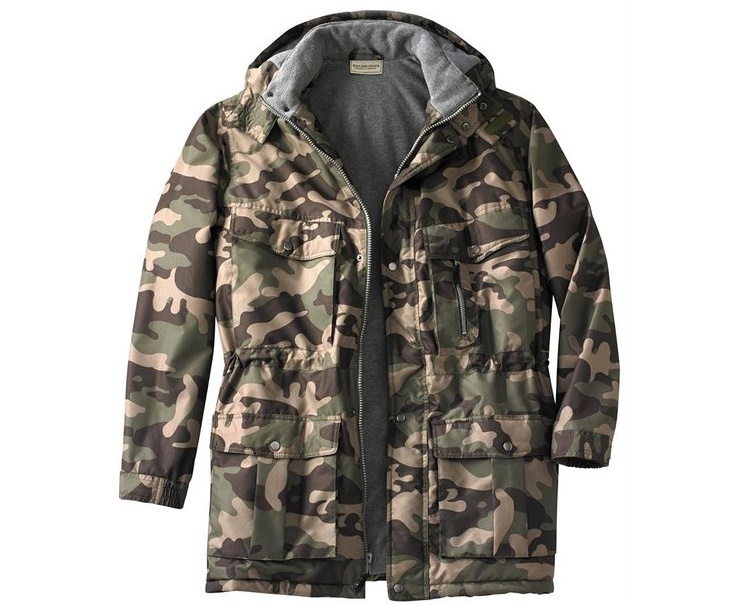 For the tall, dark and handsome dudes out there, this jacket comes in big and tall sizing to fit your large, manly frame.
It provides you with excellent coverage when the temperatures drop thanks to the generous big and tall sizing, and the soft polyester fleece lining keeps you warm when temperatures dip below 32° F.
It blocks out the wind, has plenty of pockets for your personal items, and comes in a variety of colors and camo patterns.
Whether you're big, tall or both, this parka will definitely keep you warm!