For a stylish way to keep warm during the winter months, a jacket is a staple item for your wardrobe. You may need it for working outdoors, business environments, or for the daily errands you run, but wherever you plan to wear it, sometimes finding the right one is a bit challenging.
Since there are so many styles to choose from, we've narrowed down the choices to the ten best winter jackets for men.
We've included jackets that are appropriate in various situations, so check them all out to see if there is something that meets your individual needs!
---
Consider This
Before you choose a winter jacket, here are a few things you might want to consider:
Winter – If the winters are usually mild in your area, then you don't need an ultra-warm jacket that keeps you warm in sub-zero temperatures. Get a jacket that matches the winter temperatures in your area.
Occasion – Where will you be wearing the jacket? Do you need something more formal for a dinner, a date, a business meeting, or any other formal settings?
Weatherproof – Some jackets are water-resistant while others are waterproof. If you are constantly exposed to the elements, look for 100% waterproof materials and not water-resistant. The latter will have you soaked in minutes. If you're dashing from the car to the office as it's raining, then a water-resistant jacket is found.
What You Already Have – What's missing from your closet? You might need a jacket in a different color, different weight, or different style. Give yourself some options by adding in new and different styles than you're used it. Branch out!
---
Buttons, Snaps, Zippers
There are different types of jacket closures, so we wanted to point out the strengths and weaknesses of each kind:
Buttons – These give the jacket a more formal look. If you don't use the jacket often, then button closers look great. Buttons also fall off easily, which means that this type of closure isn't appropriate if you work outdoors.
Snaps – These are sturdier than buttons, but they, too, can snap right off your jacket if you pull on them too hard.
Zippers – These are ideal in the winter months since they seal out the cold, however cheap zippers will break easily. It would help if you also were careful not to catch your clothing in them.
Many winter jackets combing a zipper with either snaps or buttons, the latter being more for decoration than for actual use.
---
Features of Good Winter Jackets for Men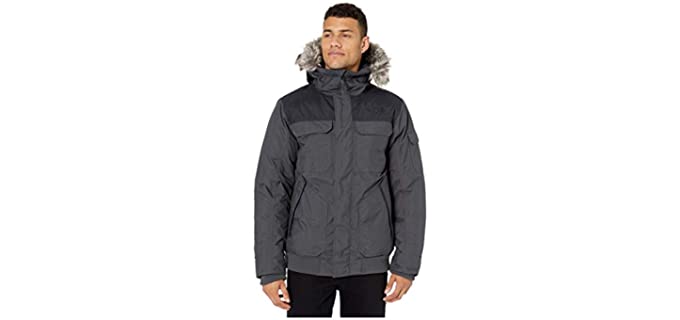 Puffer Jackets – Puffer Jackets are a great choice for cold winter and indoor and outdoor use. They usually have a nylon shell and a down or polyester fill that insulates. These jackets are very lightweight and also generally waterproof and windproof.
Parka – Parka Jackets come in various materails but will usually have a cotton outer and an insulated or sherpa, or sometimes fleece inner layer for warmth. Parka jackets have a mostly detachable hood and many pockets.
Trucker Jackets – Trucker jackets have a cotton outer and a warm Sherpa inner lining. They are a shorter design that sits on the hips.
Softshell Jackets – Most softshell jackets have a waterproof and windproof outer shell with a warm fleece interior lining.
---
Reviews: Best Winter Jackets for Men
In our comprehensive list, we look at a variety of warm winter jackets just for men;
---
1
A comfortable and warm down-filled jacket for men from Marmot.
The outside of the jacket is 100% polyester that is soft and durable.
Inside is a Down fill with moisture-resistant Down defender lining.
There are zippered handwarmer pockets for additional warmth.
You can also select from a few more available color options.
---
2
The Canada Goose Carson is a Down-filled parka jacket that is ideal for those cold winters.
The Body of the inside of the jacket consists of Arctic Tech Coyote fur for warmth and insulation.
The jacket has a traditional, longer length parka design.
There are also more colors from which you can select.
Furthermore, the jacket has a two-way zipper closure.
---
3
The Moerdeng is a comfortable windproof and waterproof warm outdoor jacket for men.
This is a completely windproof and waterproof outdoor jacket to keep you warm and insulated against the cold and wetness.
Inside is a comfortable and breathable lining with quick-dry technology.
There are a full zip closure and adjustable cuffs on the jacket.
---
4
The North Face offers you a well-insulated winter jacket with a convertible design.
The Jacket has a DryVent shell to keep you warm and dry.
It is fully windproof as well as waterproof and ideal for outdoors.
There are many pockets to store items in with zip closures.
There is also a storm flap with a snap closure.
---
5
The Columbia Bugaboo is an insulated, waterproof, and also highly breathable jacket for cold winters.
The Jacket consists of Omni-Tech Generation Dobby nylon, which is heat reflective and durable.
It comes with a full zip closure and is machine washable.
Furthermore, the fit is comfortable and durable.
The jacket is likewise fully waterproof and breathable.
---
6
A durable down-filled winter jacket from Mountain Hardwear.
This is a very durable Nylon jacket for indoor and outdoor use.
It has a Down fill for insulation that also breathes well.
The jacket has a full zip closure system.
You can also select from a few more available colors.
---
7
The Lightweight Quilted jacket from Tommy Hilfiger is packable and offers excellent warmth and insulation.
The Nylon jacket will insulate you against wind and rain.
It has a stylish appeal and quilted brick out shell detailing.
Very lightweight and easy storage and for traveling.
There are also more colors from which you can choose.
---
8
You are sure not to get cold in the hooded and fur-lined jacket from Tanming.
This is a longer length jacket, almost a coat for those cold winter times.
The jacket has a faux fur inner lining to keep you warm and consist of 100% polyester.
There is also a detachable hood as an extra.
Furthermore, the jacket iffesr excellent water resistance, and I windproof.
---
9
From Madhero, we have a down alternative fill puffer design jacket for those who are allergic to feathers and down.
The Madhero jacket consists of nylon outer fabric and a polyester fiberfill.
The outer shell is water-resistant and will protect you against cold winds while still breathing well.
There are four pockets for storage that also have zip closures.\The warm quilted jacket is very lightweight and ideal for all occasions.
---
10
The Sherpa Lined Trucker jacket from Levi's comes in many more color options and denim washes.
The Trucker Jacket from Levi's is available in many more colors and denim washes.
It comes with a sherpa lining and cotton shell.
There are button closure and a relaxed fit.
The design is a trucker design that sits at the hip.
---
Index Table: Top Rated Winter Jackets for Men
---
---