Finding a great coat for winter can be time-consuming and frustrating. There are tons of options out there and not enough time in the day to drive around, trying them all on.
Are you a guy in need of a decent winter coat but don't want to spend hours at the shopping mall deciding which one to buy?
Here, we make the shopping process simple for you. Our easy-to-navigate guide will provide you with a list of the best winter coats for men, explain the basic styles, and go over some of the most important features you should consider when shopping for one.
Read on to see how you can easily choose a coat that will suit your needs and budget.

---
What Is Your Winter Like?
Not everyone experiences winter in the same way. Do you need a coat that can handle cold, wet, snowy winters, or are you looking for something that will keep the chill away in milder temperatures?
Avoid getting something that will overheat you or offer you enough protection from the elements.
We will offer you some coat-style suggestions appropriate for various climates in the next section.
---
Coat Styles to Consider
The three main styles of jackets that most men choose for their winter wardrobe include the pea coat, the ski jacket, parka, and the puffer jacket.
Some might be able to get by wearing warm sweaters and long-sleeved shirts under a rain jacket, but for the most part, these are the four styles that guys should consider.

Pea Coat – For a classic, refined look, a pea coat is the best choice. The outer layer is made of wool, and the inside is usually lined with a smooth fabric such as polyester or silk. However, keep in mind that you should order a size based on the clothing you will wear underneath it. Thick sweaters or too many layers can cause the coat to fit too tight, so you might need to order a size up if your base layer is thick.
Parka – For outdoor work in dry, cold climates, a parka is a great option. These jackets' outer shell is made of tough, durable material that won't rip or tear easily. They also offer more storage space. Use a coat like this at work, or grab a few drinks at the bar when the workday is done. The style is casual and quite comfortable for most guys.
Ski Jacket – For the toughest winters, a ski jacket is ideal. It offers you the insulation, moisture protection, and wind protection that you need to stay warm and dry in the harsh elements. You have plenty of storage options on a jacket like this, and while it is more on the casual side, it is still the best winter coat for men who participate in outdoor activities.
Puffer Jacket – These are ideal for cold, dry climates. They offer a solid layer of insulation to help keep your body warm and act as a wind barrier, but snow and rain will quickly soak through the shell. Regarding the style, puffer jackets are slightly more formal than a ski jacket but less so than a pea coat, making them ideal for general use in dry weather.
---
Jacket Features You Might Like
Still not sure what type of coat you need? Consider the small details as you compare the different styles to narrow down the options further.

Hood – Ski jackets usually come with a removable hood, which is nice since you can zip it off when not needed. Some puffer jackets also have hoods, but not all of them do, so double-check to see if it is included and whether you can remove it or not.
Extra Storage Pockets – Storage is important, especially when you work outdoors in the winter. Are there extra pockets on the inside and the outside of the jacket? Do they zip up (great to keep moisture out) or only snap closed (the contents might slip out)?
---
Features of a Good Winter Coat for Men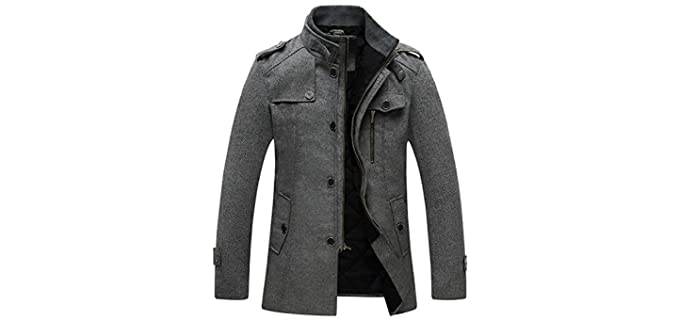 Materials – Winter Coats for men will usually have a windproof or waterproof outer sheel consisting of polyester or nylon. Most are lined with polyester, cotton or a fleece lining for warmth. The jacket fill may contain down feather or polyester as an alternative for insulation.
Design – Coats are designed to be longer in length, and for winter, they will offer some insulation and a wind and waterproof exterior.
Closure – Winter coats usually have a zip closure in the front, as well as for the pockets.
Options – Contingent on the brand winter coats for men are available in more colors, as well as standard and plus sized options.
---
Reviews: Best Winter Coats for Men
These are our best choices in comfortable and warm winter coats just for men;
---
1
This active work jacket is perfect for men who something durable that will keep them warm throughout the workday.
The shell is made of 12-ounce 100% duck cotton (which is much thicker and more puncture resistant than regular cotton) and features a warm quilted flannel liner that will help keep your body warm.
It has a hood and a zipper on the front, with two large pockets on the front that do not have any closures. The waist and the cuffs also have ribbing, which is the tighter knitted material that clings to your body and prevents air drafts.
Keep in mind that this is not suitable for wet weather, as cotton is not waterproof. The color selection is vast, and the fit seems to be just about right. Guys with longer torsos might find it slightly on the short side, so wear longer shirts underneath it if this is a problem for you.
---
2
Columbia's ski jacket is perfect for outdoor use in the snow. As a water-resistant jacket, it won't be able to withstand hours of exposure to moisture, but for skiing and temporary rain exposure, you will stay dry. The 100g polyester fill inside will keep you warm and insulated even with the outer shell is damp, and it features a removable hood.
This jacket also offers plenty of storage space, including two zippered breast pockets and two zippered hand pockets. Inside, they also provide you with storage for your goggles, small personal items, and it has a media port so you can listen to your tunes as you play in the snow.
It is light, so it won't leave you feeling weighed down when you wear it. The color selection is good, and the fit seems accurate for most men.
---
3
Some puffer jackets feature quilting stitches closer together, but we liked how the squares on this one were set farther apart. They give the jacket a slightly more formal look, and thanks to the great color selection, there is a shade for every guy.
It definitely features the Tommy Hilfiger elegance and quality, but the closure system changes from one color to another. Some are button up while others have a zipper, so be sure you double-check this before choosing.
The standing collar will keep your neck warm, and the sleeve cuffs have ribbing that will help prevent the air from drafting in (just like the Carhartt jacket we looked at earlier).
Aside from the fact that different colors have different closure systems, we were pleased with this jacket. Please note that it does not have a hood.
---
4
colors
The Boulder Creek winter coat is available in large and tall sizes.
The coat is a parka design with a plush fleece lining for warmth and a detachable hood.
The coat consists of a quilted Polyfill material with fleece for the lining and microfiber.
There are a zip closure and full zip handwarmer pockets.
---
5
colors
The Caterpillar insulated winter coat has a polyester lining and an insulating polyester fill padding.
It has a zip closure and is fully machine washable.
The coat offers a two-way front zip and snaps tabs on the cuff for s secure and comfortable fit.
You can adjust the cuffs to your liking, and there is also a detachable hood.
---
6
This is a warm and comfortable wool, and polyester blended formal coat.
The coat has a zip closure and is available in big and tall size options.
There are a double button closure and quilting lining with a synesthetic fill.
Welt body pockets are lined for durability, and the coat is available in a black or navy color option.
---
7
This is a warm, windproof, and waterproof coat from Wantdo.
The coat has 240 grams of polyester fill for insulation and a loose and comfortable fit.
There is a waterproof outer shell that also resists wind to keep you warm.
There are multi-functional pockets with a zip and a zip closure.
You can also select from a few more available color options.
---
8
The Tam Ware Coat is wool, rayon, and Nylon coat with a rayon lining for your comfort.
The coat has an elegant and formal style and comes in large and XXL size options.
It offers a slim and tailored fit and is available in many more colors.
The coat has a full button closure and side pockets.
---
9
A comfortable and warm winter parka jacket with fur trim on the hood.
The parka coat is 100% Polyester with a detachable fur hood and comfortable sleeves with elastic cuffs.
There are five large pockets for storage and convenience.
The coat has a great style and is easily maintained.
More colors are likewise available.
---
10
A stylish and warm pea coat for those cold winter months.
The coat is lined and consists of wool and polyester.
The coat has a zip closure and is warm and windproof.
It is available in a few neutral color options and many sizes.
The coat is comfortable, versatile, and very fashionable.
---
Index Table: Top Rated Winter Coats for Men
---
---