Searching for a new jacket, guys? You're definitely in the right place.
A jacket and coat is a staple requirement in each wardrobe, and finding the best may not always be the easiest task.
Below, we highlight a mixture of the best jackets for men, ranging from lightweight and sporty to trendy and fashionable, as well as in a variety of materials and textures. Check them out!
---
Consider the Following
As you shop for the right jacket, consider the following.
Weight / Weather-Proof – Are you looking for something heavy for winter or lightweight for spring? Does it need to be waterproof or weather resistant?
Check Your Closet – Have a look at the type of jackets you already have. If you've already got four black leather jackets hanging in there, we doubt you need another one to add to the collection!
Color – See what colors may be missing from your wardrobe and try to fill in the gaps based on the style and weight of the jacket that you might need. Variety is good! Don't be afraid of it! You might be pleasantly surprised by adding something red, orange, or green if you always wear blacks and browns.
---
Washing Instructions
This is probably one of the last things you think about when you're buying a new jacket, but it could make a huge difference in the amount of use you'll get out of your jacket throughout the years.
If you're not interested in taking your clothing to the dry cleaners, then it's best not to purchase a coat that says "Dry Clean Only" on the tag, even if it is a great jacket.
Throwing dry-clean-only fabrics into the washing machine could ruin them or wear them down quickly, so make sure you know how to care for the jacket that you're purchasing.
For jackets that are safe to wash in the machine, it's always best to hang dry them, no matter what the tag says about the dryer.
Trust us, and your jacket will last much longer if you care for it properly and avoid putting it in the dryer!
---
Features of a Good Jacket for Men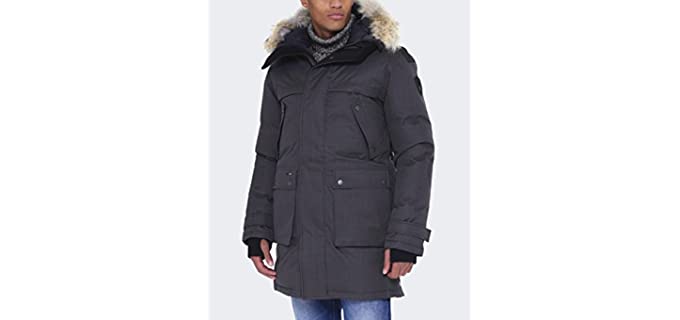 Outer Shell – Most Jackets have a Nylon, Cotton, Leather, or Polyester outer Shell that can be waterproof and windproof.
Fill – Jackets for extremely cold conditions usually come with either polyester or a down fill to provide insulation and warmth.
Lining – Some jackets have a metallic heat-retaining lining, fleece, or fur lining, and some have a mesh interior lining that is more breathable.
Features – Most jackets come with pockets and a zip or button closure, depending on the design. Some jackets have and additional Hood, Draw Cords, and storm flaps.
Colors and Options – Men's jackets are available in a range of colors and size options.
---
Reviews:Best Jackets for Men
In our list we have some of the most sought after jackets, just for men;
---
1
Carhartt is a top brand, and their Sherpa lined Jacket is one of the best investments you can make.
Carhartt makes some awesome work jackets, and this one is perfect for the rustic guy who wants something great for working outdoors or for casual outings.
The Sherpa lining (a faux fur made from a blend of polyester and acrylic yarn) makes this great for the chilly fall and winter months, especially if you work in areas where it's likely to get caught on sharp materials that may rip and tear it.
The tough 12-ounce duck canvas cotton used for the outer shell can resist even the toughest hits. It will offer you the durability and longevity you need for a variety of outdoor situations.
The great thing about this jacket is that it doesn't have to be a work jacket only.
If you want to use it for casual outings to get a beer with your friends or out and about for your daily errands, it is practical and stylish in this light brown color.
Get yourself two of these jackets in different colors so that you can use one for work and one for play!
A Carhartt jacket is always a great investment.
---
2
For something cool but not cold weather, why not choose the Marmot Minimalist – it is a light, waterproof jacket.
Marmot makes another great jacket that is lightweight, breathable, and waterproof (it has taped seams), perfect for an outdoor adventure in warmer temperatures or rainy conditions.
It has pit zips for ventilation and comes in various colors for any fashion preference you may have.
It features a roll-up hood, pack pockets, double storm flap with a snap or Velcro closure, an elastic drawcord, and a lined chin guard.
Wear it on a hike, to the gym, or any daily activity. This is one of the best jackets for men with an active lifestyle!
---
3
The Moerdend Waterproof Jacket is waterproof, windproof, and insulated for extremely cold conditions.
The Jacket is waterproof and windproof, with stretchable gloves and cuffs to keep warmth in.
This is the perfect jacket for snow conditions and skiing.
The relaxed fit is very comfortable, and the materials are very lightweight.
The jacket has a full zip closure to seal out the cold.
---
4
The Tommy Hilfiger Jacket is a durable and comfortable design with a fleece lining.
The Jacket consists of 100% durable nylon.
There is a full fleece interior lining for warmth and comfort,
A center from the zipper and two viable pockets allow for more convenience.
The collar has drawcords to close and a fleece lining.
---
5
The Columbia Voodoo is a cozy warm down-filled jacket, with a waterproof shell.
The jacket consists of durable polyester with a cozy down fill.
Heat reflective materials retain heat and still breathe well.
The outer shell repels water and will protect you against wind and the elements.
There are two zip hand pockets and a front zip closure for your convenience.
---
6
The North face is a top brand making some of the best available sports and outdoor jackets.
The Jacket shell is completely waterproof and comes with a stowable hood.
It consists of 100% Nylon ripstop DryVent fabric with a waterproof finish.
The seams are sealed, and there is a storm flap with a hook and loop closure cover.
The jacket is generally lightweight and fits comfortably.
Inside is a breathable mesh lining to keep you comfortable.
---
7
The Moose Knuckles Down Jacket is warm and cozy, with a very durable design.
The material is cotton and nylon with a water-repellent outer shell.
It has a 100% down-proof lining to keep the down fill inside the jacket.
The YKK metal zipper is extremely durable and placed on the closure and pockets.
There is a detachable hood with a fur trim design and more color options available.
---
8
The Yatesy parka jacket will protect you in very cold weather conditions and insulate you fully.
The Jacket is fully windproof and 10 000mm waterproof as well as breathable in the outer shell.
It is filled with insulating premium Canadian Origin White Duck Down for warmth.
The seam-sealed design means you are completely protected and comfortable, and there are also more color options available from which you can choose.
---
9
The Arc Teryx Fission Jacket is ideal for sports and outdoor adventures, protecting you against cold and wetness.
The Jacket is insulated against extreme cold weather and is windproof.
It has a breathable Gore-Tex waterproof lining for water protection.
The design is very versatile and highly functional, with additional pockets and a zip closure system.
There are also more color options available.
---
10
For something a bit more elegant and formal in style is the genuine leather classic style jacket.

The jacket consists of the finest quality sheepskin leather.
It is lined and has stitching details as well as pockets.
The classic design is elegant and more formal in style.
There is a zipper closure design.
The JV later jacket is a classic bestseller and a wardrobe staple.
---
Index Table: Top Rated Jackets for Men
---
---