Softshell jackets are ideal for aerobic activities out in cold environments, incorporating various breathability levels, weather-resistance, and comfort into one functional piece.
They are excellent during rigorous workouts and produce a lot of sweat as their enhanced breathability prevents you from getting soaked in sweat.
Buying a softshell jacket is not all that easy. Without the right information, you may end up with one that leaves you exposed to the cold or is not as breathable as you expected, which is why our guide will be quite useful to you!
Here we'll look at the best softshell jacket choices and discuss some particular details you need to know about as you compare and contrast them.
Let's take a look!
---
Things to Consider When Buying a Softshell Jacket
Stretch-Woven vs. Membrane – Softshell jackets are available in two types stretch-woven softshell jackets and membrane softshell jackets. Stretch-woven softshell jackets have a water-repellant coating on their surface, while membrane softshell jackets have waterproof membranes within their fabric. Stretch-woven jackets are much more breathable than membrane jackets, and as such, they are preferred for active outdoor activities such as running and cycling. Membrane softshell jackets are a little bit thicker than stretch-woven softshell jackets and come in handy when you need more protection from elements such as cold and rain. It should be noted that neither of these types is 100% waterproof, and as such, they will not prevent you from getting wet when it rains.
Style and Fit – Softshell jackets are usually short in length, and therefore they should be worn tightly. Their stretchy and flexible material makes for better movement. Wearing them tightly also helps in heat retention. Their tighter fit, excellent style, and superior technical ability make them popular as casual everyday jackets.
Accessories – Check for features such as hoods and pockets when buying softshell jackets. If you intend to wear your jacket outdoors during light showers, you should get one with a hood. You should also get a softshell jacket with plenty of pockets both internal and external. This way, you have ample space to store your valuables, such as money, phone, and maps.
---
Features of a Good Softshell Jacket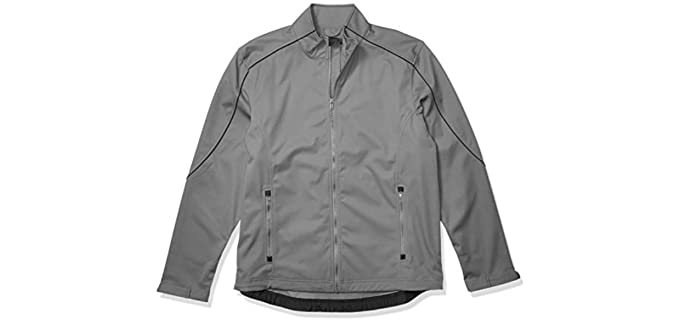 Materials – Softshell Jackets consist mainly of a Polyester or Nylon shell that is wind and water resistant. The interior may be fleece lined or lined with a cotton material for warmth. Softshell jackets are lightweight and do not have a fill or padding.
Design – Softshell jackets may have pockets on the side with or without zip closures. They have a regular straight or contoured cut and a collar or hood. Softshell jackets have a smooth finish and straightforward cut design. Some of the ladies' models are contoured to fit ladies' curves.
Closure – Softshell jackets mainly have only zip closures, and some may have a drawstring around the waist.
Fit – Most softshell jackets will have a snug to comfortable regular fit.
Options – The softshell jacket, liable to the brand will come in many colors even printed options as well as standard and plus sizes.
---
Marmot Gravity Jacket
Marmot is well known for its winter wear.
Here is a short Marmot gravity jacket review.
---
Reviews: Best Softshell Jacket
in our extensive list we have some of the best available softshell jackets;
---
1
A comfortable and water-resistant softshell jacket from marmot.
The jacket consists of Nylon and Elastane.
It is fully machine washable,
The is a zip closure and zip handwarmer pockets.
More colors are available.
---
2
This is a 100% polyester softshell jacket from Columbia, a top brand.
The jacket is fully machine washable and has a zip closure.
The advanced technology allows for better durability.
The jacket is fully wind and water-resistant.
Versatile and very lightweight for all purposes.
---
3
The Arc'teryx Beta AR Jacket is a very versatile waterproof and breathable jacket.
The jacket has a high-performance design and is very durable.
It is fully waterproof and wind-resistant with a breathable design.
There is a Gore-Tex waterproof lining.
Furthermore, the jacket can be used all year round.
---
4
Another model from Arc'teryx for the ladies.
This is a 1005 Nylon jacket.
The jacket is a hybrid design that is fully packable.
It is waterproof Gore-Tex lined to protect you and windproof.
The Beta design is ideal for a variety of conditions and activities,
It is super lightweight and packable.
---
5
The Marmot jacket is windproof and waterproof nylon for your comfort.
The cuffs are lycra bound, and the hem has a drawcord for a secure fit.
The jacket is 100% nylon and machine washable.
There are a zip closure and zip handwarmer pockets.
It is ideal for all climates.
---
6
Columbia is a top brand that makes some of the best available softshell jackets.
The jacket is 100% polyester and machine washable.
There are a zip closure and zip pockets.
The jacket has a very versatile college style and is quite comfortable.
It is wind and water-resistant.
---
7
From Cutter and Buck, we have a softshell jacket available in a few color selections.
This is a midweight polyester jacket.
It is fully machine washable and durable.
The jacket has a zip closure and Velcro tab cuffs.
There are also a few color options available.
---
8
The Ariat Softshell jacket is durable and flexible for everyday use.
The jacket is available in a few neutral color options.
It is spandex and polyester for flexibility and durability.
It comes with a zip closure and rugged western style.
You will enjoy great quality and comfort with this softshell jacket.
---
9
The Camel Crown Jacket has a hood and many feminine colors you can choose from.
This is a 100% polyester jacket with a feminine design and hood.
It is comfortable and water-resistant with a waterproof shell for full protection and comfort.
The shell fabric is stretchy, and there is a soft fleece lining inside the jacket.
There are also two zippered hands warmer pockets for your convenience.
---
10
The Ports Authority softshell jacket for ladies is comfortable and waterproof.
The 1000MM fabric used is waterproof and windproof for your protection.
The fabric has a 1000g/2M breathability rating,
The design is gently contoured to fit ladies comfortably and flatter your figure.
There are three neutral colors available from which you can select as needed.
---
Index Table: Top Rated Softshell Jackets
---
---