If you live in a rainy climate or are traveling to one for work or vacation, arming yourself with a dependable rain jacket is important. Nobody likes to be cold and damp!
We have combed the market and put together a roundup of the best rain jackets for various needs. Whether you want a full coverage for incessant downpours, a breathable waterproof shell for daily exercise, or a stylish trench for days and nights around town, read on to find a style designed for you.
---
Things to Consider in a Rain Jacket
Level of Waterproofing – It's important to find a jacket that provides the level of rain proofing and breathability you seek. If you're often outside in pouring rain, you might prefer a jacket that covers below the knees for full-body protection. Jackets fabricated with PVC outer layers guarantee that you will stay dry in the heaviest of deluges. If you plan to be walking or exercising in the rain for long periods of time, you may want a jacket fabricated from more breathable materials, with a waterproof coating on the outer layer and a mesh interior lining.
Style – Rain jackets come with many design features that serve different functions.
Trench Coats Have a silhouette that pairs well with street and office wear. Whether you are wearing jeans or a suit, a trench will add flair to your outfit and won't make you look overly casual or sporty.
Zip Front Jackets – Are typically designed to cover from the hips up so that you can remain fully mobile when running and hiking.
Portability – If you are traveling for a vacation or commuting to work, you will want a jacket that can be tossed into a bag or daypack without taking up too much space. Look for a model that can be folded up and zipped into a self-contained pocket.
---
Features of a Good Rain Jacket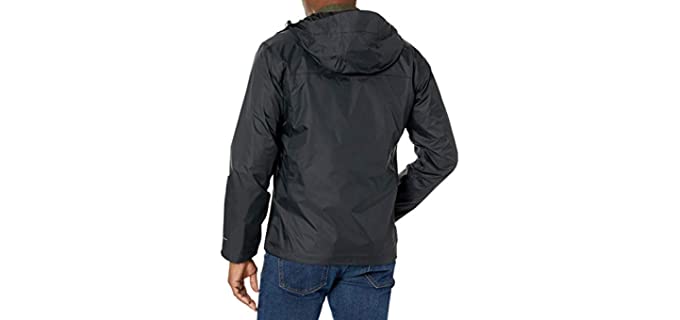 Materails – Most rain jackets have Nylon or waterproof technology polyester uppesr. Gore-Tex is one of the best waterproof linings that is also very breathable. Fleece or mesh is used as a lining depending whether it is a winter or lightweight rain jacket.
Closure – Most rain jackets will have a zip closure, as well as pockets with zip closures.
Extras – Rain jackets mostly come with a detachable hood, and there may be extras such as additional pockets, adjustable cuffs, and a windproof layer.
---
Reviews: The Best Rain Jackets
Looking for the best available Rain Jackets, then look no further than our extensive list;
---
1
The Marmot Lightweight rain jacket offers excellent waterproofing, with a Gore-Tex lining that is also highly breathable.
The jacket consists of 100% polyester.
There is a Gore-Tex waterproof lining that is fully waterproof yet still breathes well.
This is a more lightweight rain jacket for warm and cool weather.
The jacket will also provide you with good wind resistance.
---
2
The Marmot rain jacket is fleece-lined for warmth, with a removable hood and waterproof outer shell.
The Marmot rain jacket is 100% polyester and fully machine washable.
The Rain jacket offers excellent waterproofing and windproofing with a water repellent and moisture reducing MemBrain hydrophilic fabric,
It is filled with 700 power down for insulation and warmth.
There is also a microfleece lining and zipped pockets.
---
3
The Wantdo three in one rain jacket is waterproof; oil proof as well as wear-resistant.
This is a wind and waterproof jacket that is ideal for all weather conditions.
It has five pockets for storage and a zip closure.
The versatile liner can be used for warmth or removed just for rain proofing.
There are also more color options available in this model.
---
4
The Wantdo rain jacket is fully wind and waterproof with a warm lining and hooded design.
This is more of a cold-weather jacket for cold and wet weather.
It is waterproof and windproof,
There are multifunctional pockets for storage and a zip closure.
The jacket has a fuzzy lining to keep you warm and comfortable.
---
5
A very versatile and waterproof jacket from Columbia with a softshell design.
The Columbia Jacket is 100% durable and waterproof polyester.
Advanced technology makes it durable, wind, and waterproof for your convenience.
There is a zippered chest pocket and two zippered hand pockets to keep small items.
Furthermore, the jacket is very durable and comfortable.
---
6
The Columbia rain jacket is perfect for cold winter with a plush interior lining and waterproof outer shell.
This is a polyester jacket with full zip closure.
It is a warm winter rain jacket that is waterproof.
Hydroplus nylon in the shell offers complete weather protection and insulation.
There is also a protective hood.
The interior is lined with a soft and warm Sherpa lining.
---
7
The Helly Hansen rain jackets are fully waterproof, as well as windproof.
The jacket has Helly Tech protection technology that is fully waterproof and windproof while still offering excellent breathability,
This is a classic, clean-cut rain jacket that is an idea for most outdoor activities.
The jacket is lined for your comfort and has a storm flap additionally.
The fit is regular and comfortable, with many sizes available.
---
8
For the ladies, we have colorful printed warm winter waterproof jackets for rain and cold weather conditions.
For the ladies, this is a warm winter jacket that is waterproof and windproof.
It comes in many colorful prints that are feminine and bright.
The jacket has a removable hood and zip closure.
There are also more than enough zip pockets for your convenience.
---
9
The Columbia Rain Jacket for men is comfortable, warm, and completely watertight, and waterproof.
The Columbia rain jacket consists of a Nylon shell with a soft polyester lining.
It is completely waterproof and also offers excellent wind resistance.
The lining keeps you warm and comfortable.
The fit is snugger, with elastic zip closure.
Omni Shield technology protects you against dirt and liquids.
---
10
The River Rain jacket from Arctix has advanced technology for complete weather protection.
This is a 100% Nylon rain jacket.
It comes in quite a few feminine color options from which you can choose.
There us a mesh liner and taped seams,
The jacket is very lightweight and easily packable,
The cuffs are also fully adjustable.
---
Index Table: Top Rated Rain Jackets
---
---