From James Dean and Marlon Brando's days to those of Indiana Jones and Fonzie, the leather jacket has been a classic choice in the wardrobes of many.
While it may have been originally designed for pilots, Hollywood and the rest of the world eventually caught on.
Today, the best leather jackets for men come in all cuts, materials, colors, and styles, and we will highlight the top six for you in our list below.
Whether you're looking for something classic and comfortable or modern and tailored, we have something for everyone.
---
Understanding Leather Qualities
Forget the term "real leather." This means nothing when it comes to the quality of leather used.
Here's what you should know as you approach a new jacket.

Genuine Leather – This is the lowest quality of hiding leather. While it is real, it won't last nearly as long as some of the other qualities.
Usually, jackets that say "100% Leather" are made from this quality.
Top-Grain Leather – Stepping it up a notch is top-grain leather. Since this is sometimes sanded down or stamped to eliminate flaws or scars in the material. If the leather seems too even and perfect, then the chances are top-grain or genuine leather.
Full-Grain Leather – You can't get any better than a full-grain leather jacket. This is the highest quality of leather that you can find, and if you take good care of it by purchasing the proper care products, it can last you a lifetime!
Suede leather jackets are another option. Here, leather is shaved and sanded to achieve a fuzzy feel.
Unfortunately, you can't get it wet, so we decided to skip them on our list below.
---
Hardware and Lining Material
If you are willing to fork over the money for a real leather jacket, then you want it to last, so pay attention to the hardware used (zippers, buttons, and snaps) as well as the lining material.
Ensure the lining isn't too thin, and look at the seams to see how well it is sewn to the leather.
If you want to compare and contrast the best leather jackets for men, have a look at our top choices below.
---
Features of Good Leather Jackets for Men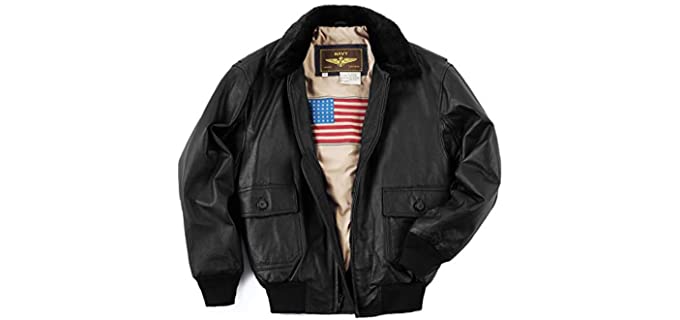 Materials – Most men's leather jackets will consist of genuine cowhide, sheepskin or lambs leather, or a polyester-based Faux leather. The lining is usually polyester or fleece, or Sherpa lining.
Design – Men's leather jackets come in many designs from long to regular length, collared, or biker designs.
Colors and Options – Leather jackets for men are available in neutral colors such as black and brown mostly. You will also see most brand sand models are available in standard and plus-size options.
---
Flavor Men's Leather Jacket
Flavor men's leather jacket is the number 1 leather jacket on our list, here is a short video showing it.
---
Reviews: Best Leather Jackets for Men
Following are some of the best quality and most fashionable leather jackets that are available for men;
1
The Flavor leather jacket is genuine leather and comes with a removable hood.
The Outer part consists of 100% genuine leather, with a polyester lining and fill for warmth and comfort.
There are more color options available in the jacket.
There are two hand pockets in size and three chest pockets.
The zip closure is ideal, and the jacket has a hip-length design.
---
2
The Wantdo is the polyester-based leather jacket for men that is available in a few more color selections.
This is a faux leather jacket that consists of 100% polyester.
It is durable and has a padded inner layer.
There are ribbed cuffs, and the jacket is hip length with a ribbed bottom.
Multiple pockets are available for your convenience and a fashionable style.
The jacket has a modern retro design.
---
3
The Chouyatou is a vintage styled casual leather jacket for men.
This is a high-quality Faux leather jacket with a Polyester lining,
The jacket has a vintage design and a stand collar.
It is waist length and very casual.
The entire jacket consists of Polyester materials.
---
4
From Landing Leather, we have a lined genuine leather jacket with a durable YKK zip closure.
The jacket is 100% genuine leather with a cotton and polyester lining and fill.
It offers a comfortable regular fit and a roomy waist and chest.
Ther is an adamant YKK zipper design, which is the best in zippers.
There are two dual entry pockets and an interior pocket,
---
5
Another addition from Landing Leather is their Air Force A-2 design genuine leather jacket for men.
The Jacket is genuine leather with a cotton and polyester lining.
It has a very relaxed and roomy, comfortable fit.
There are pockets inside and outside for your convenience.
It is imprinted with a US flag lining and insulated.
---
6
From Artistry, we have a genuine leather Biker style jacket for gents.
This is a biker style jacket with a comfortable fit.
It consists of genuine leather handcrafted from Lambskin with diamond topstitch detailing.
A very classic and premium quality luxury jacket, available in more color options.
The pockets are leather-trimmed and have press studs on them for decoration.
---
7
The BGSD Richard Classic is a much sought after Lambskin quality jacket with a polyester lining.
This is a genuine lambskin leather jacket with a polyester lining.
The jacket is of premium quality and craftsmanship.
It has a regular and roomy fit with interior and exterior pockets,
There are also more neutral color options available in this model jacket.
---
8
The Levi's Vintage is an Aviator style bomber jacket in faux leather.
An Aviator style jacket from a trusted brand Levi's.
This is a premium quality faux leather jacket with a zip closure that is also machine washable.
It has a stand-up collar and adjustable zipper detailing.
Ther are also snap on shoulders and rib-knit cuffs.
---
9
The Dockers leather jacket comes in standards sizes, as well as big and tall sizes for men.
From Dockers, we have another Faux leather jacket.
The jacket consists of 100$ Polyurethane and is very durable.
It has a classic style and front zipper closure.
There are convenient pockets and an interior hidden pocket with a zip closure.
---
10
From Tommy Hilfiger, we have their classic faux leather jacket with zip closure.
The jacket consists of mostly polyurethane, a faux type of leather that is soft and durable.
It has a zip closure and is machine washable.
The jacket further has a laydown collar and a box-quilted nylon interior lining,
The cuffs are adjustable with snap closures.
---
Index Table: Top Rated Men's Leather Jackets
---
---