When you need to wear a business suit for work or just want to wear it for a more professional look in a business setting, or professional work environment, you may have noticed that the fit is not always as accommodating. This is especially true for more busty ladies.
Finding a proper fitting suit can be quite a task, so we are here to help you find the best business suit for big busts.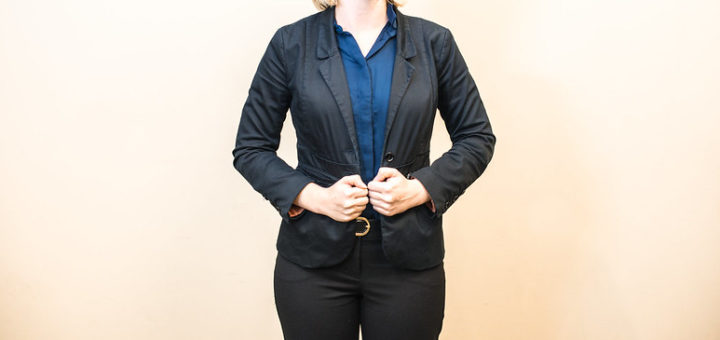 ---
Dressing Professionally When You are Busty
Before I get into the best business suits for busty ladies, let's first consider how to dress for a more professional work environment and how to enhance the overall look of your business suit;
Your Bra – The right type of bra and the right fit is necessary. Take proper measurements and get a bra that fits well, not too loose or tight. For a larger bust, I would advise a bra with fuller coverage and wider shoulder bands that will not dig into your shoulders, and a comfortable and proper fitting bra will have you feeling confident, comfortable and keep a proper posture and shape. Next, do not wear lingerie type skimpy bras for work. Rather try a fuller cover and T-Shirt type bra that is smooth and unnoticeable.
Necklines – The neckline of the top that you wear underneath the suit jacket should be a V—neck or Scoop design that is not too low or high to be appropriate for work but still flattering for a larger bust. You can also opt for a camisole to draw attention away from the bust area and provide more coverage if your neckline is really low.
Avoid Gaping Shirts – Avoid shirts that are too tight and that gape. Select your tops to be a comfortable fitted style underneath your suit jacket but not too tight around the bust.
Know Your Body Shape – the type of business suit that you need to get will also largely depend on your body shape and what suits your unique body shape best.
More Buttons on Your Suit Jackets – Always opt for a suit jacket that has more buttons than you can close to the button and higher up so that it does not gape.
---
How to Wear a Business Suit
The most important thing to factor in when getting a business suit for larger busts is to get a proper fitting size that does not feel too tight around your breasts, and that also has more button options.
Other than that, here are a few ideas of how you can wear a business suit.
Mix Fabrics and Colors – While traditional business suits are the go-to, you do not have to stick to this rule, you can mix and match different fabric types to suit your needs. This is especially ideal as a more stretchy material will be more accommodating for larger breasts.
Color and Style Variations – You do not have to stick to traditional solid or striped colors or straight hip-length jackets. You can opt for longer-length jackets that are flowier, peplum styles, cropped styles, and many more. You can also opt for different colors with a solid pair of pants and printed colored jacket, or have both printed or in colors.
Bottoms – The bottoms can consist of a pencil skirt, A-Line Skirt, or a flared skirt which are acceptable in business suits for ladies. If you prefer pants, you can go for the regular straight leg or opt for a more flared leg or opposite skinny leg bottom design.
---
Features of a Good Business Suit for a Big Bust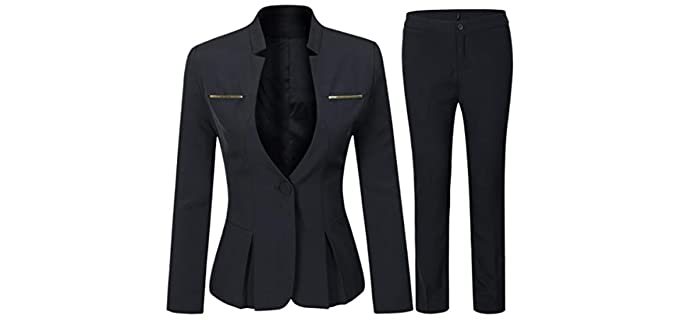 Materials – A business suit can consist of a variety of materials such as cotton, linen, and bamboo that is natural, or synthetic materials such as polyester and nylon. Spandex may be added for some stretch.
Design – Most Business suits have a structured and tailored design, although today there are many more styles and options available. The suit can consist of a Jacket with either pants or a skirt, and the jacket can be different lengths.
Closure – A business suit jacket will have button or zip closures, whereas the bottoms may be elasticated or have a zip and button closure.
Options – You can get most brands of business suits n plus and standard size options, as well as a few more color selections.
---
Reviews: Best Business Suits for Big Busts
Here are some of our top favorite business suits for bustier ladies;
---
1
This is a two-piece plaid business suit for ladies with a large bust.
The Business suit comes in more colors and designs.
It has a blazer with a notched lapel and shoulder pads as well as a button closure.
The pants are a straight-leg design with a zip closure and belt loops.
The set consists of 100% polyester.
---
2
From MaryCrafts, we have a business suit set with a skirt bottom.
The set is available in plenty of solid colors as well as for ore size options.
The suite consists of rayon, nylon, and spandex, so it is quite stretchable.
Their top has a button closure and an elegant style.
The bottom is a pencil skort design that hangs just below the knee.
---
3
From Yunclos, we have three color options suits in neutral greys and black.
The suit has the perfect design for a bustier lady.
The jacket has a more open neckline and is fitted around the waist.
The pants are tapered and have a zip closure.
The business suit is polyester and viscose for soft comfort.
---
4
This is a two-button luxury Business suit Jacket for ladies with large busts.
Please take note that this is the jacket only.
The jacket consists of polyester, rayon, and spandex.
There are a few neutral colors available to you as well as petite, standard and plus sizes.
---
5
The Tahari ASL is a business suit set with a skirt for plus sized bustier ladies.
The set comes with a tailored fit jacket and a pencil skirt.
There are soft pastel colors available in plus size options.
The set consists of polyester and elastane fabric.
---
6
The Le Suit Business suit for ladies is ideal for bustier ladies.
The jacket has three buttons and a peak lapel.
The pants are a straight-cut design.
The suit has a pinstripe and solid color in black and white,
The business suit consists of polyester and rayon with a three-button closure on the jacket.
Furthermore, you can get it up to a size 18.
---
Index Table: Top Rated Business Suits for Big Busts
---
---