The right pair of pajamas can make a huge difference in the quality of sleep you will be getting.
Your pajamas could have you tossing and turning all night or could have you fast asleep, sleeping right through the night in no time.
This is why shopping for the best comfortable pajamas is so important.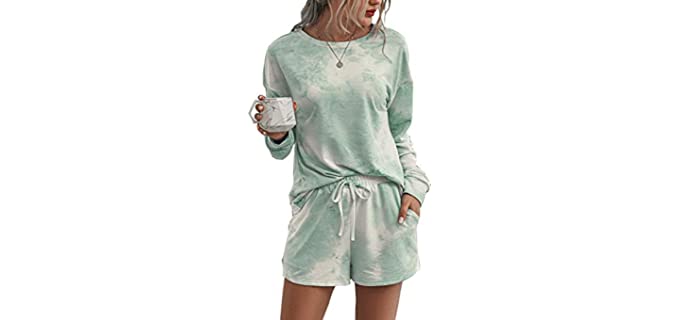 ---
Why You Need Comfortable Pyjamas
Leading a healthy lifestyle does not just consist of a proper diet and exercise but also includes proper sleep. To improve the quality of your sleep, the right bed and pillow are required, and what we also forget sometimes is the right pajamas.
There are a few ways in which comfortable pajamas can improve your sleep;
Comfort – You need to feel comfortable before you can actually fall asleep. It would be best if you also were comfortable while you sleep to prevent waking up constantly throughout the night. The right pajamas in the right material will help to keep you comfortable all through the night.
More Hygienic – Keep in mind when toy sleep, your body recharges for the next day's activities. One of the ways our body recharges is by shedding dead cells and renewing itself. When you sleep, your body sheds dead skin cells at a vast rate. These skin cells are not harmful but may cause issues if they collect in the wrong place for a long period of time. When you wear proper pajamas, dead skin cells end up in your pajamas and not actually inside your bed.
Protects You Against The Cold – Pyjamas have many benefits in keeping your body warm and covering your legs and arms for protection and warmth during the night. Warm pajamas during these cold winters can keep you warm and cozy. Similarly, the right pajamas for summer can breathe and keep you cool during the night, preventing night sweats.
They Can Prevent Illness – Warm Pyjamas prevent you from getting a chill at night that may lead to colds and flu. If you accidentally kick off your blankets while sleeping or your partner pulls them off, your body is exposed and can become chilled. Sleeping uncovered in a chilled room may lead to a cold.
Style – You do not really have to worry about what your pajamas look like, as long as they are comfortable. This is mostly applicable if you sleep on your own, but when you have a special partner, you may want to impress them a bot with some fashionable and elegant but still comfortable pajamas.
---
How to Choose Comfortable Pyjamas
There are a few factors to consider when you choose comfortable pajamas;
Fabric – Pyjamas come in different materials, some more comfortable than others, and some mixed varieties. Cotton is usually one of the most comfortable options, especially for summer, and fleece is more comfortable for cold winter conditions. Flannel is quite popular for its warmth, whereas satin and silk are more luxurious and soft.
Style and Design – The style is all up to your personal preference. You can easily choose your style and design by mixing and matching tops and bottoms, as you do not always have to opt for sets. I myself enjoy a pair of shorts or three-quarter bottoms with a long-sleeved top, as my legs tend to get quite hot at night.
Durability – Ensure that you find a quality brand and design with materials that last. There is nothing worst than having the perfect pajamas, and they do not actually last very long.
Fit – Never select tight-fitting pajamas; always look for looser options, also not so loose that it actually entangles you during the night. Here we are going for a more relaxed fit option.
Washability – When it comes to washing clothes and pajamas, it is all about convenience. Everyone wants something that washes quickly, quickly and, and easily is also machine washable.
---
Features of Good Comfortable Pyjamas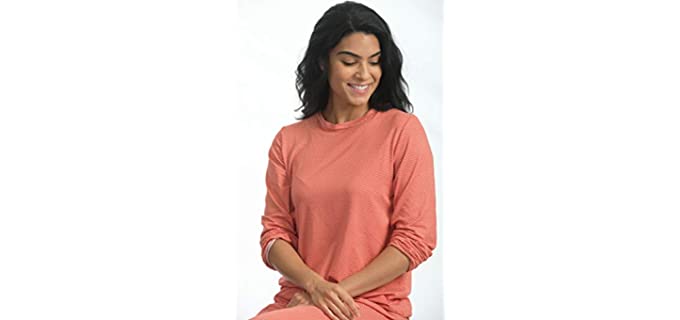 Materials – Pyjamas can consist of the following materials that are very comfortable; Cotton, Flannel, Supima Cotton, Knit stretchy fabrics, Broadcloth materials, Fleece for winter, Linen for summer, silk, and satin for a more luxury feel.
Design – There are literally so many styles and designs in pajamas, so you will need to choose what suits you best. You get sets, onesies, and single pieces, sleep shirts, nightgowns or dresses, long sleeves and bottoms, and shorts sleeves and shorts, even quarter sleeves and bottoms.
Closure – Most Pyjamas will have either Elastic Waistband, Button, Drawcord, snap, or zip closures.
Fit – Make sure you get your perfect fit that is relaxed and comfortable.
Options – Pyjamas come in various colors, patterns, prints, and size options from which you can choose, depending on the design and the brand.
Weather – Keep in the weather. You will need summer and winter pajamas. Luckily we have included some for every season.
---
Reviews: Best Comfortable Pyjamas
Here are a few of our top choices in summer nd winter pyjamas that are the most comfortable;
---
1
This is a short sleeve pajama set from Fruit of the Loom.
There is a short sleeve top and along the bottom.
There are also many solid color options available.
The Pyjamas are polyester, rayon, and spandex that is breathable, lightweight, and very flexible.
You can fully machine wash and tumble dry your pajamas, and they are completely tag-free for your comfort.
---
2
For the men, we have the Broadcloth set from Fruit of the Loom.
The set includes a short sleeve short and pair of shorts.
The top has a button-down closure, and the shorts have an elastic waist pull-on design.
There are more colors and sizes available in this range.
The Pajamas consist mainly of cotton and some polyester.
They are lightweight and ideal for summer.
---
3
Here we have something warm and cozy for those cold winter months.
The Angelina Pajamas for women are fleece Pajamas for winter.
They consist of fleece polyester materials that are warm and cozy to wear.
The bottoms have a drawstring closure, and there is an easy pull-on top.
They are ideal for giving as a gift and also coming with a to and from gift tag.
There are plenty of colors and prints that you can choose from as you wish.
---
4
For winter for the men, we have a fleece onesie from Alexander Del a Rossa.
The onesie is footed for extra warmth and has a full zip closure.
There are plenty of fun colors and prints to choose from, and you can also use them for Pajama parties and functions.
The Pajamas consist of 100% polyester fleece that is warm and ideal for protecting you against the cold weather.
---
5
From Pretty Garden, we have a Pajama set for the ladies.
The Pajamas are polyester and cotton with colors that will not fade.
There are tie-dye prints available in a large assortment of colors.
The Top has longer sleeves, and the bottoms are shorts.
---
6
For the men, we have a set from Hanes in Plain Weave design.
This is a long sleeve and long bottom set in cool materials ideal for cool to warmer weather conditions.
The set is available in many more colors and sizes from which you can choose as needed.
It consists of a blend of cotton and polyester and is fully machine washable.
The top has button closure, and the bottoms are a pull-on elastic waist design.
---
Index Table: Top Rated Comfortable Pyjamas
---
---