There is just something luxurious and fashionable about a matching pajama set, or maybe it is just more convenient.
Many of us prefer to invest in the best pajama sets for a variety of reasons.
I myself enjoy a pajama set as opposed to single pieces, and I also enjoy swopping them out with each other, which is another fun idea with pajama sets.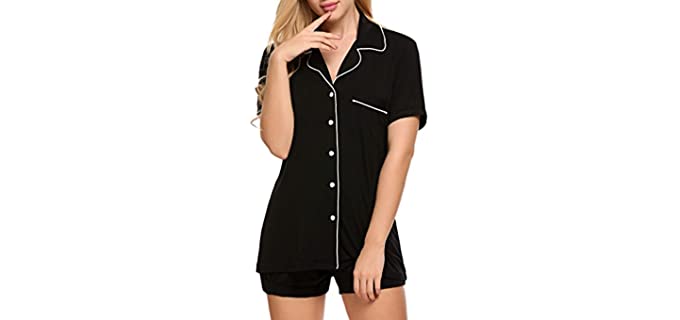 ---
Why Choose a Pyjama Set
So why exactly should you choose an actual pajama set?
Enjoyable – Going to sleep feels so much better and fancier when you have a matching pajama set on. This is not just for the ladies, and you also get some very handsome men's pajama sets.
Comfort – Comfortable pajama sets provide a good fit and are comfortable against your skin for a proper night's rest.
So Many Designs and Styles – Pajama sets come in a large variety of types and styles, colors and prints that are available for every season.
---
Types of Pyjama Sets
There are quite a few design options available when it comes to pajama sets;
Cotton Sets – Cotton is a favorite fabric for Pajamas, whether ist stretch cotton, or more lightweight cotton. You can get cotton Pajamas in all types of designs.
Short Sleeve Sets – This set will include a short-sleeved pyjama top and a short bottom ideal for summer. It may be a in a button-up or t-shirt style with an elasticated or drawstring waist bottom.
Long and Quarter Sleeve Styles – For cool to cold weather, long-sleeved or quarter sleeve tops and bottoms are ideal. They also come in a variety of styles, such as pull-on or button-up tops, and drawstring closure, or elasticated waist bottoms.
Sleeveless Sets – Sleeveless sets are available for men and women with a sleeveless top and a short or quarter-long bottom.
Flannel Designs – Flannel Pajamas are a winter staple, and they usually have a soft brushed cotton fabric with a striped or checker print. Flannel Pajamas have a collar and button-up closure top, with an elastic closure bottom that matches the top.
Jersey Fabric Pajamas – Those very lightweight printed pajama sets are basically what we call the Jersey stretch knit Pajamas. They consist of a blend of cotton, viscose, and stretch materials and come in many designs.
Lingerie Sets – Mostly for the ladies, you do get Pajamas that consist of silk and lace that are much more elegant and alluring, almost similar to lingerie. They are, however, not always the most comfortable option that you may find.
Silk and Sating Sets – Silk and stain set Pajamas may consist of either pure natural silk or synthetic satin, which consists of polyester. These sets come in long and shorts options, as well as sleeveless sets. They can also be pulled on or usually are button-up closures and elastic closures for the bottoms.
Fleece – Fleece Pajamas sets, polar, coral, arctic, and every type you can think of is the colder weather winter staple to keep your warm and comfortable. They, too, come in a variety of prints and colors.
---
Features of Good Pajamas Sets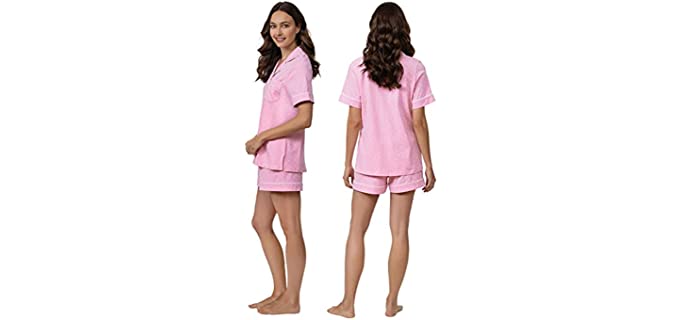 Materials – Materials may include cotton, Viscose, silk, satin, Polyester, Fleece, Supima Cotton, Flanner, and linen when it comes to pajama sets.
Design – You get both winter and summer designs that offer you a button-up or pull-on closure for the top and a drawstring or elasticated bottom. There are short sleeves and shorts, quarter sleeves and leg, long sleeves and bottoms, as well as sleeveless top and shorts options available.
Closure – Pajama sets will most likely have the button or pull-on closure tops, with a drawstring or elasticated waist bottom as closure types.
Fit – The fit should be comfortable and relaxed and not too loose or too tight, so make sure you get the right sizes and measurements.
Options – Pajamas sets come in a huge variety of colors and prints, as well as plus and standard size options available. However, this relies on the actual brand of pajamas that are featured.
---
Reviews: Best Pajamas Sets
In our list are some of the top favorite designs and brands of pyjamas that are available in sets;
---
1
From David Archy, we have the favorite flannel Pajama set for men, which is an old Classic.
The flannel set consists of 100% pure cotton and has a soft and cozy weave ideal for cool to colder weather conditions.
The set has a check pattern and comes in many colors from which you can choose as you need.
The top is a button-up design, while the bottom is a pull-on with an elastic waistband for your convenience.
---
2
From Muni Munki, we las have a flannel winter Pajama set for the ladies.
This set comes in more feminine colors and prints to choose from, with various size options in turn.
It consists of 30 Cotton and 70 % polyester and a comfortable and durable blend.
The feel is soft and plush against the skin.
The pajamas have a button closure top and elastic waistband pull-on bottom.
---
3
This is a lightweight summer set for men from Hanes.
The set consists of the choice of a short-sleeved top and shorts bottoms, or a short-sleeved top and long bottoms, with many color options available.
It consists mainly of cotton with some polyester in the blend.
The pajamas are ideal for summer and very breathable.
The top is a pull-on design, and the bottoms have an elastic waist closure system/
---
4
From Enjoy night, we have a cool summer set for the ladies.
The pajamas are mostly cotton with some polyester.
They are very lightweight and breathable for summer weather.
There is a short sleeve pull-on top and a Capri-length elastic waist bottom.
There are also many more color options available for your to choose from as needed.
---
5
This is a cool and breathable set for men for those very hot summer months.
The Latuza set consists of Viscose and spandex, which is stretchable and extremely lightweight, as well as breathable for hot weather.
The set comes in a few options of solid colors and many more sizes available.
The top is a pull-on short sleeve, and the bottoms are elastic waist shorts.
---
6
Here we have a two-pack pajama set for the ladies.
They consist mainly of polyester and spandex for stretchability.
The pajamas are available in an assortment of colors and all sizes.
The set includes two pajama shorts and two bottoms.
The top has short sleeves and a pull-on design, while the bottoms are along the length with an elastic waist closure type.
---
Index Table: Top Rated Pajamas Sets
---
---