Ever wondered why your skin might be so itchy at night.
Well, it could be anything from your bath or skincare products to the fabric in your pajamas.
In this article, we want to concentrate specifically on the best pajamas for itchy skin and fabric that will not aggravate itching or that might completely eliminate the itching.

---
Why Does Your Skin Itch at Night
So back to the question, why does my skin itch so much at night?
Well, your skin could be anything from maybe just dry, or you may have eczema or other issues related to itchy skin.
Here are a few reasons to help you narrow down the problem;
Being Too warm In Bed – Having a warm sleeping environment or sleeping directly on a memory foam mattress may lead to overheating, which in turn can irritate your skin or sweat, causing itchy. Sweating and overheating may also aggravate eczema if you have this condition.
Allergens – You may actually be allergic to something that causes you to itch at night, specifically maybe your body soap, lotion or shampoo, or even hard water in your area. Then there is also the fabric that your pajamas are made of that may be causing an allergic reaction.
Dry Skin – Dry skin from hard water or living in a dry area may get quite itchy. This is easy to remedy with some moisturizers.
Eczema – This is a skin condition that causes very itchy and dry patches. The condition is aggravated and triggered by certain things that you may be allergic to. Eczema-prone skin is usually also quite sensitive, so certain body products, fabrics, and chemicals may cause a reaction. However, every person with eczema may have a different allergic reaction to different things, such as for example certain foods, pet hair, certain detergents, certain creams and lotions, and many other things.
---
Best and Worst Fabrics for Itchy Skin
Some pajama fabrics are ideal for itchy skin, even eczema-prone skin, and some fabrics that you should avoid completely;
Bamboo – Bamboo or rayon derived from bamboo is natural, hypoallergenic, and will not cause itching, It also absorbs moisture and breathes well.
Cotton – Cotton is generally advised for those who suffer from eczema and for itchy skin, It is one of the best fabrics to opt for but needs to be 100% pure cotton. I personally find that cotton does wonders for my four-year-old with eczema. It is a safe and breathable fabric, and because overheating can lead to eczema breakouts, it actually helps quite a bit to keep her cool.
Viscose – Viscose is a very soft and comfortable fabric that will not cause itchy skin or aggravate eczema. Viscose is also extremely lightweight and, therefore, the perfect fabric for use during very hot summers if you do not want your skin to get overly irritated.
Polyester – Polyester is a synthetic fabric that is generally the worst fabric for eczema and itchy skin. It tends to overheat and has a scratchy texture that will aggravate itchy skin.
Wool – Wool is a natural fabric but mostly has a very scratchy texture. Unless you try out merino wool which may be a better option. Wool is very absorbent and also always feel dry to the touch, so it is quite an idea if you tend to sweat quite a bit
---
Features of a Good Pyjamas for Itchy Skin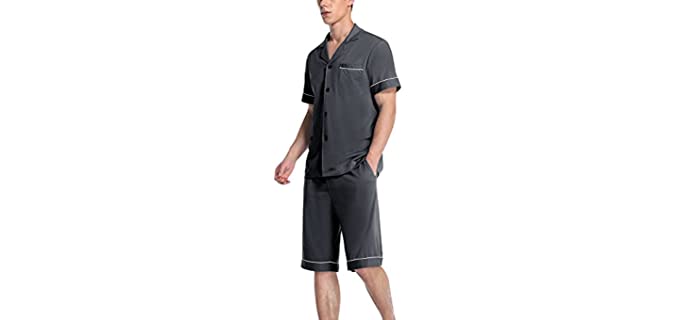 Materials – The best fabric for very itchy skin includes natural fabrics such as cotton, hemp, bamboo, or specifically the softer merino wool. Silk and cashmere are also great alternatives. However, I would avoid synthetic materials and fabric that have a scratchy texture. Rather opt for softer weave fabrics and materials.
Design – Choose pajamas that do not have seams, labels, or any decorations, buttons, or fixtures that can scratch or cause any irritation to your skin. You can also select between a two-piece set or one-piece pajamas design.
Closure – For a closure, look for something that will not come into contact with your skin, such as buttons with a covered seam, a zip that is covered, or snaps buttons which are the most ideal.
Fit – Make sure that theft is loose and generous and does not cling to your skin which can make itching worse.
Options – Options available in most pajama sets are usually different colors and prints depending on the actual brands and what they have to offer. Then there are also standard and plus-size options available.
---
Reviews: Best Pyjamas for Itchy Skin
In our list we have some excellent [pyjama options that will not irritate itchy skin;
---
1
This is a lightweight pajama set with a top and a bottom.
The pajamas have a button-up closure, collar, and the bottoms have an elastic waist.
There are a few light neutral color options available.
They are cotton and polyester blend with special technology for itchy sin.
The pajamas breathe well and are a comfortable fit.
---
2
From Global, we have a pajama set for ladies that is 100% hypoallergenic cotton.
Cotton is a soft and breathable fabric that will generally not cause your skin to itch.
The pajamas have a top with pockets.
There are fashionable designs and patterns available.
---
3
These are cotton summer pajamas from Latuza.
They consist of 100% cotton.
There is a short-sleeved top and a quarter-cut bottom with an elastic closure.
The pajamas come in solid color options and many sizes.
They are very soft and lightweight and will not irritate itching skin.
---
4
This is a similar set from Latuza for men.
It is ideal for summer and itchy skin with a very soft texture, consisting of Viscose and spandex for stretch.
There is a short-sleeved shirt and matching short bottoms with an elastic closure.
There are also a few neutral solid color options available and more sizes.
---
5
This is a genuine silk set for men from Lily Silk.
Silk is naturally hypoallergenic and very cooling.
The pajama set has a button top and long bottoms with an elastic closure.
It consists of natural mulberry silk.
There are also a few solid color options available.
---
6
This is a similar set from LilySilk for women in silk pajamas.
The pajamas consist of 100% natural mulberry silk.
It's a top with a button closure, and there are long bottoms with an elastic waist.
The pajamas set is available in more solid colors and size options.
---
Index Table: Top Rated Pyjamas for Itchy Skin
---
---