Onesie pajamas are the latest fad that is taking the world by storm.
Onesies are a comfortable alternative to pajamas and ideal for leisurewear.
So, if you are interested in the best onesie pajamas, then you are at the right place.

---
Why Get Onesie Pyjamas?
So why should you actually opt for onesie pajamas?
Well, Onesies are everywhere, and people love them for so many reasons, here are just a few;
Easy – Onesies are very easy to wear, and you do not need to worry about getting a top and a bottom. They go well together, slip on and off easily and keep you warm.
Comfortable – Nightgowns and even pajamas do not offer nearly as much coverage as a onesie does. Pajama tops can ride up your back, and the pants may be uncomfortable around your waist. You will not have these issues with a pajama onesie.
They are Cute – Onesies are so cute, on adults, and comes in so many fun styles, colors, and designs.
Affordable – Onesies are much more affordable than buying a pajama top and bottom.
Versatile – You can wear your onesie as pajamas or as leisure wear at home, or for very informal settings and gatherings such as a pajama party or watching movies with a friend's home.
---
Onesie Designs and Styles
There are a few different options available when choosing Onesie pajamas;
Footed or Footless – Some winter style onesie pajamas actually have closed feet similar to the little onesies for babies, they are ideal for cold winters when you need to keep your feet warm. Then you also get footless designs that are more prevalent and easier to come by. They have a cuff or open feet.
Hooded or Unhooded – Some Onesie pajamas, particularly the warmer winter styles, sometimes have a hood that is just regular or maybe an animal style with, for example, ears or a horn for unicorn designs, to make it more fun. Then you also get the regular pajama onesies that have no hood but rather a round or v-neckline that may or may not be ribbed.
Winter or Summer – You do generally get winter and summer style pajama onesies. However, most onesies are winter designs, as this type of pajama is ideal for colder weather.
Zipper or Snap Closures – Most pajama onesies will have a zip closure running along the front from your neck to below the waist. Then there are also a few that have snap closures, and The summer designs are usually pull on onesies.
---
Features of Good Onesie Pyjamas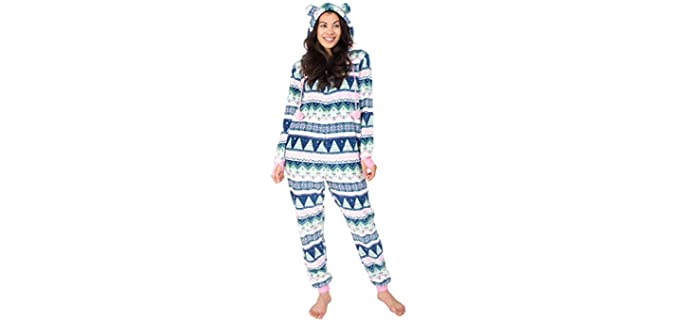 Materials – For winter style onesies I would opt for either fleece or stretchable cotton materials. Summer onesies also come ins stretchable and breathable materials such as cotton, rayon, or bamboo, as well as some polyester fabric that are more synthetic.
Design – The Onesie can come in summer or winter design with long sleeves and bottom areas, or short sleeves and bottom areas. It may be footed or footless.
Closure – the closure for summer onesies is usually pull on, but for longer winter onesies, you can look at a zip or snap closure style.
Options – Options available are usually size and color and prints depending on the band and model of onesie pajamas.
---
Reviews: Best Onesie Pyjamas
These are some of our favorite Onesies Pyjamas models for summer and winter;
---
1
For the men, we have batman style warm winter's onesie pajamas.
The Onesie consists of a soft and warm coral fleece.
It is a footless design with a hood that has bat ears.
The entire onesie is black with the yellow Batman logo on the front.
It has a durable, long zip closure.
---
2
The Hotouch One Piece Pyjama is ideal for those cold winters.
The pajamas are soft and comfortable with thermal properties.
They are available in solid and printed options.
The sizes range from Small to XX-Large.
---
3
From Ekouaer we have Onesie Pyjamas for the ladies.
This Onesie is a soft and stretchy fabric design in rayon and polyester with button closure.
It comes in more colors and printed options.
Comfortable for sleeping in and to keep you warm.
---
4
The Body candy Onesie Pyjamas a more fun and playful design.
It comes as an animal design with a hood and ears.
The Onesie is a plush warm fleece fabric that is 100% polyester.
It is available in more sizes.
---
5
For the Boys, we have the fun dinosaur theme onesie pajamas.
This is a warm fleece polyester onesie for boys in the design of a Dinosaur.
It has a hood and comes complete with a tail for fun.
There are also a few size options available from which you can choose as needed.
---
6
For the Girls, we have this gorgeous Pink and purple Unicorn design Pyjama Onesie.
It consists of a soft polyester flannel materials and has a zip closure.
There are a few more character designs and colors available, as well as more sizes.
The onesie also has a full hood.
---
7
For your precious baby girl with having the Simple Joy Fleece Onesie sets for your baby girl, from a brand known as Carter's.
The Onesie consists of 100% polyester fleece material that is very soft and warm.
The Onesie has a Zipper closure and comes in a few fun prints and designs from which you can choose.
It is fully machine washable for your convenience.
The zip is closed with a little cover so it will not scratch or irritate your baby girl.
The Onesies also come in a set of three per pack for your convenience.
---
8
Also, from Carter's, we have the Simple Joy Fleece Onesie Pyjama range, especially for baby boys.
The designs and prints are for baby boys, and there are so many from which you can choose.
The Onesie is a soft and durable fleece material that will keep your baby warm and comfortable.
It has a secure zip closure with a cover for less irritation from the zipper.
The onesie comes in a convenient set of three and is machine washable.
---
Index Table: Top Rated Onesie Pyjamas
---
---