Night Sweats are usually caused by a sleeping environment that is too warm. However, it may also have some underlying medical reasons behind it.
True Night Sweats are recognized by very severe hot flashes that occur at night, sometimes so bad that you find yourself and your bed drenched in sweat.
There are a few small things that you can do to prevent or even help with night sweats. One of them is getting the best Pajamas for Night sweats.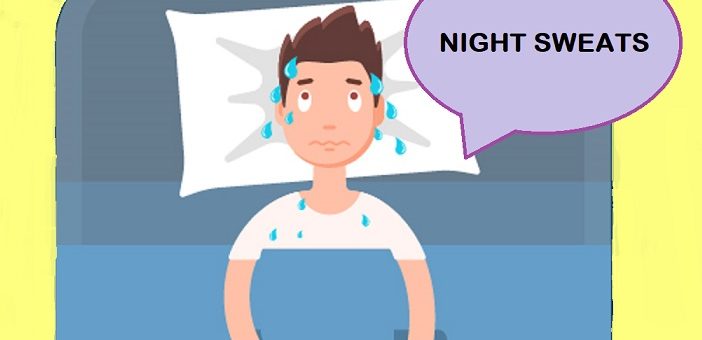 ---
Night Sweats and some Common Causes
As I have mentioned, Night sweats refer to excessive sweating during the night when you have a medical condition causing it.
However, sometimes your bedroom or bed linen may be too hot, you're your bedclothes may be too hot and not breathe well.
Hot flushes and actual night sweats are very similar and also quite difficult to distinguish from each other.
Here are a few main origins of Night sweats that could be the cause of your problems;
Menopause – menopause in women can cause hot flashes that occur mainly at night, which can cause night sweating.
Idiopathic Hyperhidrosis -Idiopathic hyperhidrosis is a chronic condition where your body produces an excess of sweat regularly without any other identifiable medical reasons this a condition in which the body chronically produces too much sweat without any identifiable medical cause.
Infections and Fever – If you have a bacterial infection or infectious disease, or even inflammation, you may also suffer from night sweats which is actually more of a fever.
Cancer – Night Sweats may be one of the early cancer symptoms. The most common type of cancer usually associated with night sweats is lymphoma, which causes excessive weight loss and fever.
Certain Medication – Taking Certain Medications such as antidepressants, aspirin, and acetaminophen can cause night sweats in some individuals.
Hypoglycaemia -People with Hypoglycaemia or lower blood sugar, especially those taking insulin or oral diabetes medication, are at a larger risk of developing night sweats.
Hormonal Disorders – Some hormonal disorders may also lead to excessive sweating or flushing, these may include carcinoid syndrome and hyperthyroidism.
Neurological Conditions – This is quite uncommon but worth mentioning as some neurological conditions such as autonomic dysreflexia, posttraumatic syringomyelia, stroke, and autonomic neuropathy can increase sweating or lead to night sweats.
More Practical Causes
Very hot weather and a hot bedroom environment may be one of the main causes why you are experiencing night sweats.
Eating spicy foods before bed may also lead to flushes and night sweats.
When you exercise during the evening, you may also experience night sweats when you go to bed.
Wearing hot bedclothes or pajamas and having bed linen and blankets that tend to heat up and do not breathes or ventilate well may lead to night sweats.
---
Best and Worst fabrics for Sweating in Pajamas
So one of our main aims is to help you get the right pajamas to help with night sweats, which may be a small but welcomed relief.
There are some fabric that you should opt for and some to avoid in your bed linen and your bedclothes;
Cotton – Cotton is a natural fibre that is very breathable, lightweight and also quite absorbent. Lightweight cotton will absorb moisture and allow it to evaporate so that you dry and cool quickly.
Linen – Linen is a very loosely woven natural fiber that can absorb moisture and dry quickly to keep you cool and dry. Likewise, it breathes well and I one of the best fabrics for a very hot climate.
Silk – Strangely enough, silk is a very lightweight fabric ideal for hot climates to keep you cool. Silk, however, does not absorb moisture.
Chambray – Chambray refers to a plain weave fabric consisting of a colored and white yarn blend. Chambray is very lightweight and breathable, as well as a finer weave, ideal for excessive sweating.
Polyester – Polyester is generally one of the fabrics to avoid as it overheats, does not breathe well, and does not absorb or wick away sweat. However, with technology today, some polyester blends are actually designed specifically for excessive sweating and cooling.
Fleece – We all know the popular warm and cozy fleece material that most winter pajamas come in, well fleece also consists mainly of polyester and is one of the worst choices for night sweats.
---
Features of a Good Pajamas for Night Sweats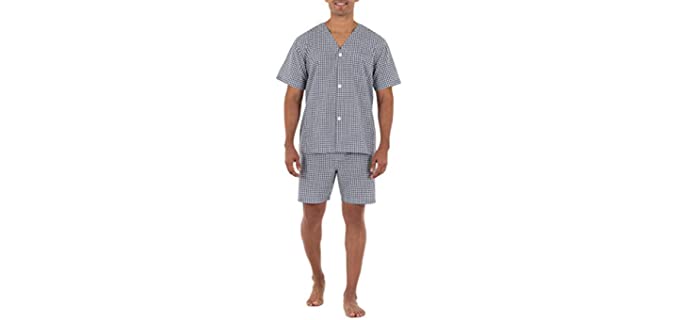 Materials – Opt for breathable cotton, linen, or bamboo materials that absorb sweat and wick away moisture. Some polyester technology fabrics are designed specifically to wick away moisture and are quick drying.
Design – Look for pajamas that are more open and loose in fit for breathability. Also, look for a more open weave fabric that breathes well and allows for proper ventilation. Pajamas can be a two-piece set or a onesie design.
Closure – Pajamas are usually pulling on. However, some do have either a zip, button, or snap closure, depending on the design.
Fit – the fit needs to be loose a comfortable, not clinging to your skin too much to provide better ventilation and cooling.
Options – There should be more color and print options available depending on the brand of pajamas, as well as plus or standard sizes.
---
Reviews: Best Pajamas for Night Sweats
In our review section, we have some of the best available pajamas to help with night sweats;
---
1
This is a Viscose Pajama set for men from Latuza.
The Viscose material is extremely lightweight and quick-drying, it is hypoallergenic and ideal for night sweats.
The set includes a T-Shirt loose-fit top and shorts bottom with an elastic waist and wide legs.
There are more solid colors and sizes available to you.
---
2
From Colorfulleaf, we have 100% cotton pajamas for men for night sweats.
The pajamas have a button closure short sleeve top and short bottoms with an elastic waistband.
The fit is loose and breathable.
Cotton will absorb moisture and dries quickly.
There are more colors and sizes available to you.
---
3
The Fruit of the Loom Pajama set is also ideal for summer night sweats.
There is a loose-fit top with button closure and a loose-fit pair of shorts with an elastic waistband for a comfortable fit.
The pajamas are available in light and neutral color options, and there are more sizes.
They are a cotton and polyester blend with technology to reduce sweat and keep you cool.
---
4
From Sleepy Time, we have these short summer pajamas for women with night sweats.
They are a very cooling design with a strappy top and very shorts.
There are no closures. The set is pull on with elastic waist shorts.
The pajamas consist of premium moisture-wicking and hypoallergenic bamboo materials.
There are also more colors and sizes available.
---
5
The Ekouaer Pajama set for ladies is very cooling and breathable for night sweats.
They consist of high-quality viscose that is lightweight in breathable.
There is a button closure short sleeve top and a shorts bottom with an elastic waist.
They are available in plus and standard sizes, as well as more solid colors.
---
6
The set from Latuza is also viscose which is lightweight and breathable.
It is a pull-on shirt and bottom consisting of spandex and viscose.
The set comes in more colors and plenty of size options.
The fit is very light and airy.
---
Index Table: Top Rated Pajamas for Night Sweats
---
---