There is nothing worse than sticky, sweaty sheets and pajamas in those hot summer months.
Summertime requires that you wear appropriate pajamas to keep you cool and comfortable through the heat, as well as to prevent night sweats.
The best Summer Pyjamas come in so many styles and materials that we are here to tell you a bit more about and what essentially works well for summers.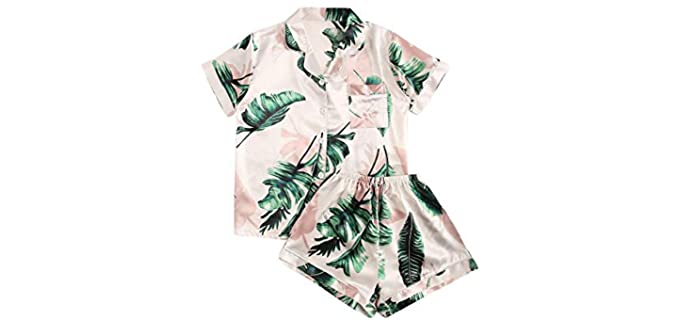 ---
What are the Best Pyjamas for Summer
There are two main factors to look at when choosing pajamas for summer, and those are their design and their materials.
These two factors will ensure that they are comfortable and cool enough to wear during those hot summers.
Designs – For summer, you want to stay clear of designs such as Onesies and a long sleeve or long-bottom designs, and rather opts for shorts and quarter sleeve bottoms or tops, as well as sleeveless options. A loose and cool design or one-piece sleepshirt, or for the gents, sleep shorts only will help to keep you cool. However, if you prefer more coverage, some materials actually keep you cool while providing more coverage.
Materials – Stick to materials such as cotton, linen, and bamboo that are natural and absorbent for sweat and that also breathe well. Polyester and synthetic may have improved technologies that also help to keep you cool. Satin and silk are also good choices for summer pajama materials.
---
Buying Pyjamas for Summer
Here are a few ideas for what types of Pyjamas you can choose for this summer;
Sets – You can choose pajama sets which come in a variety of materials and matching colors and prints. Choose shorts sleeved or sleeveless options or cooling material longer options if desired.
Sleep Shirts – This works well for the ladies. A comfortable and loose sleep shirt in crisp cotton or stretchy knit viscose and cotton blend is ideal.
Sleep Shorts – For the men, why not go bare-chested with a comfortable pair of sleep shorts or a sleeveless vest.
Silk Satin Pyjamas – Silk and Satin Pyjamas sets or singles are also an excellent choice for cool and comfortable summer pajamas.
---
Features of a Good Summer Pyjamas
Materials – Always look for very lightweight in comfortable materials for summer that breathe well and that absorbs moisture to keep you dry and cool during hot summers. Cotton is an excellent choice and comes in a variety of options with stretch or non-stretch. Bamboo, viscose, and linen are also great choices. Polyester is a synthetic material that, with improved technology, can be breathable and have cooling options.
Design – As we have discussed, you can select between sleep sets for summer pajamas, sleep shirts, or shorts, and a variety of styles and closure types.
Closure -Summer Pyjamas come with tops that are pulling on or button closure, some may even have a snap closure. The bottoms are usually a drawstring closure or have an elastic waistband. Elastic Waistband, Button, Drawcord, snap zip.
Fit – Summer pajamas should have a loose and relaxed fit that offers maximum ventilation and that will not stick to your skin when you sweat.
Options – Summer pyjamas are available in a variety of design, colors, prints, as well as plus and standard size options.
---
Reviews: Best Summer Pyjamas
In our list we have a variety of some of the best available pyjamas that are all ideal for summer;
---
1
For the ladies, we have the Sleepyheads shorts and sleeveless Pajama set.
The Pajamas consist of supers soft and stretchy knit fabric that breathes well.
The bottoms are an elastic waist design short, and the top is a sleeveless pull-on design.
There are a few colors available and many more size options from which you can choose.
They are also fully machine washable and quick drying.
---
2
The Ekouaer set for men is cool; and breathable for summer.
The pajamas set consists of a pair of pull-on elastic waist shorts, and a short sleeve pull-on shirt.
The set is available in many colors as well as extended size options.
It is very soft, lightweight, and breathable, ideal for those hot summer months.
---
3
From Floerns, we have Notch collar palm leaf printed Pajamas for ladies.
They are a soft polyester and spandex fabric that have a luxurious feel and are cooling.
There are plenty of color and size options available to you in similar prints.
The top has a button closure, and the bottoms ate an elastic waist.
---
4
The Latuza cotton woven Pajama set for men's cool and very comfortable for summer.
The Pajamas consist of 100% pure breathable cotton with cooling capabilities.
Cotton is also naturally moisture absorbent and will help to prevent excessive sweat build-up and overheating during the night.
The top has a button closure and collar, and the bottoms are a pull-on closure with an elastic waistband.
There are a few light and neutral color selections available to you and many more sizes so that you can get the perfect fit and color scheme for your wardrobe.
---
5
The PajamaGram Pajamas for ladies are soft and cool for summer.
They consist of mostly cotton with some spandex for stretch.
The Pajamas have a roomy and comfortable fit that ventilates well and are top-notch quality, so you can surely trust this brand.
The top has a button-up closure, and the bottoms are a pull-on design with a stretchy waistband.
There are also many more colors available to you, so you can choose a few of your favorites, and who knows, maybe get a few sets to last you the whole summer.
---
6
From the Fruit of the Loom, we have a lightweight Pajama set for men for summer weather.
The Top has a button closure, while the bottoms are elastic waist shorts with a pull-on design.
The Pajamas are available in most sizes and more, light and neutral color selections.
They consist of cotton and polyester that is cool and breathable.
This set is especially ideal for very hot summer weather, and will also help to combat excessive sweating and overheating at night.
---
Index Table: Top Rated Summer Pyjamas
---
---