By now have purchased so many lovely and much needed, and even unnecessary items for baby, but what about yourself, mama. If you plan on breastfeeding your baby, you will need comfortable clothing that makes this process easy and enjoyable.
So why not choose the best pajamas for nursing to make those pajama drills a breeze.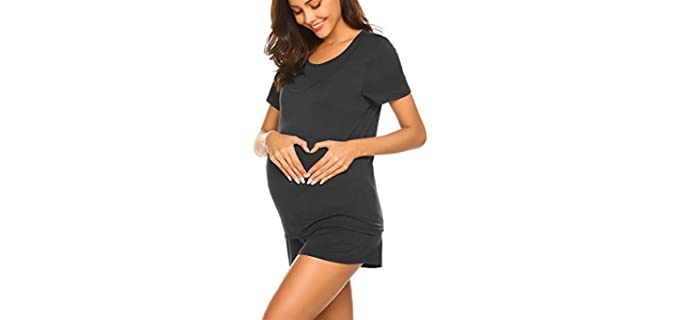 ---
Why You will Need Nursing Pajamas
As a mother myself, I can tell you that proper pajamas for nursing are essential, that I would not have been able to go without. The first month or two, you will practically live in your pajamas, so it's important to have something multi-functional and comfortable while your body settles back to its original shape.
Pajamas designed for breastfeeding and even button-up pajamas are much easier and faster when a baby needs a quick drink. They also offer good enough coverage without you having to expose too much of yourself while breastfeeding, which can be particularly beneficial in those cold winter months.
So, all in all, yes, you most definitely need a pair or two of the best pajamas for nursing.
---
Best Types of Nursing Pajamas
There are a few different types of nursing pajamas that work very well, so I will address only the most important ones. Keep in mind that you get sets for summer and winter with either long pants and long sleeve tops or shorts and short-sleeved tops.
Classic Stretchy Pajamas – These consist of soft stretchable materials and are a two-piece set with flexible materials that allow more stretch in the waistband. The top does not necessarily accommodate for breastfeeding but can easily be lifted and tucked.
Breastfeeding Specific Pajamas – They are similar to the general soft and stretchable pajamas, but there is a special panel where you can open up your breasts to feed your baby.
Button Up Pajamas – I love the button-up pajamas, especially the soft brushed cotton kind for winter. You can quickly button your shirt down to breastfeed the baby and button it back up. These pajamas are also quite versatile for use after nursing.
Pyjama Shirts – Comfortable and ideal for hot summers, they come with opening panels or button designs for nursing.
I myself prefer soft kinds of cotton and stretchable, almost T-shirt types of materials for pajamas for nursing, and Viscose is also a good fabric. Satins and hard linens do not provide good enough stretch.
---
Features of Good Pajamas for Nursing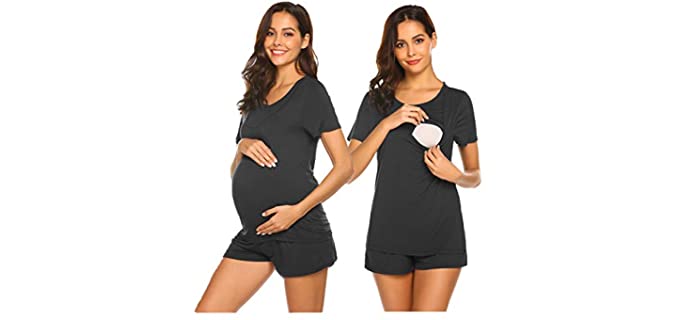 Materials – I would highly recommended natural and soft materials such as cotton, brushed cotton or viscose in Pajamas for Nursing. However synthetic such as soft polyester can also be comfortable and breathable.
Closure – The closure in pajamas for nursing is quite important. It is easiest to breastfeed your baby with pajamas with a button front closure where you can open up quickly and do not have to lift the entire top. Pull-on closure pajama tops that are very loose are also acceptable as you can easily lift them. For the pants, a soft elastic is ideal.
Fit – Loos and comfortable fitting pajamas are ideal for nursing, as you do not want something restraining. For pajama bottoms, a comfortable fitting elasticized waistband is sufficient. Just keep in mind to get a looser fit if you have had a C-Section.
Options – Pajamas for nursing come in many fun colors and prints, as well as softer and solid feminine colors, you can also easily choose from plus and standard sizes, as most of these brands cater for all sizes.
---
Reviews: The Best Pajamas for Nursing
In my list, I have added some of the top favorite Pyjama options for nursing that I myself as a mother would recommend, and that comes highly recommended by many nursing mothers;
---
1
The Ekouaer pajama set is designed for nursing in colder weather conditions.
This is a full nursing pajama set complete with a top and a bottom.
The top is designed with panels that you can easily open and close for breastfeeding.
There is an elastic waistband on the bottoms with a drawcord so that you can adjust the fit to your needs and preference.
They are winter design pajamas that are soft and stretchable with a long sleeve and long bottoms.
There are a few color options available from which you can select and plenty of sizes.
---
2
The Magnetic Me Nursing Pajamas have magnetic closures making it easy for you to open up and close when breastfeeding.
The pajamas consist of model soft fabric that breathes well and stretches.
They have magnetic fasteners at the top for easy opening and closing when you need to nurse your baby.
The set consists of a long-sleeved top and a long bottom with an elastic waistband.
There are also more colors and sizes from which you can easily choose.
---
3
The Ekouaer pajama set comes in long and short sleeve and pants options and many colors designed specifically for nursing.
This specific set comes in options for summer and winter.
Like our first mentioned set, the top has panels that can be opened to nursing your baby.
The sets are available in shorts with short-sleeved tops. Short-sleeve tops with long bottoms and long sleeve tops with longer bottoms.
They are also available in more colors and darker colored options.
---
4
A light and comfortable pajama set in rayon from Lamaze.
The Lamaze pajama set is lightweight and comfortable to wear.
It consists of rayon in spandex and is available in dark color options.
The two-piece set is feminine and comes with a short sleeve top and long bottoms.
The V-neck style of the top allows you to breastfeed your baby easily.
---
5
The nightgown pajama dress design has features that are there specifically for breastfeeding.
For those hot summers, we have a loos and comfortable pajama shirt.
This is a single-piece pajama shirt that has short sleeves and a mini length.
The top buttons up for easy breastfeeding.
The pajamas consist of soft polyester and cotton materials that breathe well.
---
6
The PajamaGram Pajamas are warm and cozy pajamas for winter with a button-up design for nursing.
For wintertime, nothing beats a pair of button-down flannel pajamas.
The set comes in a long bottom and a long-sleeved button-up top.
There are plenty of colors and sizes available to you.
The pajamas consist of soft and comfortable brushed cotton jersey materials.
The button design top makes it easy for you to nurse your baby.
---
Index Table: Top Rated Pajamas for Nursing
---
---