Standard to find the perfect gift for a loved one, friend, or even a colleague.
Well, let me tell you, good pyjamas never go out of style. They are always needed and much appreciated, as well as quite affordable.
So whether it is for Christmas, a Birthday, Mother's Day, or Father's day, and any other day for that matter, why not opt for the best gift pajamas.
To find out more, read on about some of our favorite pajama picks as gifts.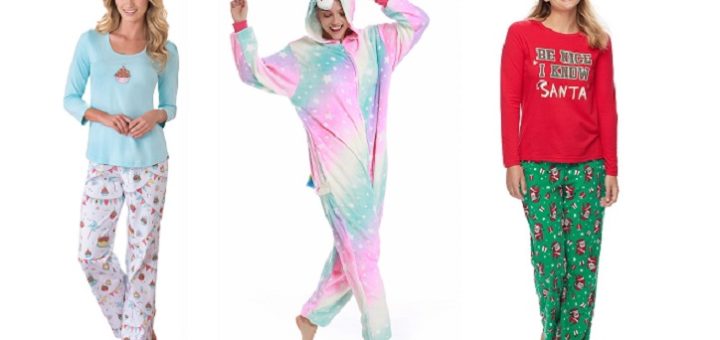 ---
Why Pyjamas make Such Great Gifts
Well, pajamas truly make for an excellent gift idea, especially if you have no idea as to what to purchase someone for a special occasion. Everyone needs pajamas!!
Who Does Not Love Some Cute or Classy Pyjamas – Everybody loves cozy and comfortable pajamas, and many people love the quirky and funny prints and pictures available. There are so many lovely styles, classy, comical, plain, and even fabric available from which you can choose. You can never go wrong with the perfect pajamas for that special person's special day.
Affordable – Pyjamas are a good quality and substantial gift that is affordable. You will not be feeling guilty about spending too little on them, and you can still afford them without having to fork out too much.
It Can Become a Family Tradition – Some families make it a tradition to buy a loved one pajamas for a certain day. I know we love to buy our mother and grandmother slippers or pajamas for Mother's Day. So you can actually make it a thing that the whole family can enjoy.
They make Fun Family Pictures – You get fun family pajamas set that you can actually take pictures in as a good memory to keep and share.
Pyjamas are Very Practical – What to buy someone that has everything, well pajamas, of course, you can never have enough, and they are so practical. This is something that someone can actually use and not an ornament that will just collect dust.
Easy Sizing – Because Pyjamas are generally a loose fit and have an elastic waist, if not a onesie. The sizing is quite easy as a size too big or too small if you had to estimate, will still fit quite well. But this is more general speaking!!!
---
Getting Someone Pyjamas as a Gift
Now here are some tips on how to actually select pajamas for a person as a gift;
Seasonal – You will need to take the season that you are getting the pajamas for them in before choosing, as they may want to wear them right away and not have to wait for the next season. Generally, most Christmases are celebrated during cold winter, so some warm fuzzy Christmas design pajamas are ideal. For birthdays and other occasions that may be in the summertime, you can opt for cooler summer pajamas.
Mix and Match – Pyjamas do always come in sets or one-pieces, and especially for men's pajamas, you may need to find a top and bottom. Try to mix and match similar fabrics, colors, and patterns that will complement each other. You can also match the pajamas with a robe or maybe a bath towel or blanket to add to the gift.
Why Not Get Slippers to – Want to make the experience more memorable, why not match the perfect set of pajamas with a lovely pair of comfortable and cozy slippers. You can even look for slippers that match the colors of the pajamas.
Styles – There are different styles of pyjamas available besides just winter and summer. You get two-piece sets, one-piece pajamas, or onesies as we know them, separate bottoms and tops that you can mix and match. Then you also get that pulls-on design, button-up, zip closure, or have snap closures. Not to mention the varieties of colors and prints. Even novelty prints specifically for occasions such as Birthdays, Mothers and Father's Days, and Christmas or other holidays.
---
Features of a Good Gift Pyjamas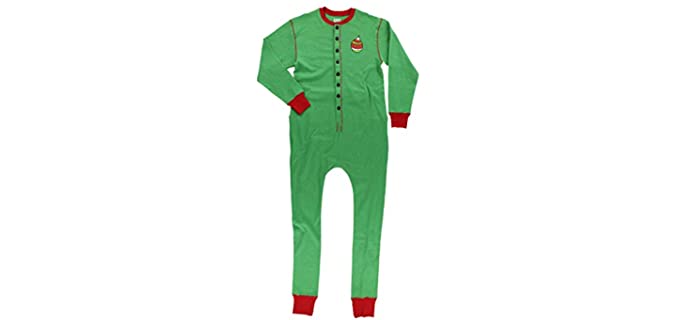 Materials – Pyjamas can consist of a variety of materials such as natural cotton, flannel, linen, or even bamboo. You also get synthetic materials such as polyester and fleece, which are a favorite for winter.
Design – Pyjamas come in a setting where there are two pieces, a top, and bottom, which can be long or short for summer or winter, with a button or snap closure or a pull-on design. Then you also get one-piece pajamas called a Onesie that usually has a front zip or snaps closure and is more ideal for winter.
Fit – The fit needs to be relaxed and comfortable, but make sure that you get the proper size for the person that the pajamas are intended for.
Options – The options are quite fun as you actually do get pajamas with birthday quotes, mother's day or special occasion quotes, and of course, plenty of Christmas design pajamas. So, this will all, of course, depend on the specific brand of pajamas. Then there are also usually standard and plus size, size options available.
---
Reviews: Best Gift Pyjamas
The list contains some excellent choices in pajamas that you can give as a gift;
---
1
This is a Critter design unisex onesie pajamas that can make for an ideal gift.
The one-piece has a hood with a character and ears on and comes in two different options.
It consists of 100% soft and warm polar fleece.
There are also plus and regular size options available.
---
2
From lazy One, we have the pajama bottoms for men as a gift.
The bottoms are 100% cotton with a print on them of your choice and many more colors available.
They are a long length with a drawstring closure and elastic waistband.
There are standard and plus-size options available to you.
---
3
From Iffei, we have the family pack novelty Elf Pyjama sets.
This is an elf design onesie pajama that you can get for the whole family.
Ideal for photoshoots and as a Christmas gift.
There are sizes available for the whole family.
---
4
For a baby shower gift, I have chosen this set for little girls from Carter's Simple Joys range.
The set is summer pajamas in two pieces with three sets.
There are more colors and prints available, as well as kids and toddler sizes.
The pajamas are 100% cotton and of very good quality.
---
5
For a boy's or girls' birthday, I have added the warm Character onesie that comes in many colors and options.
It depicts a fun character and can be worn as a costume or pajamas.
His onesie consists of 100% fleece that is soft and comfortable,
It is available in toddler and small children's sizes up to seven years of age.
---
6
This is a top favorite of mine, the old-fashioned flapjack onesie pajamas that come in a set.
The onesie consists of a flannel cotton-type materials and is ideal for cool weather.
It is available in many prints and colors for Christmas and other holidays.
It has a drop-back seat design and is available in standard and plus-size options for your perfect fit.
---
Index Table: Top Rated Gift Pyjamas
---
---