When the cold winter comes, there is nothing better than slipping into some warm and cozy pajamas for winter.
But what are really the best winter pajamas?
Read on, and we will help you find the most cozy and comfortable winter pajamas available to you today.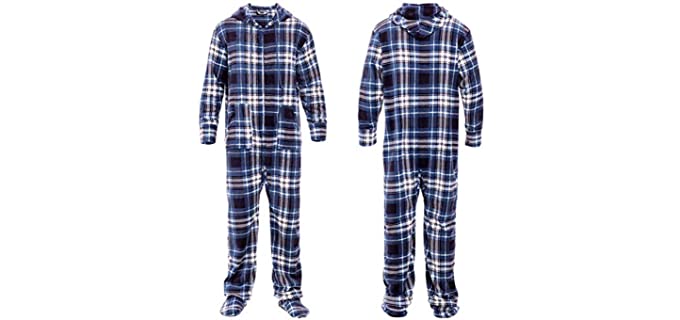 ---
What are the Best Winter Pyjamas Styles
Well, firstly, let me get into the different types of winter pajamas and what makes each so popular;
Flannel Two-Piece Pyjamas – We all know the comfortable flannel pajamas with the fun designs and prints. This is a comfortable and more breathable type of material in pajamas. The basic design for flannel pajamas is the regular loose-fit leg bottoms and the top with a collar and a button-down closure.
"Tracksuit Type" or Fleece Pyjamas – These pajamas consist of regular tracksuit or fleece materials and are in a similar design to a tracksuit. The bottom usually has a cuff at the ankles, and the top has cuffed long sleeves. And around or V-Neck that is quite high up.
Onesie Pyjamas – Similar to the onesies for babies, the onesie for adults and children is a one-piece pajamas with open feet, with or without a hoodie, and with either a zip or snap closure.
Coral Fleece Pyjamas – These are soft and warmer pajamas in a thicker fleece that has a smooth surface. They are very popular and very warm.
Arctic Fleece – This is a type of fleece pajamas that is much thicker and more fluffy and fuzzy feeling. One of the warmest pajamas, this comes in a two pieces or onesies.
---
Winter Pyjama Materials
Now that we have gone through the different types of pajamas, let us look into the different types of materials a bit closer;

Flannel Materials – Flannel refers to cotton that is weaved into a specific type of material where it is a much closer and denser weave to provide much more warmth and softness in the material. Flannel material pajamas come in all styles, colors, and prints, even solid colors. Flannel, however, is not a very stretchy material and not ideal for onesie pajamas.
Fleece – Fleece generally consist of polyester and you do get different types. There is a soft and warm smooth surface fleece and the more plush and fuzzy arctic fleece. Fleece generates heat, wicks away moisture, and dries very quickly. It is one of the most favored materials used for pajamas. Fleece also has excellent insulating properties.
Silk – Silk is quite expensive but also makes for a lovely material for winter pajamas. It is much more elegant and luxurious as well as smooth to the touch. Silk is temperature regulating, it will keep you warm in winter and cool in summer.
Satin – Satin is much like silk. However, it is synthetic, consisting of polyester, and far more affordable. It is also temperature regulating and a good choice for cool but not extremely cold winters.
---
Features of a Good Winter Pyjamas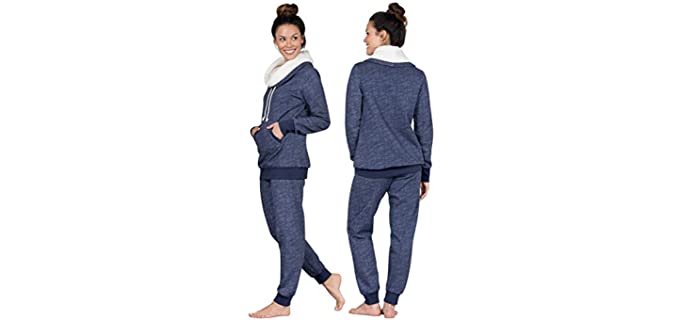 Materials – Winter Pyjamas are available in natural flannel, cotton or bamboo materials, or synthetic polyester, fleece, or polyester blend options. Satin is a good choice for light winter pajamas, and silk is a more natural similar option.
Design – You can select from either a two-piece design pull-on, button, or snap closure pajamas with elasticated bottoms or a onesie with a zip or snap closure.
Fit – the fit needs to be loose and comfortable as long as the bottoms do to slip off easily.
Options – Options available are usually more colors and fun prints, as well as plus and standard size, which of course, is reliant on the brand and model.
---
Reviews: Best Winter Pyjamas
In our comprehensive list are some of the best available pyjama options for those cold winter months;
---
1
The Hanes woven plain weave pajama set is warm and comfortable for winter.
The pajamas consist of cotton and polyester, and they are a flannel set.
The print is a plaid design, and more colors are available.
The bottoms have an elastic closure, while the top is a button-up design.
The waistband is also fully adjustable for a customizable fit.
---
2
This is a warm and cozy onesie pajama set for men that is durable and looks great.
The onesie is a thick and warm fleece material and has a zip closure for easy access.
It is available in a few fun colors and prints from which you can choose as you wish.
There are also plenty of size options available from which you can choose as you need.
---
3
From David Archy, we have pure cotton pajamas that are warm and comfortable.
The set is a top and a bottom with a pull-on design, and the bottom has an elastic waist.
There are solids and striped colors available, as well as plenty of sizes for your perusal.
The pajamas are a soft and durable 100% cotton that breathes well and is an all natural fiber.
---
4
From Munki Munki we have these favorite onesie pyjama sets for ladies.
The onesies are colorful and come in many more colors and designs.
It is a fleece fabric with a zip closure consisting of cotton and polyester.
The pajama Onesie also comes fully equipped for the cold with a hood.
---
5
The Cherokee pajama set is a top and bottom for ladies that offers a comfortable and flattering fit with warm and cozy materails.
The set has a pull-on top and elasticated bottoms for a comfortable fit and design.
The top is a solid color, and the bottoms are striped, with more colors to choose from.
The pajamas consist of cotton and polyester, which are durable and soft materails.
---
6
From PyjamaGram, we have the soft fleece pajama set that is perfect for those cold winter months.
There is a top and bottom consisting of fleece with Sherpa trim in the cowl neck.
There are more colors and sizes available that will suit your needs and personal preferences.
The Pyjamas are ideal for those very cold winter months to keep you warm and cozy all night.
---
Index Table: Top Rated Winter Pyjamas
---
---